---
If you're a fan of tiny Lego bricks, the most expensive Lego set will blow your mind. Lego is beyond legendary.
The largest toy company globally, they've been thrilling young and old Lego fans alike with their interlocking Lego bricks for over 80 years.
Lego sets and kits have defined eras, capturing moments in popular culture, politics, geography, and every other human field of interest imaginable.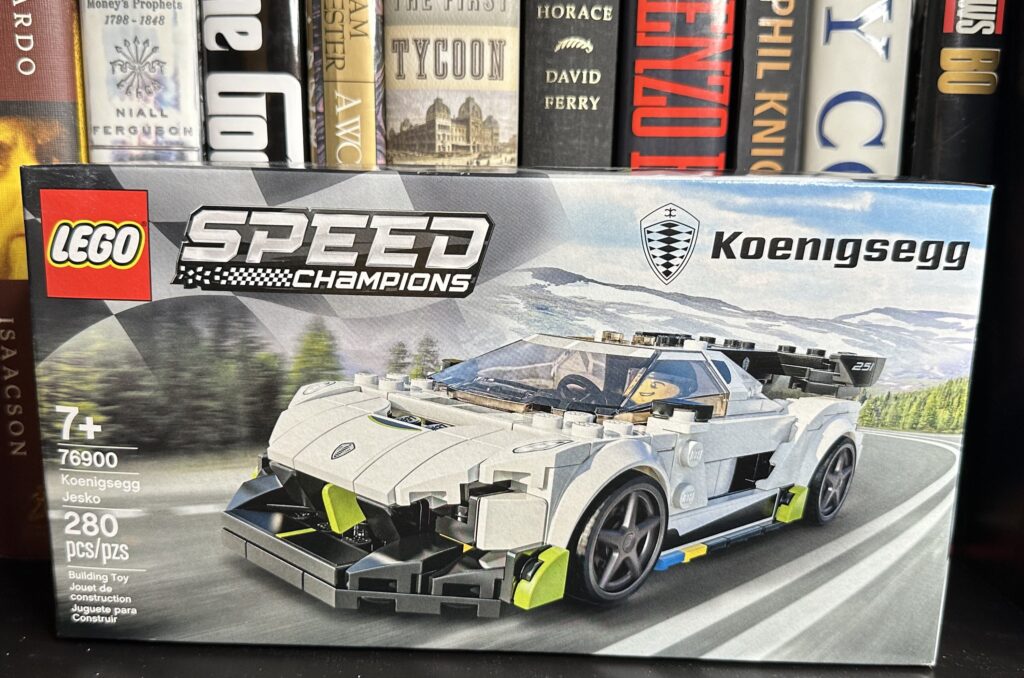 The Lego Beginning
The Lego Group began in 1932 in Denmark in the workshop of Ole Kirk Christiansen. The Lego name means 'Play Well.' By 1949, they had included an early version of the classic interlinking Lego brick as part of their product offerings. The rest is history.
And the average Lego fan? There isn't one – they're loved by all ages and cultures across the world. Trips to the Lego shop are some of the fondest memories for both parents and children.
Millions of hours were spent sifting through Lego pieces in bedrooms and lounges, trying to find the perfect blocks for a new creation. 
Most Expensive Lego Set of All Time
The most expensive Lego set list includes both new and old sets. Vintage and rare Lego sets can have tremendous resale value on the secondary market. Some have sold at auction for thousands of dollars.
Still, the number of pieces, technical aspects, and limited edition status all play a part in determining the retail price and resale value. 
We'll be taking a look at the 20 most expensive Lego sets of all time. Since we're only listing the 20 most valuable sets, however, we have to include a couple of Lego kits that missed the list but deserve an honorable mention – Let's begin!

Top 20 Most Expensive Lego Sets
Honorable Mentions
#20 – Darth Maul Lego Head
#19 – Rebel Blockade Runner
#18 – Rebel Snowspeeder
#17 – Eiffel Tower
#16 – Imperial Star Destroyer
#15 – Star Wars V.I.P. Gala Set (Vader) Lego Toy Fair 2005
#14 – Limited Edition Batman Announcement Set (Comic Con 2005)
#13 – Death Star II
#12 – Statue Of Liberty
#11 – Cafe Corner
#10 – Yoda Wearing "I Heart NY Shirt" Minifigure (New York Toy Fair 2013)
#9 – Grand Carousel
#8 – LECA Automobile (LEGO Inside Tour Exclusive 2005 Edition)
#7 – The Legoland Train (LEGO Inside Tour 2014)
#6 – Taj Mahal
#5 – Han Solo On Tauntaun (Miniland Scale)
#4 – Piper Airplane (LEGO Inside Tour Exclusive 2012 Edition)
#3 – TMNT Antonio's Pizza-Rama (New York Comic-Con 2012 Exclusive)
#2 – Ultimate Collector's Millennium Falcon
#1 – H.C. Andersen's Clumsy Hans (2015 Edition)
---
Honorable Mentions
The following sets might not make the top 20 most valuable Lego sets list, but a "top" Lego list is incomplete without them!
Lego Art World Map
In mid-2021, The Lego Art World Map was released and, with a breathtaking 11,695 pieces, overtook The Titanic Lego set for the biggest Lego set, with the most pieces in a single set.
At $250 per set, it's not quite enough to make our 'most expensive sets' list, but it is remarkable nonetheless!
Lego Ninjago City
This super-tall Lego set is the flagship kit of the Ninjago range. With almost 5,000 pieces and a generous 19 mini-figures, it's one of the most popular sets of all time.
At around $500, not quite expensive enough for the list, but still a shoo-in for this honorable mention.
Lego Creator Expert Colosseum
The largest architectural Lego set and the third-largest set in brick count. With 9,036 pieces and retailing for $550, it is a true collector's item and one of the most spectacular sets available.
Lego Technic Liebherr R9800 Excavator
One of the largest of the Lego Technic range at over 4,000 pieces, this is an absolute classic. It is fully operational with the LEGO Technic Control + App, and for $450, it falls short of the list but had to be mentioned!
With our honorable mentions out of the way, it's time for the top-20 countdown of the most expensive Lego set ever.
---
Most Expensive Lego Set in the World –
#20 Darth Maul Lego Head – $1,255
The head bust of the legendary Star Wars: Episode I – The Phantom Menace villain, Darth Maul, comes in at number 20. Retailing for $1,255 and with an impressive 1,800 pieces, this set will keep you as busy as Darth kept Obi-Wan Kenobi in the movie.
Star Wars fans should also know it's the most expensive of the head-bust Lego sets.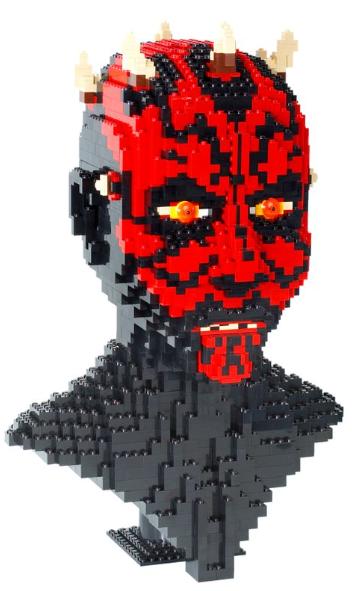 #19 – Rebel Blockade Runner – $1,330
The force remains strong with another Lego Star Wars set at number 19, this time from the very first Star Wars movie ever released, Episode IV: A New Hope.
The Rebel Blockade Runner is a spectacular set with an astonishing price tag. Lego collectors know it's a big set, with 1,700 pieces. It will set you back about $1,330!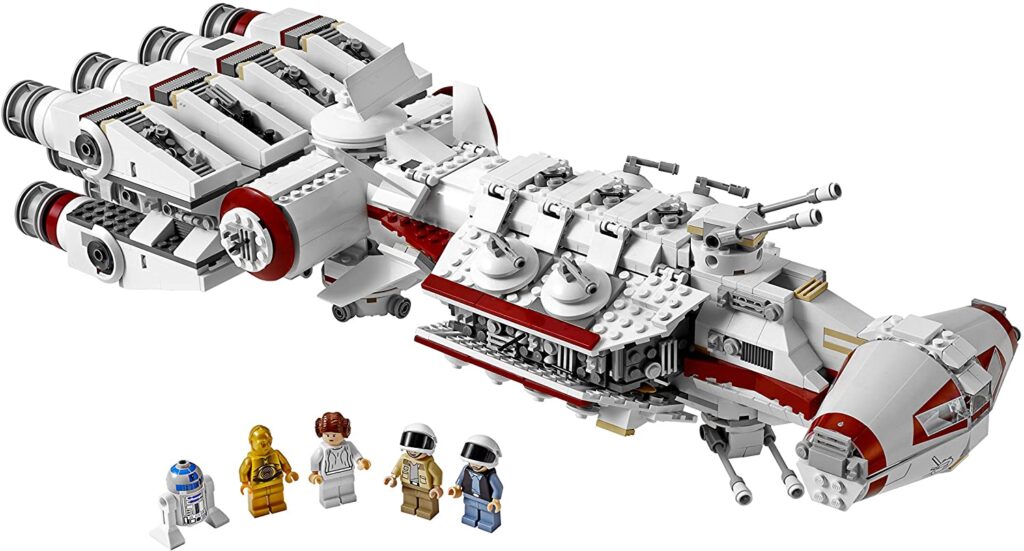 #18 – Rebel Snowspeeder $1,400
Star Wars comes in strong again with the Rebel Snowspeeder from The Empire Strikes Back.
With fewer pieces, 1,457, than our first two entries, the high price of the Snowspeeder set equates to roughly one dollar per block at $1,400.
The Snowspeeder is well-known for being one of the most aesthetically pleasing Star Wars sets. For that price, we should think so!
#17 – Eiffel Tower – $1,455
From a Galaxy far, far away to a city a little closer for earthlings! Paris is our next stop with the Lego Eiffel Tower. It's a 1:300 scale recreation and has 3,428 pieces, and is also the tallest Lego set available.
It will, however, be cheaper to climb the real Eiffel Tower than purchase this bricked tribute because at $1,455 per set, "il est cher!" (It is expensive!)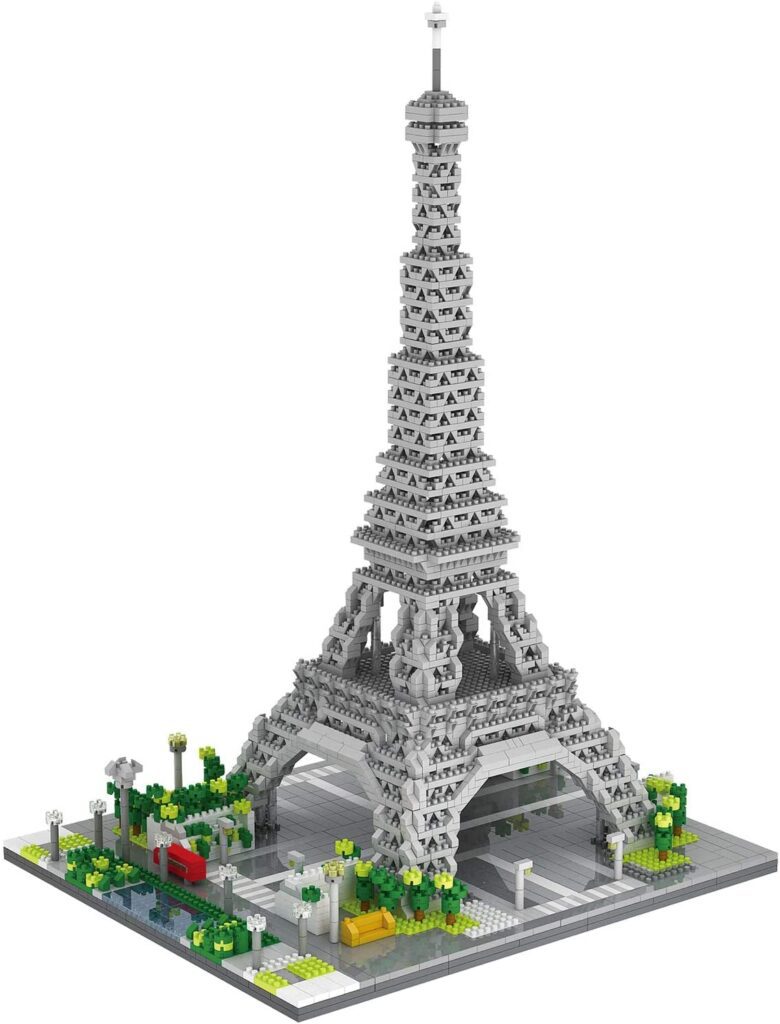 #16 – Imperial Star Destroyer – $1,600
We're back with Luke Skywalker, Han Solo, Darth Vader, and Princess Leia once again with the very big and very pricey Imperial Star Destroyer.
At 3 meters long, 3,000 pieces, and breathtakingly beautiful, this is one of the most impressive Star Wars Lego sets of all time.
However, this one could easily be renamed the Imperial Budget Destroyer because it doesn't come cheap at around $1,600 on resale!
#15 – Star Wars V.I.P. Gala Set – Vader Edition – $1,600
Back to the Dark Side of the Force, this VIP set is a true classic released at the 2005 Lego Toy Fair as part of the Revenge of the Sith promotional campaign. Prices vary, depending on condition and intact box seals. You might be able to find one for just over $1,600.
Again, rarity plays a big part as it was a limited release. There are only 55 in existence, although there is a debate about the exact figure.
#14 – Limited Edition Batman Announcement Set – $1,720
From the dark side to the Dark Knight, Batman and DC Comics make their first appearance on the list with this rare and expensive Lego set.
If you were at the 2005 San Diego Comic-Con and you picked up this special edition once-off set, you'd be able to sell it for a cool $1,720.
With only 250 ever made, it includes limited edition Joker and Batman mini-figures as well as a feature that plays the Joker's voice and trademark laugh!
#13 – Death Star II – $1,950
2005 was an excellent year for very expensive Legos. It also saw the launch of the Death Star II, the biggest set from 2005. A 3,000-piece massive ball of multi-layered awesomeness. Easily in the top 3 of most iconic Star Wars vehicles ever!
The Empire's ultimate weapon can easily withstand a Rebel attack. It will also destroy your bank account with a single swipe of your credit card.
Prices vary depending on condition, but you won't get away with much less than around $1,950 – May the credit be with you!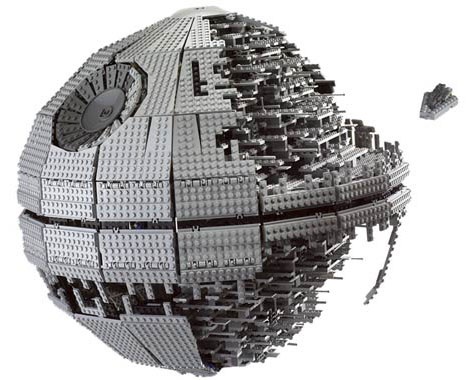 #12 – Statue Of Liberty – $2,000
Our second real-life tourist attraction on the list is in the good old US of A! The Statue of Liberty Lego set is a fitting tribute to the real, majestic one. With over 3,000 pieces, this is one for the display shelf.
Thomas Jefferson might have said, "The price of liberty is eternal vigilance," but in this case, at over $2,000, it is also temporary brokenness!
#11 – Cafe Corner – $2,000
The most understated and subtle entry, the Cafe Corner, is a legendary and limited-edition Lego set released in 2007 as part of the Advanced Models range.
With just over 2,000 pieces and three separate minifigs, this visually stunning set can range between $2,000 and $5,000 depending on condition and box seals. That's quite a few coffees and croissants!
#10 – Yoda "I Heart NY Shirt" – New York Toy Fair 2013 – $2,275
Just like the Chewbacca minifigure, Yoda Minifigures are collected by both Star Wars and Lego fans alike.
Love New York, he does, apparently, and this very limited edition mini-figure will set you back a force-shattering $2,275 at the very least!
#9 – Grand Carousel – $2,300
At number 9 is a set that is exactly what you think – A grand carousel. It's classic, timeless, and an excellent investment, going up in value by about 14% annually.
It had a relatively limited release, but its value is partly because it really works and has a remote control! Very cool! The price will spin you around too – At least $2,300 and often upwards of $3,000, dizzying stuff!
Be sure to check for the certificate of authenticity when buying vintage Legos at auction, just to be sure you are getting the real thing.
#8 – LECA Automobile – Lego Inside Tour Exclusive 2005 Edition – $2,400
2005, again, was an excellent year for rare Lego collectibles! The LECA Automobile is part of Inside Tour limited edition sets.
As the name suggests, you only get these when you tour Lego HQ in person. It is not the most spectacular or the most complicated set by any means. Still, it is highly respected in Lego circles. Owning one of these will improve your Lego credibility substantially.
It's going to require a higher credit rate, too, though, because it's incredibly pricey at over $2,400.
#7 – The Legoland Train – Lego Inside Tour 2014 – $2,750
We're back on track and all aboard for our 7th most expensive Lego set! The Legoland Train from the Inside Tour of 2014 is an absolute classic. There were only about 160 created, although again, nobody knows the exact number.
The price is a little more than your average train ride, though, you're looking at anywhere from $2,750 for a set.
#6 – Lego Taj Mahal – Creator Expert – $2,865
When it comes to spectacular, it doesn't get more epic than this Indian masterpiece of architecture. The Lego tribute is just as epic – Huge in scale, and with a piece count of 6,000, it might take you quite a while to build.
It will take a little time to save up for too, because, at just under $3,000, it's not cheap at all. That's Rupees, by the way. The dollar price is in the range of $2,865!
#5 – Han Solo On Tauntaun – Miniland Scale – $3,200
Top 5 territory, and we're back in Star Wars! This time it's Han Solo, and his Tauntaun, a strange-looking creature that Han rides and eventually cuts open to save a freezing Luke in The Empire Strikes Back.
It's a rare set, and what it lacks in size and impression it makes up for in price – A bone-chilling $3,200 and up!
#4 – Piper Airplane – LEGO Inside Tour Exclusive 2012 Edition – $4,000
Top 4, and we've reached the $4,000 mark! Another Inside Tour exclusive, a handful of lucky, lucky people were given one of these in 2012, and if they held on to them for a while, they'd be making quite a bit of money!
This incredible set includes the airplane, airport, and some mini-figures and is regarded as one of the grail Lego sets.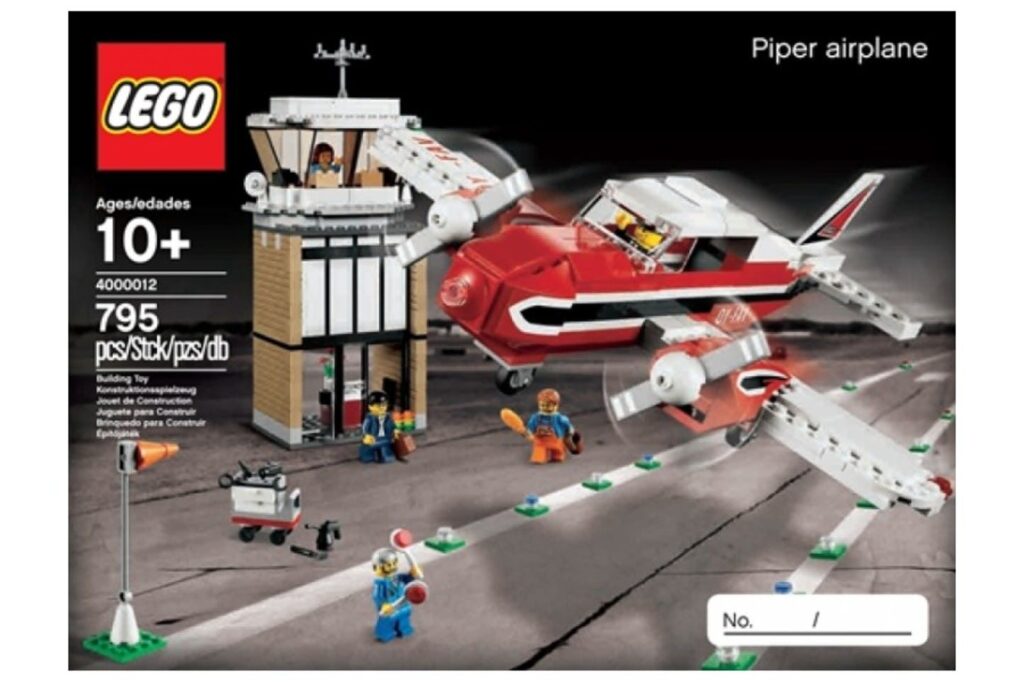 #3 – TMNT Antonio's Pizza-Rama – New York Comic-Con 2012 Exclusive – $4,400
The Teenage Mutant Ninja Turtles, our heroes in a half-shell, come in at number 3 but prepare to be a little underwhelmed. For a shell-shocking $4,400 you get…. A slice of pizza.
We know New York is an expensive city, but this is ridiculous! This very rare single-slice of pepperoni is legendary in Lego circles, and it has a price to match its mystique!
#2 – Ultimate Collector's Millennium Falcon Set – $4,500
When it comes to grail Lego sets, it doesn't get much more impressive than this. It's the first thing that pops in people's heads when the 'most expensive lego set' conversation crops up.
It's one of the larger sets ever created with more than 7,500 pieces. The Star Wars Episode IV Lego set #75192 Millennium Falcon is a fitting tribute to Han Solo's beloved spacecraft.
Ultimate Collectors Series, Year 2000
Used mainly for Star Wars, the Ultimate Collector Series, (UCS) was introduced in 2000. The UCS is considered a Direct To Consumer set, appearing in only a select number of retail locations.
The sets included a large number of pieces, were meant for older builders, and were relatively expensive and hard to find.
As the fifth largest Lego set ever produced, the Millennium Falcon Ultimate Collector Series did not dissapoint.
The price? The last set sold for $4,500, for the original, but these prices do vary!
#1 – H.C. Andersen's Clumsy Hans – 2015 Edition – $7,300
With only 80 sets in the world, a mint condition HC Anderson Clumsy Hans Lego set is the envy of collectors.
The sets were given exclusively to Lego ambassadors who never sell them, hence the huge demand and price. We're talking at least $7,300 here, so be prepared to shell out generously for what is quite possibly the rarest Lego set out there.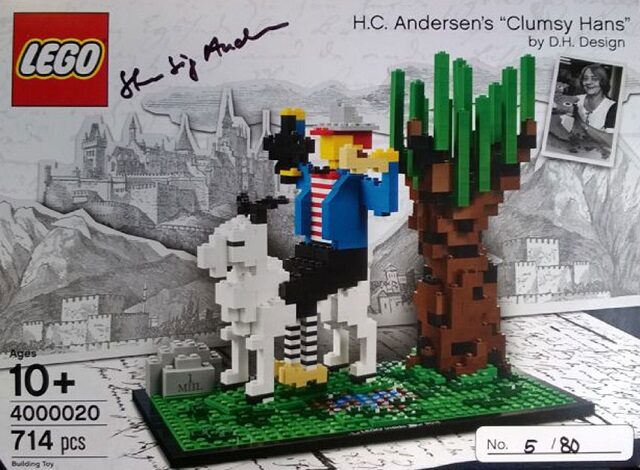 ---
Bonus – Mr. Gold Series 10 Minifigure – $5,000
Mr. Gold was released in 2013 as an extremely rare series of chrome gold Lego Minifigures. Only 5,000 were produced, and each piece is worth up to $5,000.
Mr. Gold features a golden top hat, gold legs, gold face, and a gold tuxedo. The white hands are the only thing without gold.
Another notable minifigure is the Boba Fett. There are only two, and they are both 14-carat gold. As you can imagine, they are the rarest and most expensive minifigures in the world. There's never been an official sale, but values might be as much as $20,000.
Bonus – AT-AT – $800
Another impressive UCS Lego set is the Star Wars AT-AT, which was released in 2021. While the set includes a massive 6,785 pieces, that's still not as many as the Millennium Falcon.
At 25 inches tall, and 28 inches wide, the Star Wars AT-AT Walker is sure to make collectors' wish lists.
Bonus – Market Street – $3,300
The 1,248 piece Lego Factory Market Street set was produced from October 2007 thru April 2009.
The value of a new, sealed Market Street set has steadily increased in value and is now estimated at roughly $3,300. While a used set on the secondary market sells for $600 – $800, depending on the condition.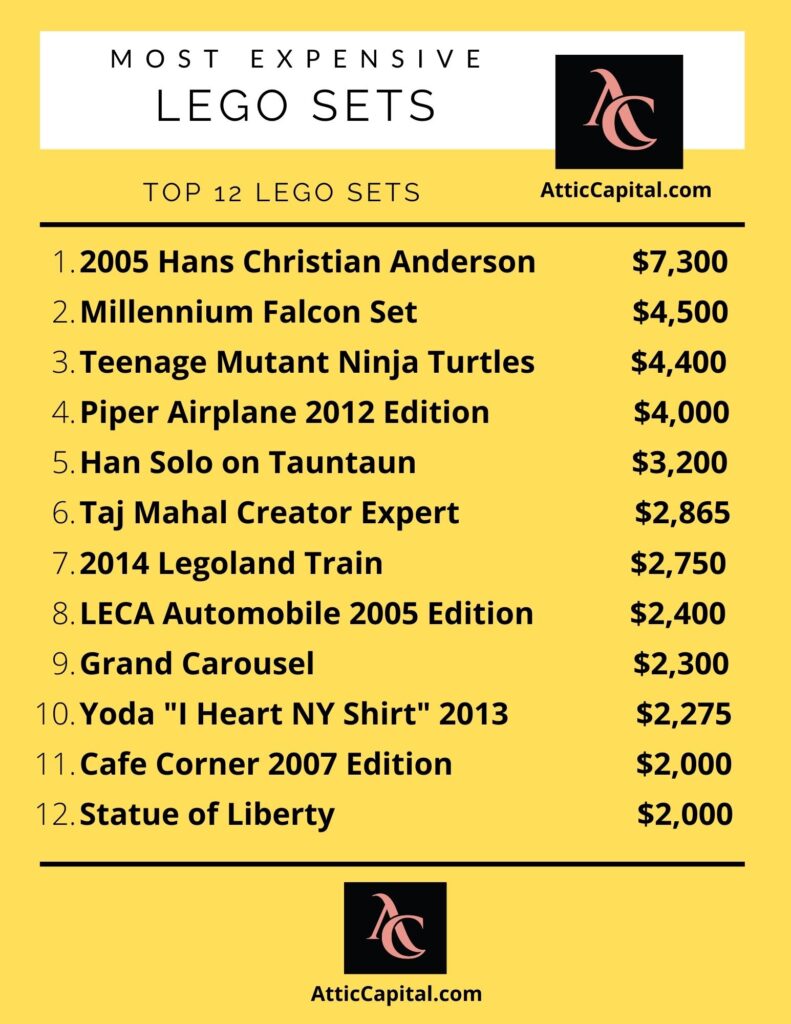 And there are so many more unique sets to collect. From the Harry Potter fan favorite Diagon Alley or Hogwarts Castle to the Ghostbusters firehouse headquarters.
The list goes on and on. Chances are you will have a never-ending supply of Lego sets to build.
Lego Innovation
After nearly 100 years of Lego creations, the company has never stopped focusing on new and innovative sets to keep customers building.
For example, the smartphone-enabled, Lego Technic App-Controlled Cat D11 Bulldozer is fully operational. With 4 motors, the replica bulldozer released in 2021 is sure to be a future classic collectible Lego set.
---
Additional Resources –
Vintage Lego Collections For Sale – eBay
Track the Value of More Than 17,000 Lego Sets – BrickEconomy
---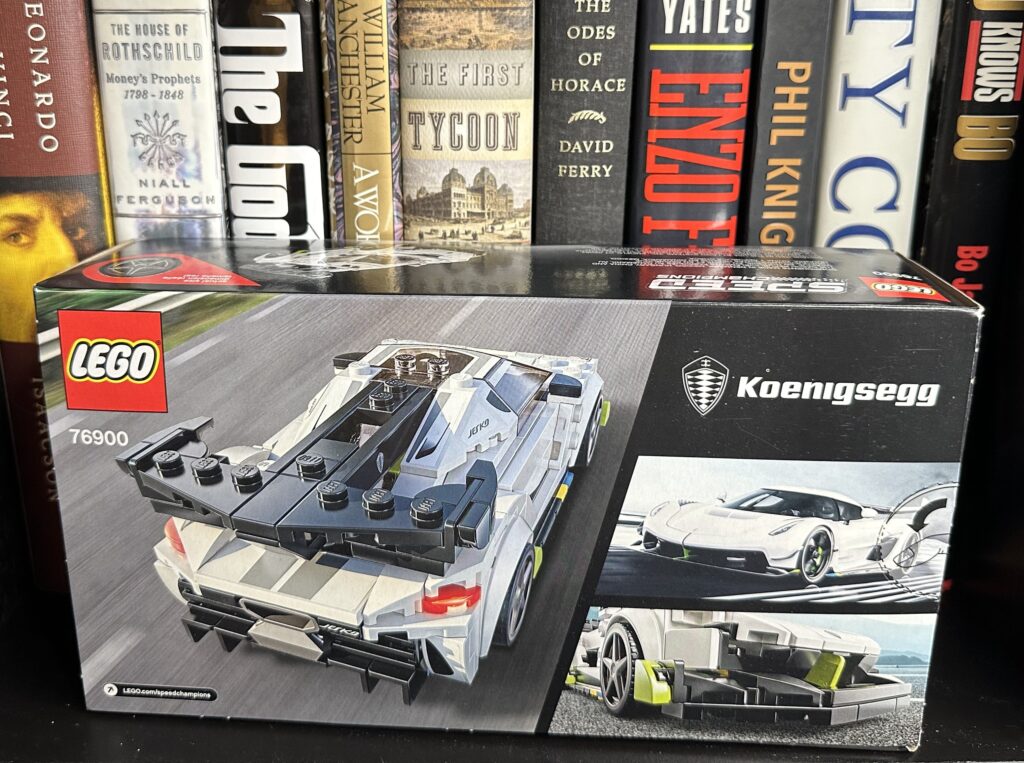 ---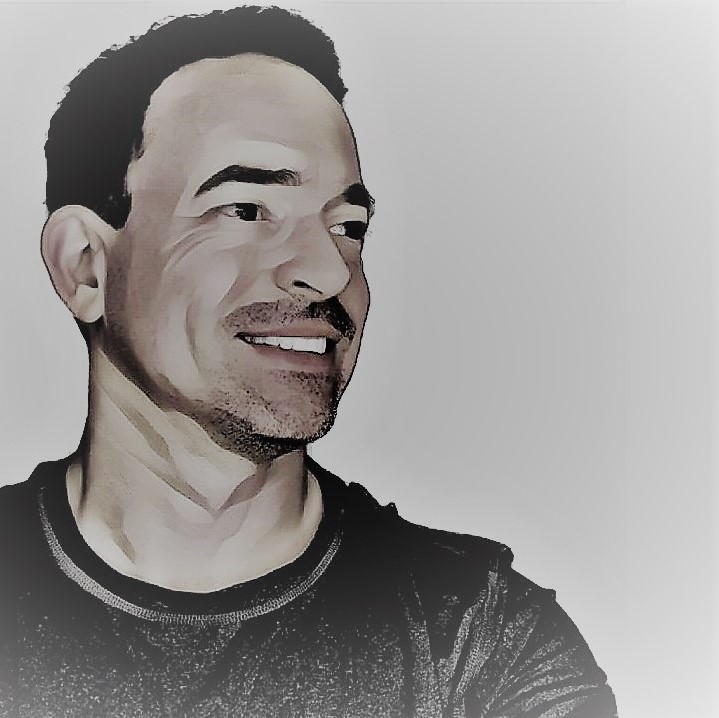 R.J. Bachman
Attic Capital – Writer, Editor, and Lifelong Collector
After many years of collecting rare coins, sports cards, and all types of collectibles, I began writing at Attic Capital to share my experience, knowledge, and passion.
I would love to connect with you, so don't hesitate to reach out and let me know more about your passion for collecting.