---
Why would anyone want to collect old cigar boxes? They're just empty boxes. It's guaranteed that whoever asks this question has never seen, or experienced the understated elegance of a La flor Dominicana design or the unmistakable look of a Rocky Patel vintage cigar box.
They've surely never seen the majestic lion on a La Aurora box, nor have they basked in the timeless and classic glory of a Flor del Valle, or Arturo Fuente wood cigar box.
Collecting Cigar Boxes
Cigar boxes are, in a word, exquisite. In a few more words, they are magnificent pieces of art and design that capture moments in time. They can be elegant and dramatic or plain and understated. And anything in between.
A vintage cigar box can be a great part of any type of collection.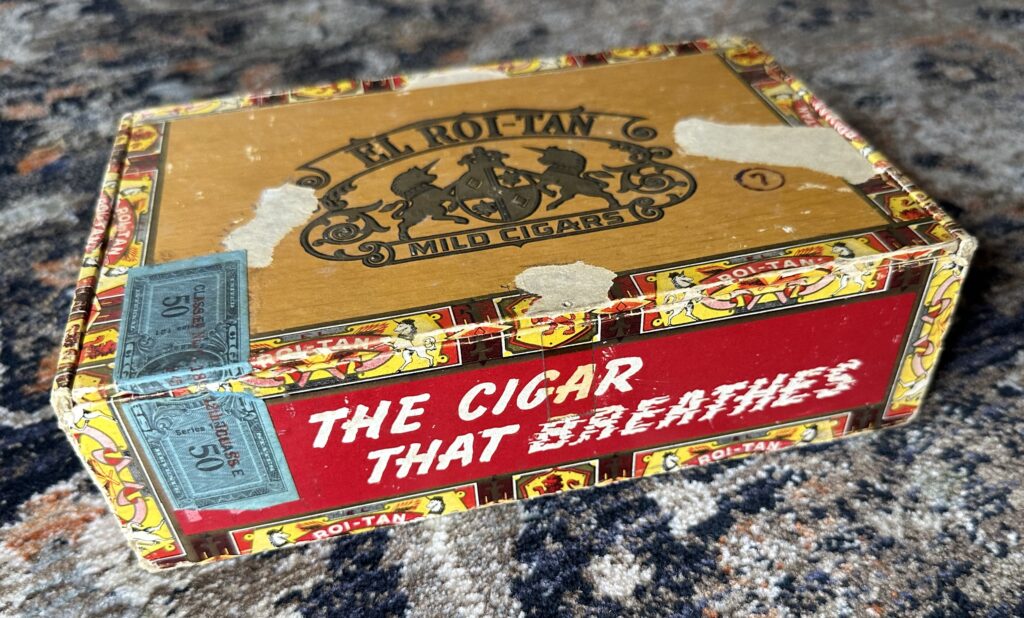 They also make a perfect storage box for tiny odds and ends. Making cigar box guitars, for use as a gift box, or even as jewelry boxes. Hell, they're even great for keeping cigars.
Cigar boxes tick all the collectible boxes –
Incredible backstories – From the American Civil War to prohibition, politics, world wars, pop culture, social development, and countless more events. Cigar boxes represent world history and moments in time.
Resale value – There is good money to be made from rare and well-preserved empty wooden cigar boxes.
Rarity and quirkiness – Wooden cigar boxes come in all shapes and sizes and have many peculiar and unexpected traits and features.
The importance of condition – As with all collectibles, boxes in excellent condition play a vital role in maintaining value.
History of Unique Cigar Boxes
Empty cigar box collecting is becoming extremely popular. Collectors are searching for antique and vintage cigar boxes. Even the latest contemporary wooden cigar boxes are pursued by collectors.
Empty cigar boxes make for a unique collectible, and we'll be lifting the lid on this exciting hobby.
A Brief History Of Cigar Boxes
Cigar Box Variations
Brands And Stamps
The Importance Of Age And Condition
The Cigar Box Market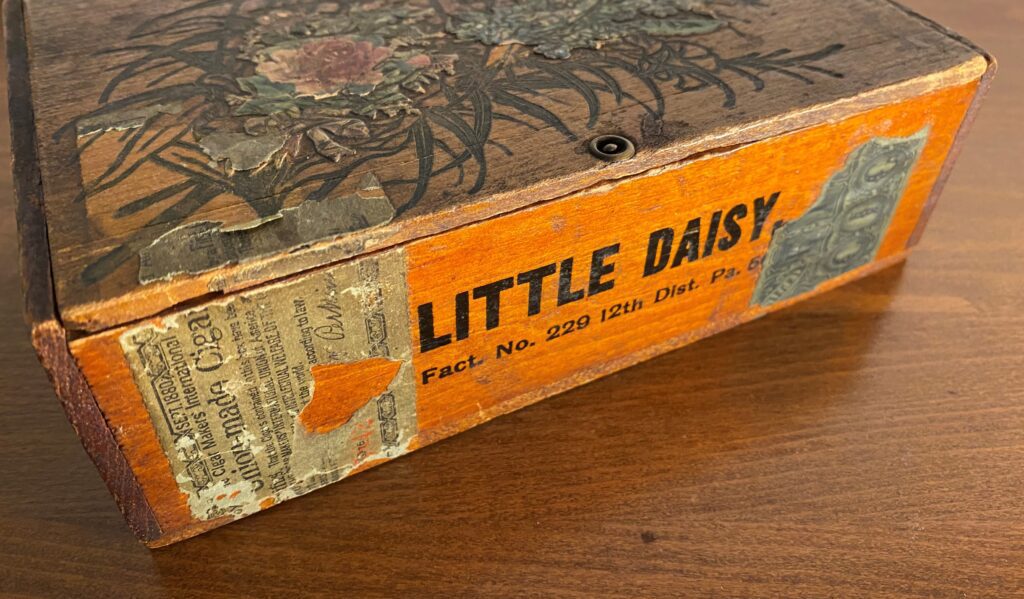 A Brief History Of Cigar Boxes
Interestingly, cigars weren't always sold in boxes, which became mandatory in the late 1800s. It was only the most premium, handmade cigars that were sold in boxes in the beginning.
Cuba's H. Upmann was the first to document sealing a cigar in a boxed container.
In the pre-Civil War days, the vast majority of cigars were sold individually or tied up in small bundles.
As the popularity of cigar smoking increased, these informal methods made it impossible to keep sales records. Tax officials would need to sift through endless single and randomly bunched cigars that all looked the same.
Growing Popularity of Cigars
Unsurprisingly, this rather casual approach to exporting cigars resulted in theft, fraud, and accounting headaches.
The revenue act of 1864 attempted to correct this hassle. It stipulated that all cigars had to be packaged in containers or bundles of specific amounts.
Cigar Sales Rules
While this helped somewhat, the cigar suppliers were still driving officials crazy with random numbers in the bunches and odd lots. Officials pushed to formalize cigar sales rules in 1865.
Their solution? Cigar boxes holding either 25, 50, 100, or 250 cigars. This would allow the IRS to count the boxes and include a stamp confirming that tax was paid.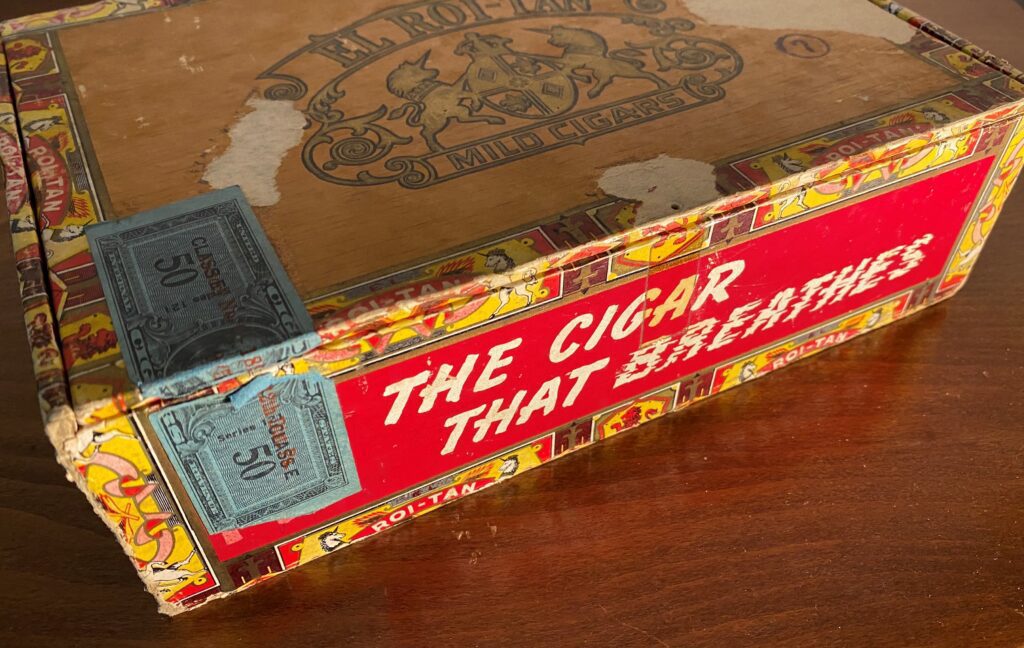 The Cigar Boom
Several social and political events played a role in the massive cigar boom soon after the new boxing rule. For example, the introduction and import of German molds, the easing of cigar taxes after the civil war, and a migrant labor force never before seen in the United States.
These and other factors skyrocketed the popularity of the cigar industry. By 1900, four out of five American men smoked cigars.
Cigars Packaged in Wood Boxes
Between 1870 and 1920, a staggering 1.5 million different cigar brands opened in the U.S. Which also meant 1.5 million different cigar boxes. Each with unique and different artwork attempting to stand out in the new and rapidly-growing and ultra-competitive market.
Cigar boxes were initially made mostly of wood. Spanish cedar was the most popular. Soon a multitude of styles, many in good quality and different sizes, began to emerge.
One of the main reasons cigar boxes are so diverse and collectible today is that anyone and everyone could play a part in the advertising and marketing of cigars and tobacco products back in those early days.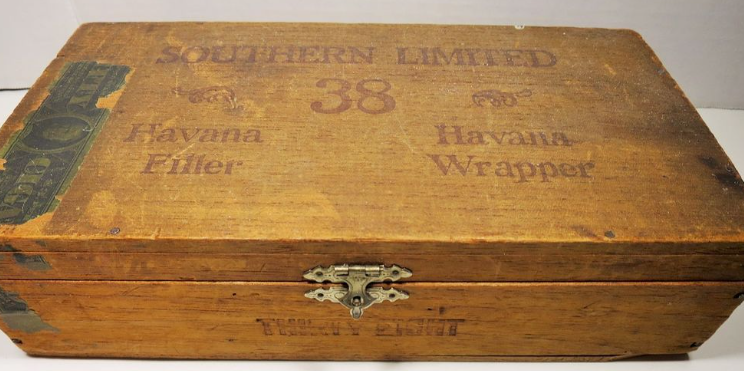 Custom Designed Cigar Boxes
Retailers and wholesalers could rebrand and re-emblazon boxes with their own 'brands' and designs if they ordered enough.
Wealthy individuals could also secure their own high-quality custom-designed, decorative boxes. The result was a massive array of box styles and brands, much to the delight of today's collectors.
This created the need to differentiate the box brands even further and resulted in vivid colors and dramatic, eye-catching box designs. If the average small-town drug store had to keep roughly 350 brands of cigars in stock to keep customers happy.
You could imagine the brand distinction occurring in a desperate attempt to stand out from the crowd.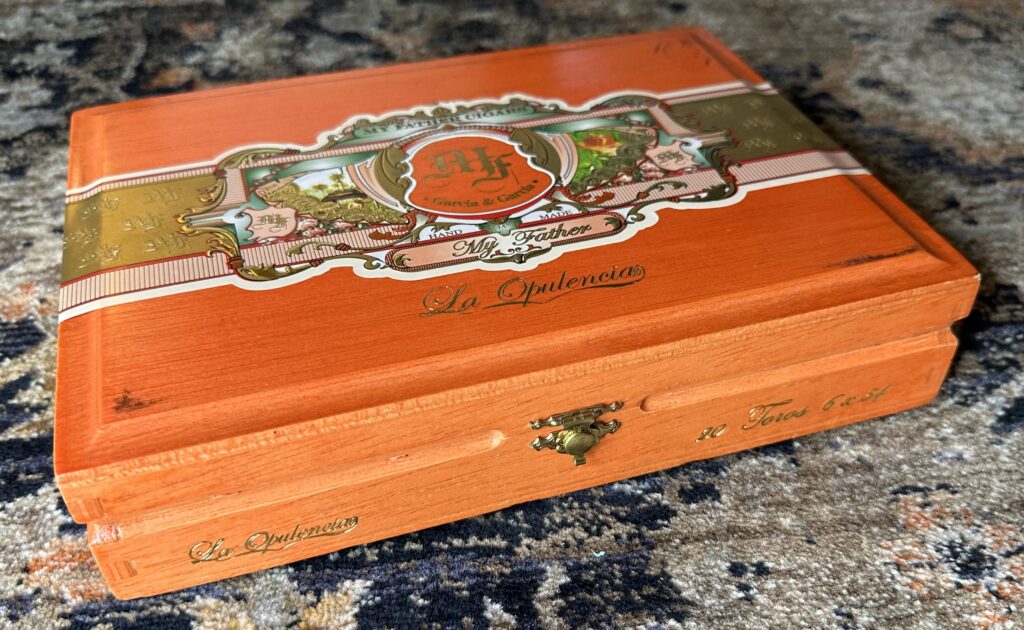 The Evolution of Cigar Boxes
The creativity and variety of cigar boxes and labels continued to evolve and develop over the years. Today, collectors have a vast array of options to collect, trade, and invest in.
Collecting cigar-related artifacts in general, including cigar cutters, cigar labels, cigar lighters, and, of course, empty boxes, has become a booming hobby and big business too.
Nowadays, you can buy an expensive electric cigar humidor box to store your valuable cigars, complete with a hygrometer to ensure proper humidity. But there was a time when a cigar box with a hinged lid was the number one storage option.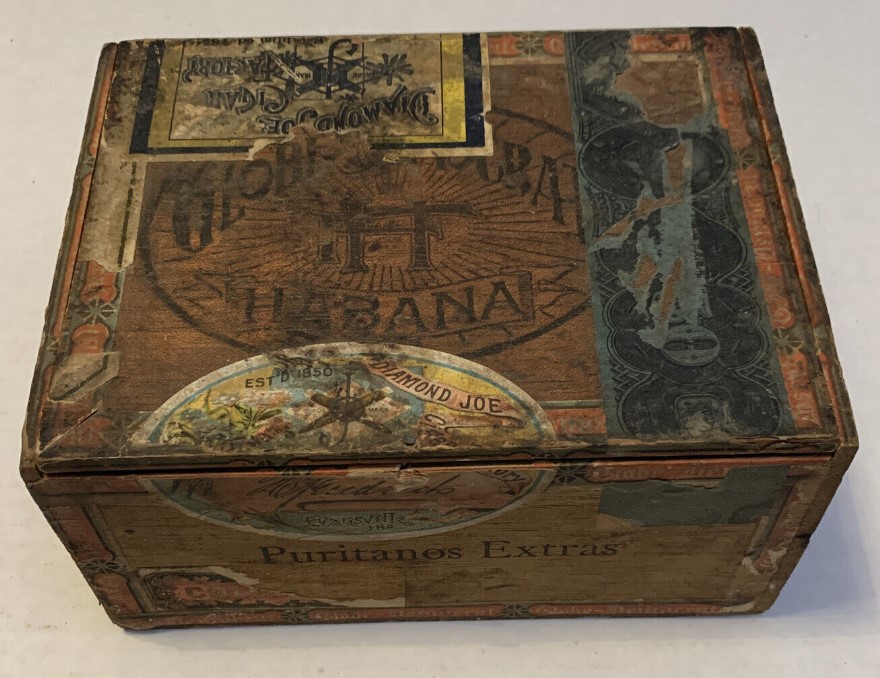 Cigar Box Variations
Traditionally, cigar boxes were made out of nailed wood. Six different wood components were nailed together to enable a container for up to fifty cigars.
However, cheaper materials and developments in technology in the future saw a wider variety of styles and materials used.
In terms of value, the handmade Spanish cedar wooden cigar boxes dated before the 1864 Revenue act are older and much rarer. They tend to yield the highest resale and prestige value amongst collectors.
That being said, there are plenty of highly collectible and valuable pieces made post-1864. And, depending on rarity and aesthetics, from various materials.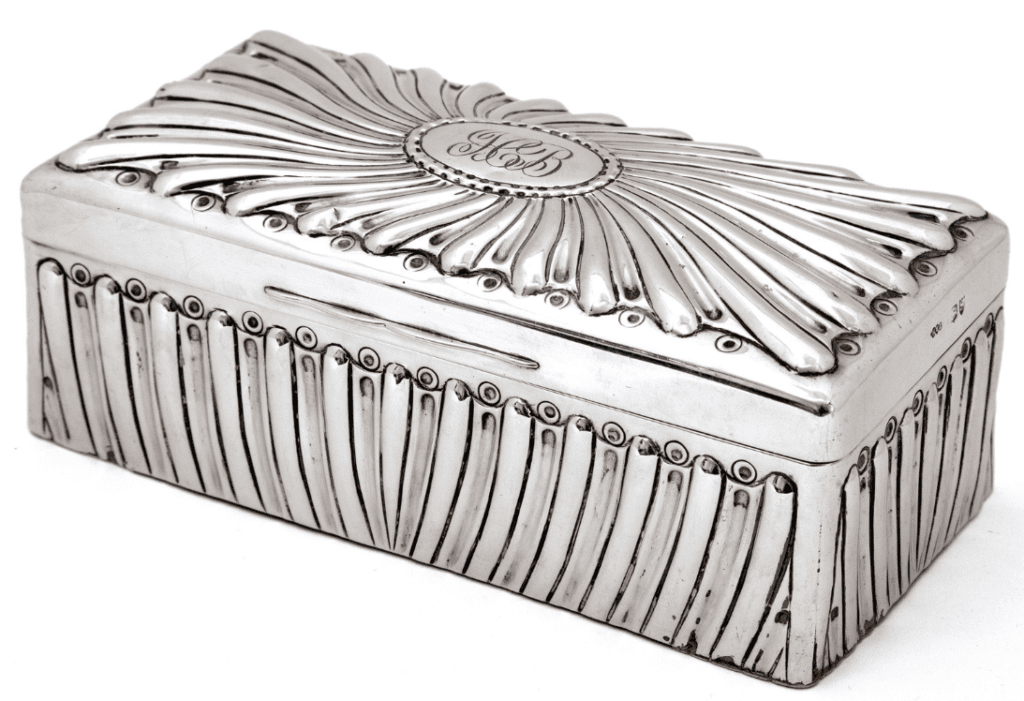 8 Great Cigar Box Brands to Check Out
The world of cigars is enormous, but for starters, check out these top 8 cigar box brands to begin your exploration.
Romeo Y Julieta – This Cuban brand was established in 1875 by Inocencio Alvarez and Manin Garcia. The name was inspired by the factory workers listening to Shakespeare's play, Romeo and Juliet. Winston Churchill admitted this was his favorite brand in 1946.
My Father La Gran Oferta – Translated as "the great offer," this Nicaraguan brand is from the father and son team of Don Pepin and Jaime Garcia.
La Colmena – This relatively new launch in 2014 by Kyl Gellis features manufactured cigars in Miami, Florida. With very limited production, a cigar box of La Colmena could be valuable in the coming years.
Joya De Nicaragua Antano – Launched in 1968, it's the oldest cigar brand made in Nicaragua. After the Cuban Revolution in 1959, cigar-making moved to Nicaragua, where the company still manufactures its handmade premium cigars.
El Gueguense – Meaning "the wise man," El Gueguense cigars are named after the oldest known Nicaraguan plays. The company was founded by Nicholas Melillo and is one of the top-rated cigars over the last several years.
Montecristo – A brand dating back to 1935, when Alonso Menendez created the brand and named it after the Alexandre Dumas book, The Count of Monte Cristo. The brand and all its assets were nationalized by Fidel Castro during the Cuban Revolution. Today, Montecristo is the second most popular cigar in the entire world.
Cohiba – The Cohiba brand began in 1966 as Fidel Castro's exclusive and private cigar brand. It wasn't until 1982 the cigars were sold publically.
Camacho – A favorite brand of Winston Churchill, the British Prime Minister, Camacho cigars were founded in 1962 by Simon Camacho. Through the cigar boom of the 1990s, Camacho became extremely popular, selling more than 3 million cigars per year.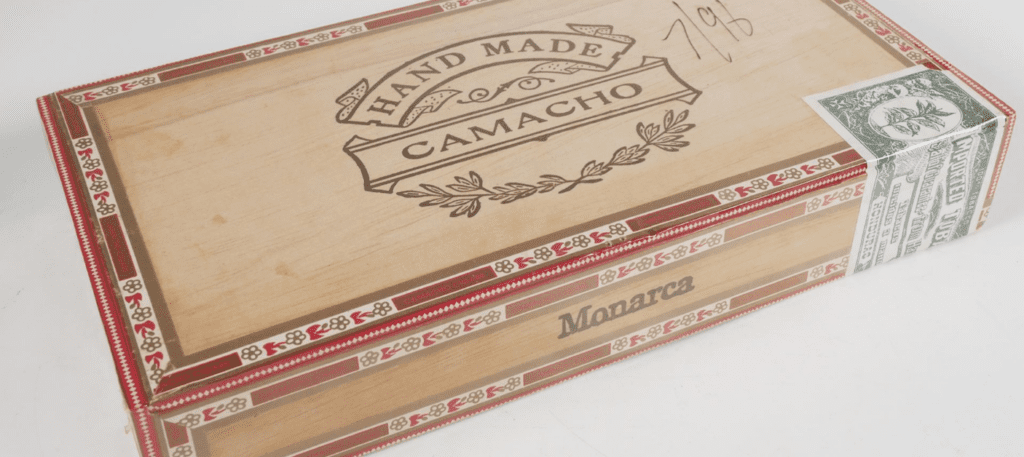 Other Notable Cigar Box Brands
La Aroma
Por Larranga
Partagas
Arturo Fuente
AJ Fernandez
Alec Bradley
Novelty And Commemorative Cigar Boxes
As with most collectibles, the one-offs and limited edition types are particularly interesting to the serious collector. The boxes were so easy to customize, which meant that there were cigar boxes for almost every occasion.
Some of these were produced in extremely low quantities – a collector's dream scenario.
Some of the varieties include:
Sports events
Pets & Animals
Presidential And Political Figures
Holiday Scenes
Indigenous Communities
Automotive Designs
Holidays And Festivals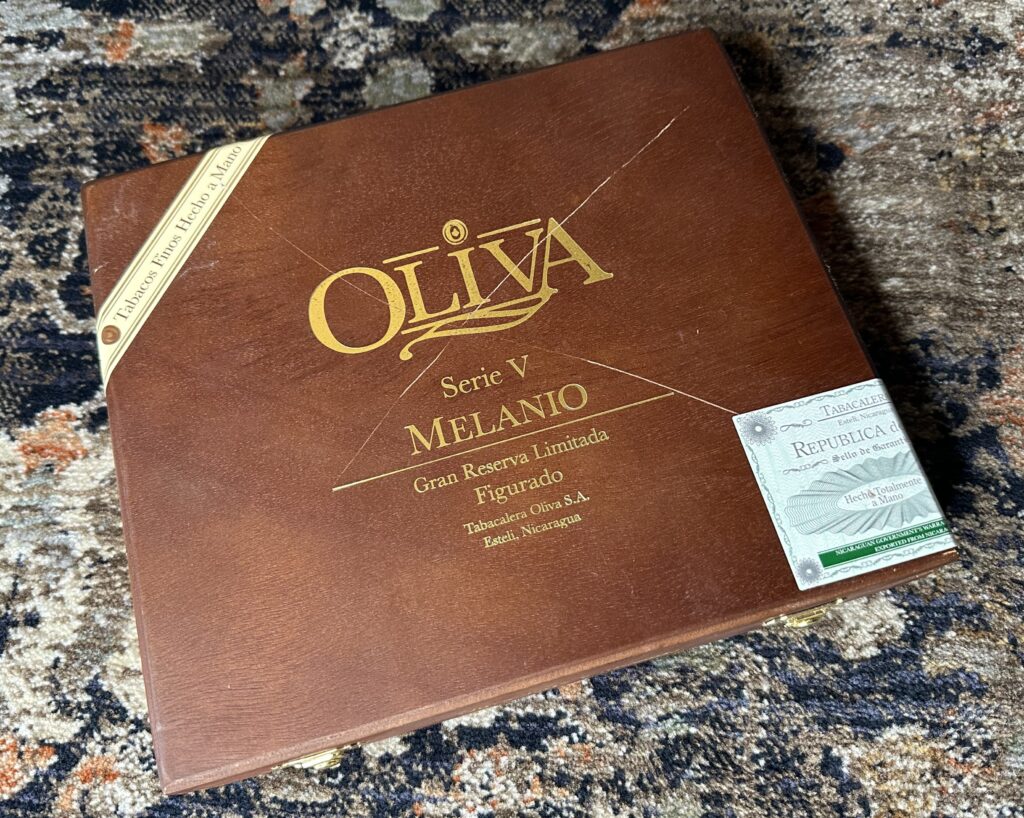 Cigar Box Designs
While the artistic expressions on cigar boxes have countless design variations, the functional design was limited to four main types:
Slide-Lid Box, Cabinet Selection
The traditional cigar housing was a large, square box made of wood. Known as SLBs or Cabinets for short, these classic boxes sometimes also came with a hinge-lid.
They hold between 20 and 50 cigars, with most of the older original boxes keeping 25 or 50.
8-9-8 Box
With a round design and three separate vertical sections, these boxes keep cigars on top of one another, with eight top cigars, nine in the middle, and eight on the bottom.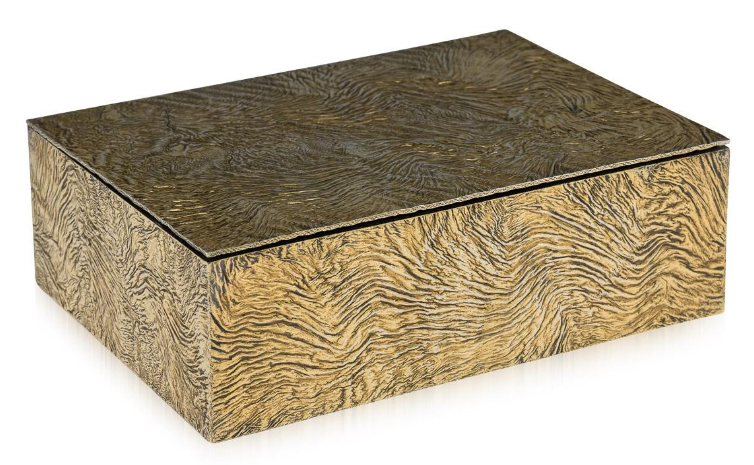 The Flat Top 13-Topper Box
The flat top has two layers; this box has 12 on the bottom and 13 on the top.
Variations and sizes of cigar boxes vary because of the many different cigar sizes. The most common sizes are the corona, the toro, which are slightly fatter than coronas, and the most popular size, the robusto.
Box-Pressed
The term for any cigar box with an equal number of cigars on the top and bottom.
Cigar Box Materials
While the traditional boxes were made of nailed wood, mostly Spanish cedar, many other materials, and designs were introduced as they became available.
Spanish cedar was the preferred choice and made nice boxes for several reasons: its pleasant odor, aesthetically pleasing grain, bug-repellent nature, and delicate texture.
Substitutes for Spanish cedar included Yellow Poplar and Eucalyptus, often including stains and scenting to resemble the original Spanish cedar.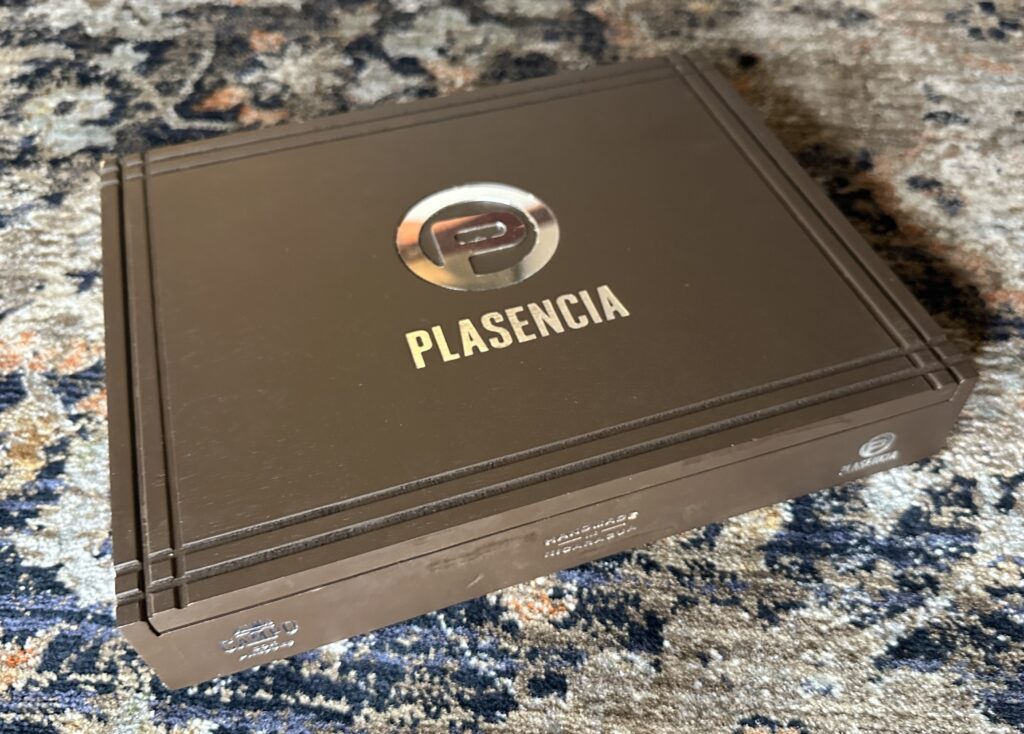 Materials used later on include:
A wide variety of other wood types
Aluminum
Tin
Plastic
Cardboard
Brass
Glass
China
The more refined and expensive materials will increase the value of wooden cigar boxes.
Still, the original Spanish cedar boxes and other expensive wood types, such as mahogany, also make for precious and valuable collectibles.
Brands And Stamps
Stamps and brands play an essential part in empty cigar box collecting.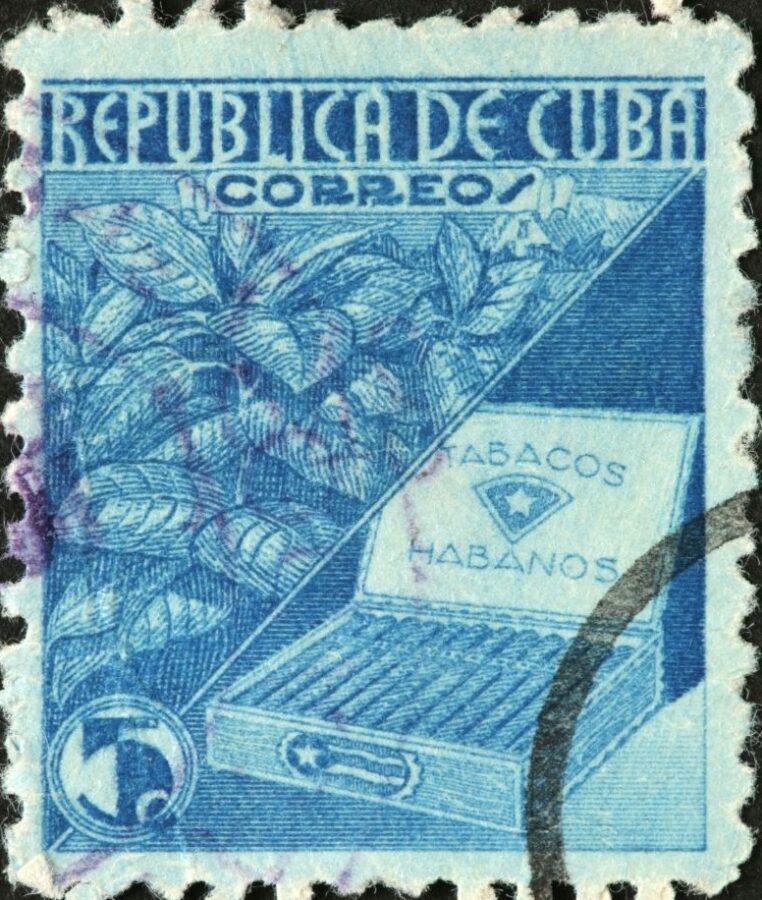 Marketing Cigar Boxes
As mentioned, boxes were introduced for tax stamp purposes. But most artwork, logos, messages, and other decorations were purely for marketing, inventory, and sales purposes.
By 1897, the standard aesthetic components of the cigar were in place and remained more or less in place since then.
Components include:
Top Brands
The title of the cigar, ink-stamped on the lid or pressure-branded into the wood.
Content can include a label within the box, plain text, or images of tobacco leaves, cigar bundles, and other smoking-related imagery.
Front Brand
The front panel is either inked or branded with the manufacturer's name, cigar name, or the cigar's size.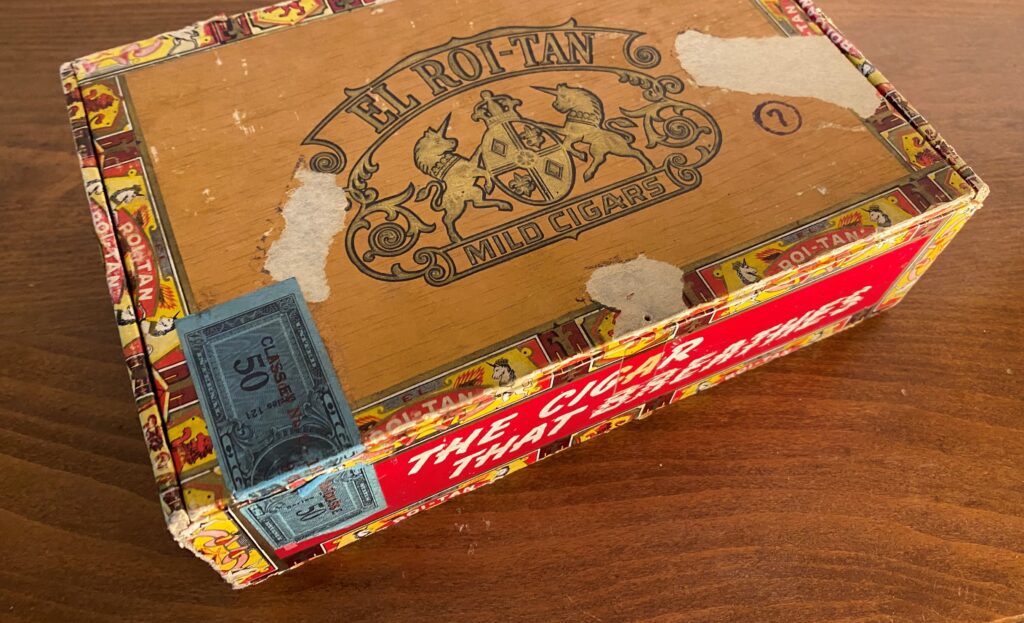 Back of the Cigar Box
It is not always present, but it includes the manufacturer's name and region of origin when it is.
End Label
Mostly a smaller version of the inside lid label, this was traditionally displayed in stores for quick identification and decorative purposes.
Color Mark
The side opposite the end label would traditionally be reserved for the color mark, which indicates the color of the leaf wrapper.
Spanish phrasing includes "claro" for a light tan, "colorado" for a medium brown, and "Maduro" for a dark red-brown.
Nail Label
Early boxes were sealed with a nail, and sometimes the nails were covered with small labels. These were often brightly colored and included a logo, name, or guarantee.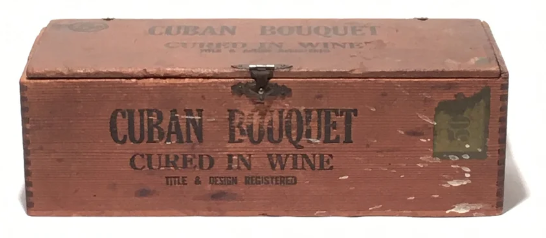 Edging
Small, narrow strips of paper were often applied to the box edges and were primarily plain white, although sometimes a bit more decorative and descriptive at times.
Stamps And Codes
The first revenue stamps were issued for cigars in 1863. The stamps were applied to the cigar boxes with a dedicated custom design for each year. Nowadays, boxes with these early revenue stamps are extremely valuable.
Revenue Stamps
An especially historic revenue stamp from 1865 honored President Abraham Lincoln, who was recently assassinated.
The 1865 stamp was also the first issue to reflect the new IRS regulation requiring cigars to be packaged in boxes of 25, 50, 100, 250, or 500.

Before 1960, Cuban cigar box stamps were also printed in English but were changed to Spanish only. They usually only mentioned the country of origin, "Hecho en Cuba" (Made in Cuba).
Cigar Box Codes
In 1985, however, Cuban cigar box stamps also included codes to formalize and assist with inventory checks.
These new codes included information about the factory's origin and the year and month of manufacture.
The highly complex coding system for the factory of origin is hard to decipher, but the date and time-coded stamps are simply the years in digits and the Spanish abbreviation for the month:
ENE (Enero) January
FEB (Febrero) February
MAR (Marzo) March
ABR (Abril) April
MAY (Mayo) May
JUN (Junio) June
JUL (Julio) July
AGO (Agosto) August
SEP (Septiembre) September
OCT (Octubre) October
NOV (Noviembre) November
DIC (Diciembre) December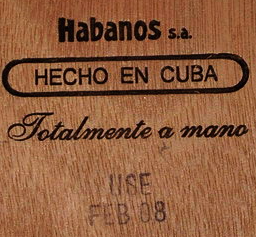 The Importance Of Cigar Box Age And Condition
For collectors, age and condition are significant.. These, including rarity, are the trinity that determines certain boxes' value and prestige.
Again, the revenue act is the benchmark for the cigar box age, and those that came before will always have extra value.
However, this value depends on the condition, and even the rarest of boxes won't be worth much if they are in terrible shape.
Older boxes in great condition can be precious, and the following factors play a role here:
Mold
Organic materials like wood are susceptible to mold, and the more mold and damage, the less value.
Labels
The more intact and vibrant the label, the higher the value.
Markings
Certain manufacturers' marks that are still visible and haven't faded or been scraped off will dramatically increase the box's value.
Collectors should check these elements before investing in vintage and antique boxes to ensure they purchase something with increasing value.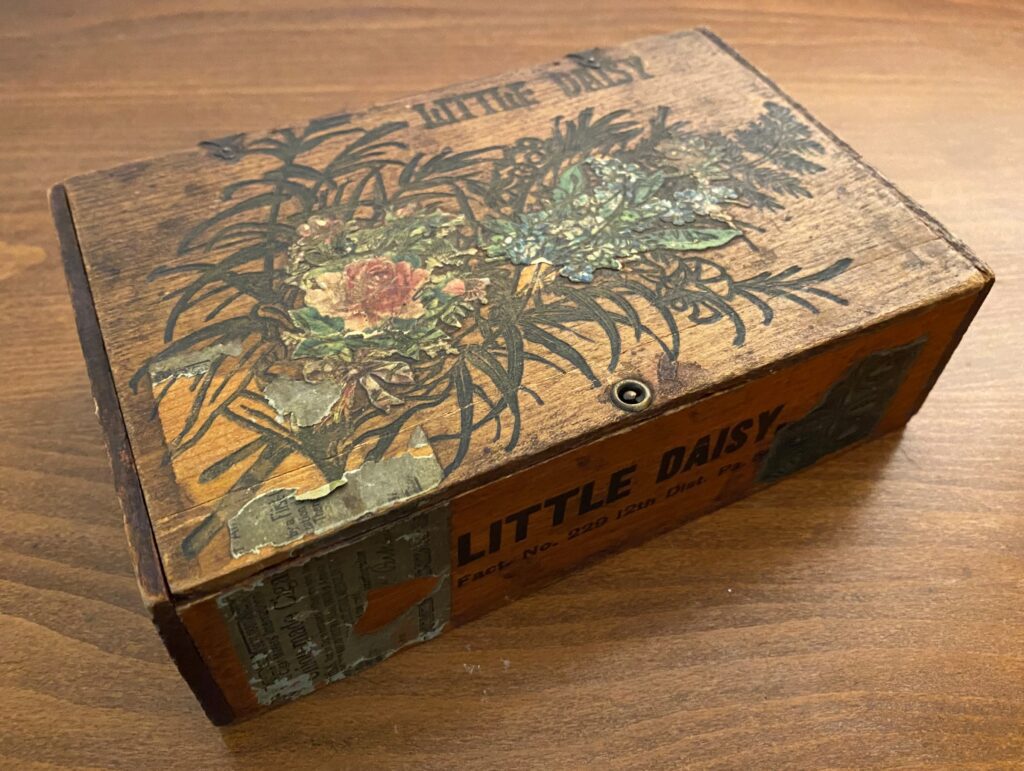 The Cigar Box Market
The market for old and new empty cigar boxes is vibrant, and prices vary dramatically depending on the various factors we've discussed.
For example, there is an art deco Sterling Silver Cartier Cigar box listed for $50,000 on auction, and there are also reasonably old boxes you can pick up for $50 at markets and auction houses.
There is a wealth of information online, and cigar box collector clubs are popping up to cater to the increased interest. In addition, cigar resources and publications like Cigar Aficionado and Famous Smoke also include cigar boxes as part of their discussion topics and articles.
Online interest forums are a great way to connect with serious and amateur cigar case and box collectors. Here, you'll be able to chat and connect with like-minded collectors and enthusiasts.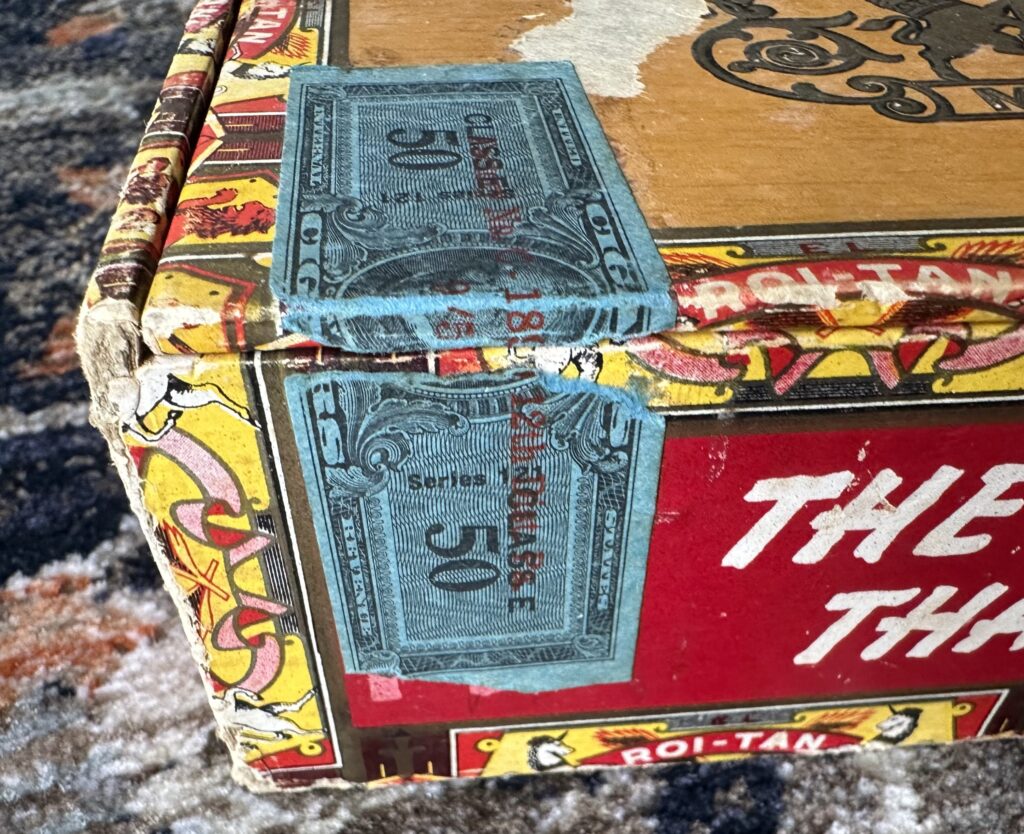 Rare Antique Cigar Boxes
Collecting rare antique cigar boxes cover many fascinating subjects. There's art, history, politics, advertising, branding, and marketing, all wrapped into each box. For DIY crafting there is never-ending opportunities.
So there's no better time to start than now, and if you haven't bought your first antique cigar box yet, go out and do it today!