---
The world of Yoda collectibles is vast and immense, but as the Master Jedi once said, "size matters not."
Master Yoda collectibles have never been in greater demand, and Star Wars fans of all shapes and sizes are scouring the globe searching for the next great item for their collection.
Master Yoda Action Figures
Since Master Yoda first appeared in 'The Empire Strikes Back,' he's been a legendary character in one of the most popular, successful, and epic movie series in history.
As a mentor of Obi-Wan Kenobi and eventual teacher to Luke Skywalker, Yoda is perhaps one of the most important characters in the George Lucas-created Star Wars franchise.
The Star Wars franchise that's so incredibly valuable, it was purchased by Disney for $4 billion in 2012.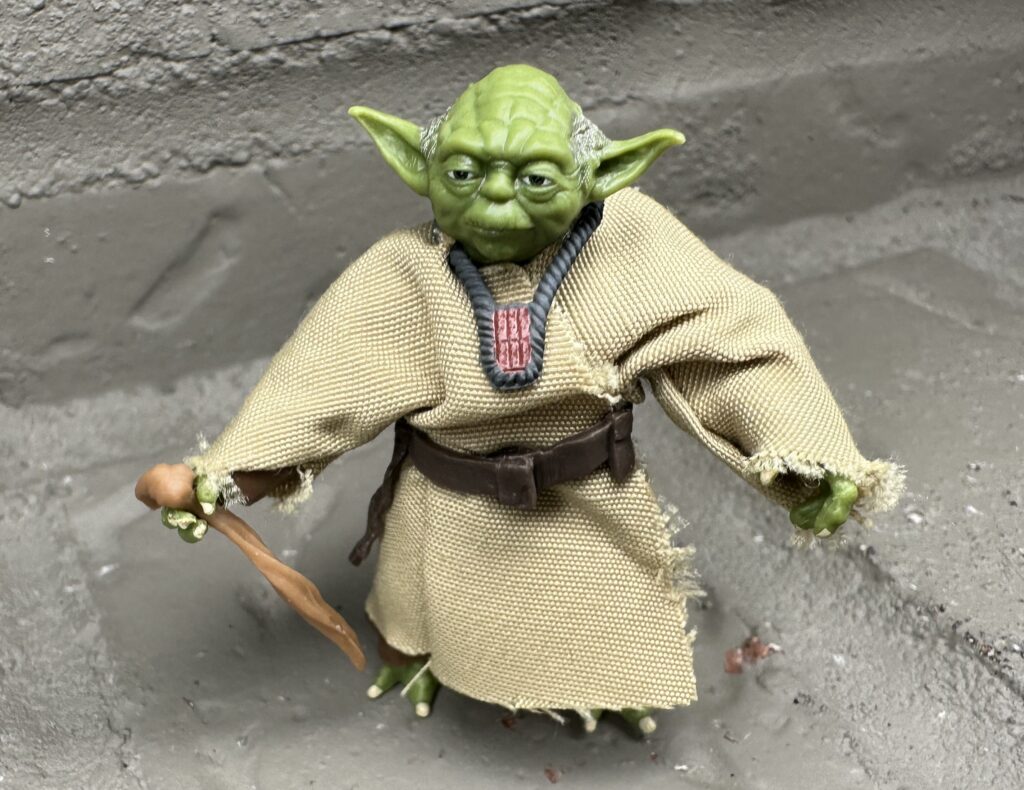 One Of The Most Important Characters Of All-Time?
As you may well be aware, in Star Wars, Episode III, Revenge of the Sith, Master Yoda was one of only two Jedi to survive Order 66.
The small green Jedi master played a vital role by inspiring Luke Skywalker to listen to the Force. His character's popularity in the Disney-owned Star Wars franchise might be equally important as a massively valuable asset.
Yes, Luke Skywalker is a great Star Wars character, and just about everyone knows Darth Vader's story. But can you think of anyone so iconic and important to an entire franchise as Yoda? I don't think I can. Or perhaps I should say, think-I-can-I-don't.
Disney has taken the Star Wars franchise to an entirely new dimension over the last nine years. Some valuations estimate the Star Wars franchise to now be worth over $10 billion and climbing.
Of all the amazing movies produced in the Star Wars prequels and sequels, the movies' value only accounts for roughly 20% of the overall franchise revenues.
And what makes up the biggest piece of the pie in the enormous Star Wars franchise revenues? Toys and merchandise are responsible for 36%.
Who is at the center of this colossal Disney empire? That's right, Master Yoda.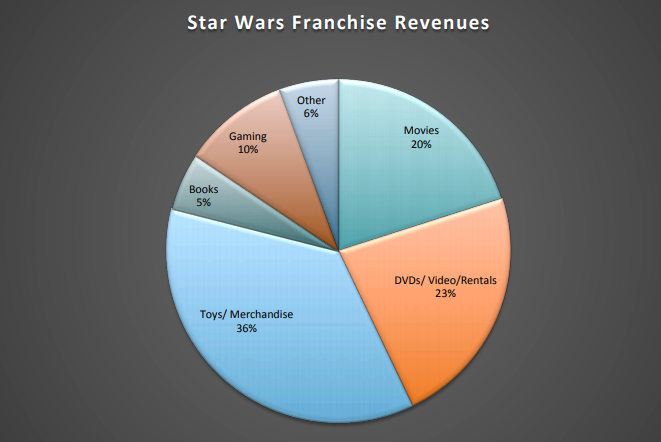 Forbes magazine has described the toys and merchandise products from the Star Wars franchise as the "crown jewel."
There's no denying the incredible force of merchandise sales and the importance of Star Wars collectibles and characters to the franchise.
Yoda and his co-starring cast have racked up an astounding $12 billion in revenues from toys and merchandise throughout the franchise's history.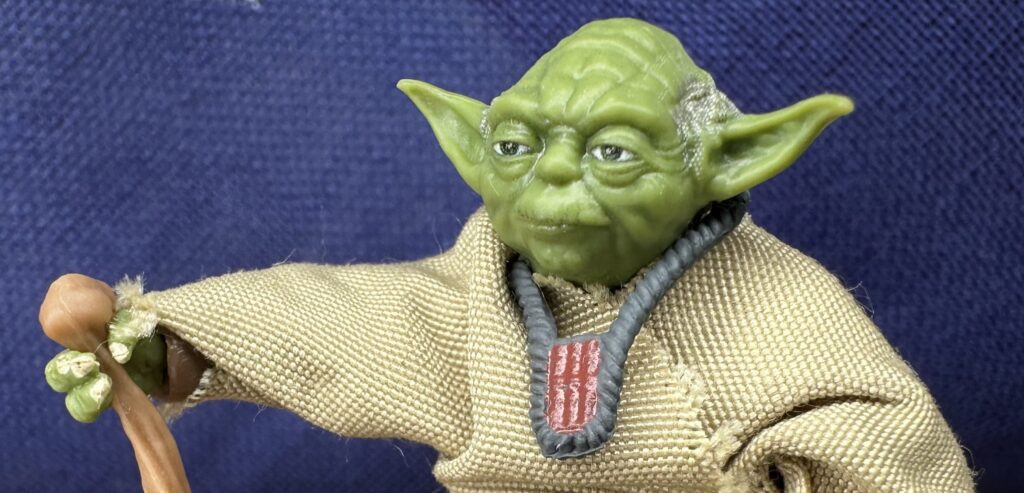 Legendary Jedi Master Yoda Collectibles
There are endless Yoda collectibles on the market, from trading cards to action figures, life-sized replicas, and authentic movie props and toys.
Some of the most valuable Yoda items are original figures still in the box and authenticated by a third-party grading company.
When it comes to Yoda collectibles, you can find almost anything you're searching for on eBay and Amazon, but there are also dedicated websites catering to Stars Wars collectors specifically.
Some offer re-sale items and vintage collectibles, and other companies offer officially licensed replicas. The world of Yoda collectibles is vast, and for die-hard fans, there are many options.
Yoda Action Figures
Collecting Master Yoda action figures is a serious subject.
Sales of the Yoda action figure on eBay range from $100 all the way up to several thousands of dollars. Vintage and original Star Wars mini-figures still in the box and in good condition are incredibly valuable these days.
A Yoda figure from 1983 graded and authenticated by AFA in mint condition recently sold on eBay for $3,800.

In 1980, Hasbro debuted the original Yoda action figure during The Empire Strikes Back release. Since then, Hasbro has produced dozens of figures based on each movie from the Star Wars series.
The mini Yoda figure from 1980 can be found for under $100 if it's out of the box. And if you're looking for an inexpensive piece of Yoda history without the hassle, these items are the way to go.
But to become a Yoda action figure master, you need to investigate the world of certified, graded, and authenticated Yoda collectibles.
This is where you will find the true potential of Yoda action figures receiving the highest values.
Kenner Empire Strikes Back Toy Yoda Action Figure
There's a great debate about if you should open the package of your Yoda action figure. I say, go for it.
This Kenner Yoda from The Empire Strikes Back movie looks great in the box. But let's crack open the package and take a closer look.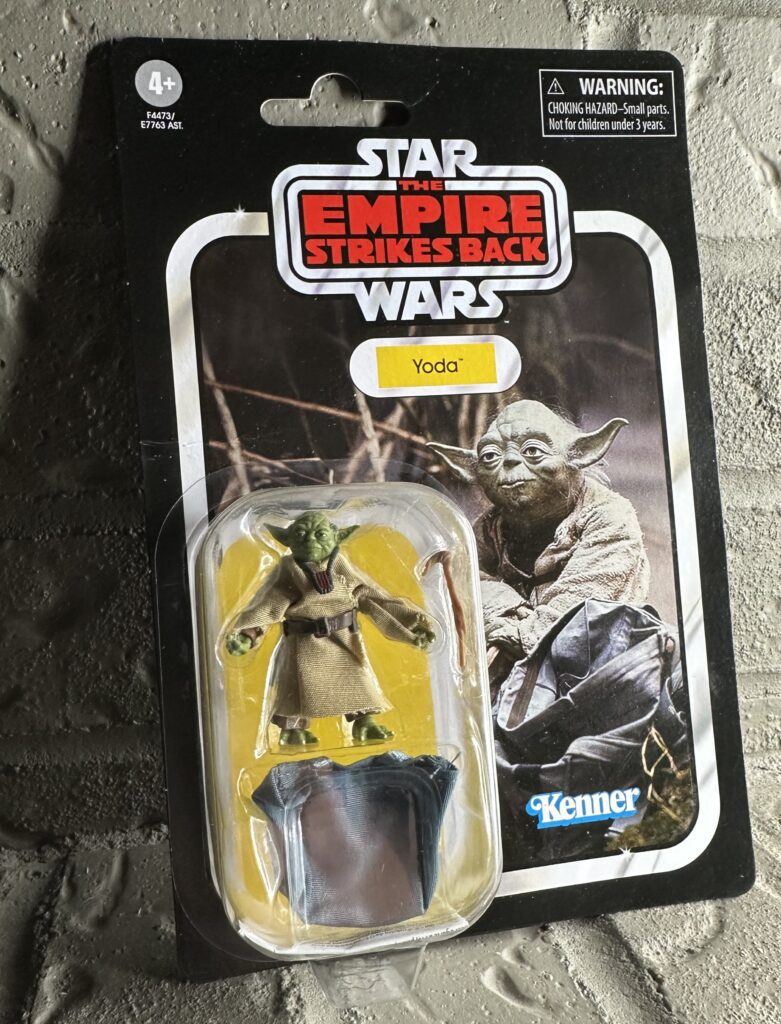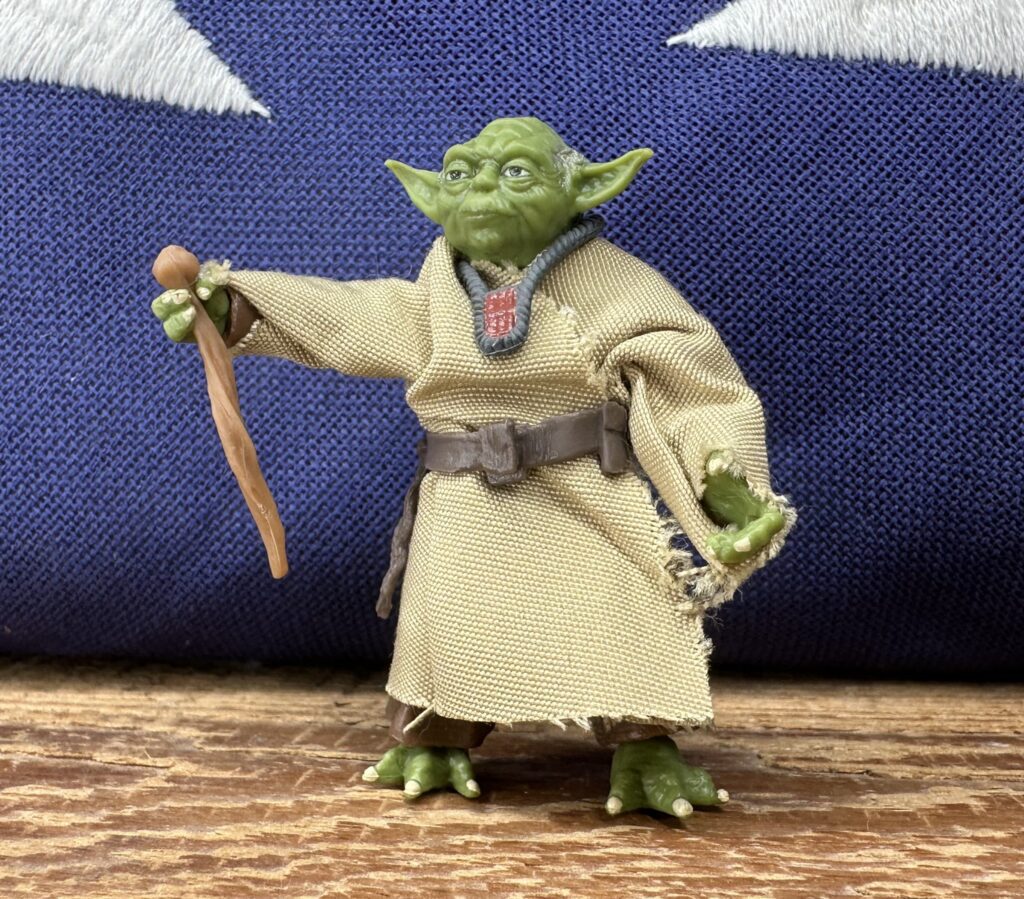 PSA Star Wars Yoda Collectibles Card
To give you an idea of the value for a PSA-graded Topps Star Wars card from 1977, an Obi-Wan Kenobi recently sold for $5,000. This was card #6 in the 1977 Topps series and rated a Gem Mint PSA 10.
I'm not sure if you could call this the Obi-Wan Kenobi rookie card since he was actually 57 years old when he was featured in the original Star Wars movie.
Nonetheless, PSA-rated 1977 Topps Star Wars cards of the Jedi Master hold the highest selling price so far.
So how does the value of PSA-rated Yoda trading cards hold up? Actual sales are in the thousands of dollars.
A few weeks ago, a 1980 Topps Star Wars Burger King Yoda card with a PSA 10 rating sold for over $2,000.

---
Sideshow Collectibles
For the die-hard Yoda collectibles aficionado, there's a company that can virtually bring the mini Jedi master to life.
Sideshow Collectibles has created a life-size Yoda statue with stunningly realistic features. The Yoda figurine stands 32″ tall and is so life-like you may feel like he's ready to give you a few words of advice at any moment.
The life-size Yoda statue by Sideshow Collectibles, in partnership with Legacy Effects, sells for $2,500.
Created by sculptors Mat Falls and Earl Ellis, the life-size Yoda statue is one of the most prominent Stars Wars collectibles figures in existence.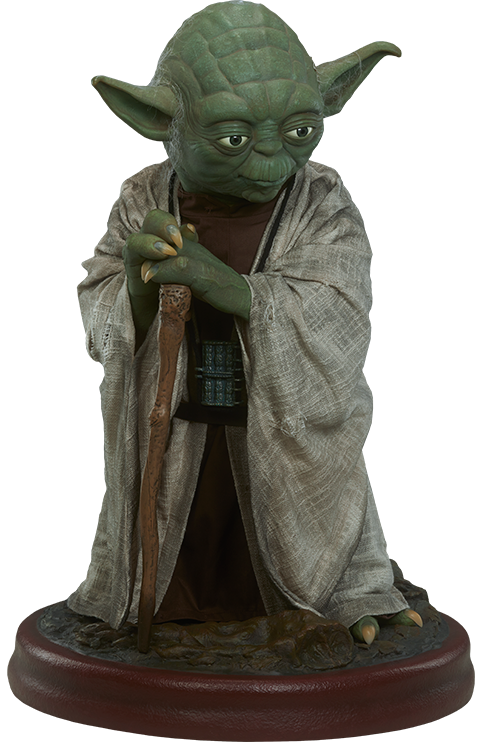 Not only does Sideshow Collectibles offer a Yoda figure, but they also have created a Baby Yoda life-size figure measuring an imposing 16.5″ tall.
Complete with stunning detail, multiple points of articulation, and even the silver shift knob from the Razor Crest in its right hand.
Grogu Baby Yoda
Also known as Grogu, Baby Yoda has been featured on Star Wars: The Mandalorian, with a raving reception; it's the favorite character for many fans of the show.
The life-sized Baby Yoda collectible is currently selling for $375 on the Sideshow Collectibles website, and it's sure to be a figure you'll want in your Star Wars collection.
Sideshow Collectibles is a "modern-day renaissance studio specializing in licensed and original creations."
The company produces dozens of life-sized Star Wars characters and many other popular figures. Their focus is on bringing the best 3D representations and cultural icons to life.
How to View Baby Yoda in 3D
If you really want to check out Yoda or Grogu, otherwise known as Baby Yoda, but can't afford a real-life-sized Star Wars replica from Sideshow Collectibles, try Google's 3D version.
When searching for "Baby Yoda" or "Grogu" in the Google mobile search app, you will see a "View in 3D" button. Next, tap the "View In Your Space" button to project Grogu into your living room or office with VR.
---
More Yoda Collectibles and Mandalorian Items
There's also the hugely popular Baby Grogu Plush Toy.
For the smallest Mandalorian fan who might only want an eight-inch collectible, you can own the little guy, a tiny piece of Star Wars film history, for only $13. It could make the perfect gift for fans of all ages.
Is Baby Yoda a Collectible?
Yes, Baby Yoda is an awesome Star Wars collectible to add to your collection. Here are a few more ideas.
At the New York Toy Fair, Hasbro released the Star Wars: The Vintage Collection featuring Razor Crest from The Mandalorian.
This is the spaceship from the hit Star Wars series where Baby Yoda sits from his perch inside the cockpit. The special released craft is selling for $350 at HasbroPulse.com.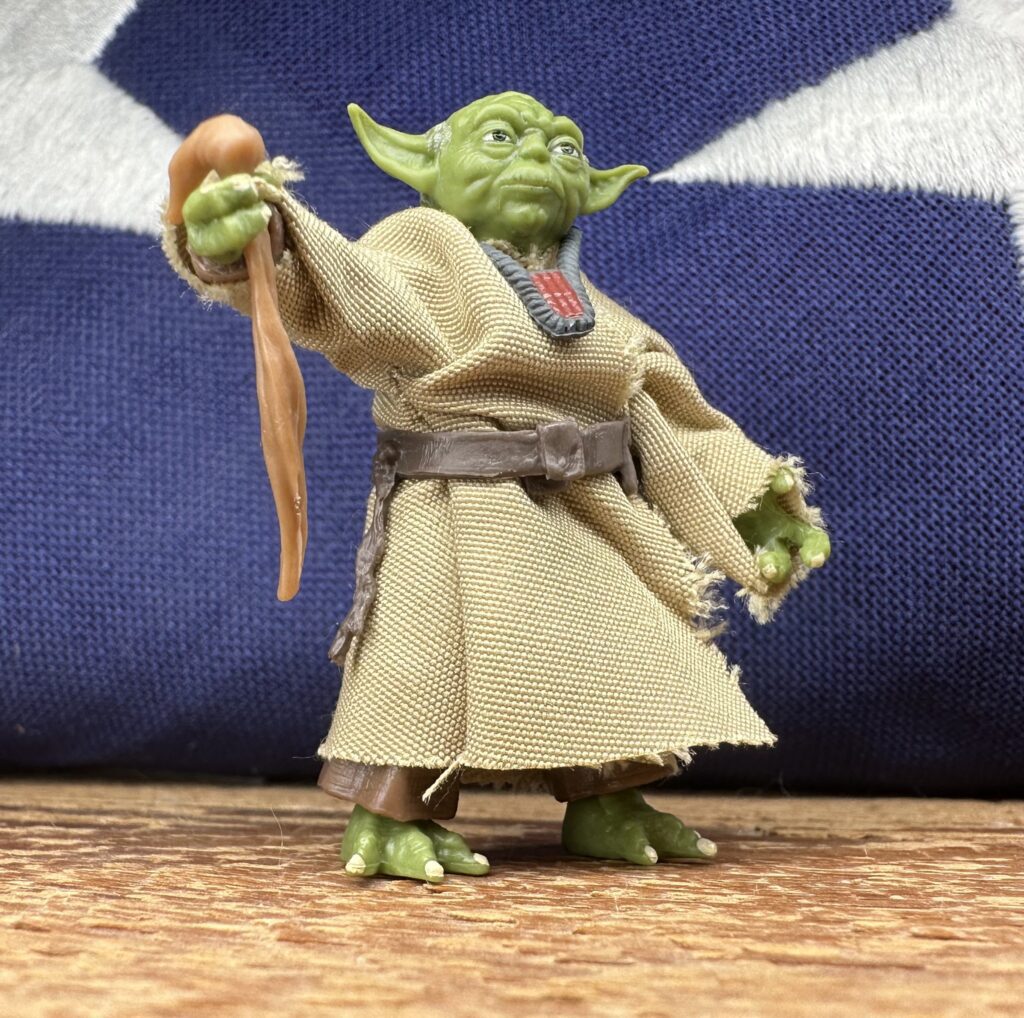 The Bounty Collection from Hasbro
There's also Star Wars: The Bounty Collection from Hasbro, which are tiny 2 inch Baby Yoda toys from The Mandalorian.
The 50-year-old adorable creature wearing his tan fabric coat comes in a two-pack for $16, a great gift idea for any Star Wars superfan.
The Yoda Funko Pop figure is also a great collectible, selling for just $15. It's for the Star Wars collector with any sized budget. Or simply go for the Baby Yoda Froggy Snack for $7.
Yoda Collectibles from Star Wars: The Clone Wars
The latest Yoda collectible to hit the market is from Sideshow Collectibles.
The Yoda figure stands 5.5″ tall, including a tailored fabric outfit, and is based on his appearance in the animated series Star Wars: The Clone Wars.
The figure also includes a walking stick, lightsaber, and interchangeable hands, along with a figure stand.
The latest Yoda collectible figure will begin selling for $165. Known for his strong connection to the Force, it might be wise to add this Yoda figure to your collection.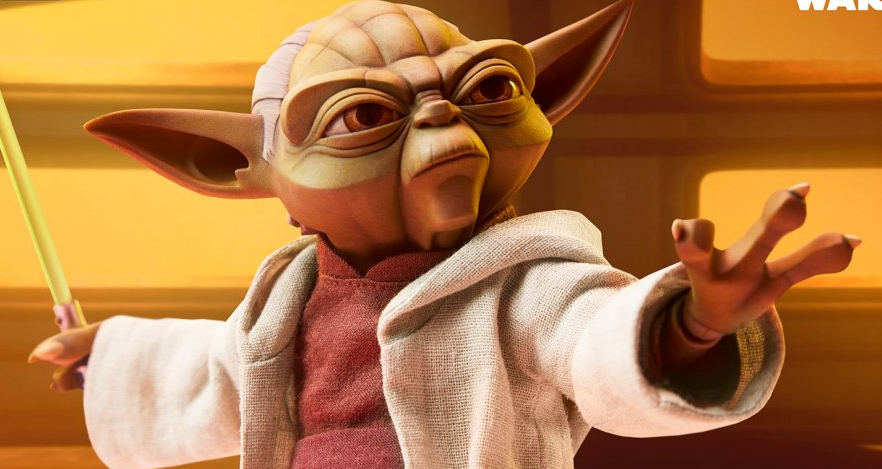 ---
How Much is a Vintage Yoda Worth?
The Yoda Hand Puppet
Many Star Wars collectors might remember the Yoda hand puppet. It was an item appearing under the Christmas tree for kids all over the country in the early 1980s.
Online auctions feature the vintage hand puppet selling for $80 to $100.
---
Swarovski Disney Star Wars Master Yoda Sculpture – $225
If sparkling Swarovski crystal is your thing, look no further than the Master Yoda sculpture. 291 facets make up the amazing figure, complete with a metal cane and brown varnish.
From the Swarovski company, founded in 1985 by Daniel Swarovski, the 2 3/8″ x 1 3/8″ Yoda figure sells for $225.
If you're still searching for more Yoda collectible items, Swarovski also offers a Baby Yoda, Grogu figure for $165.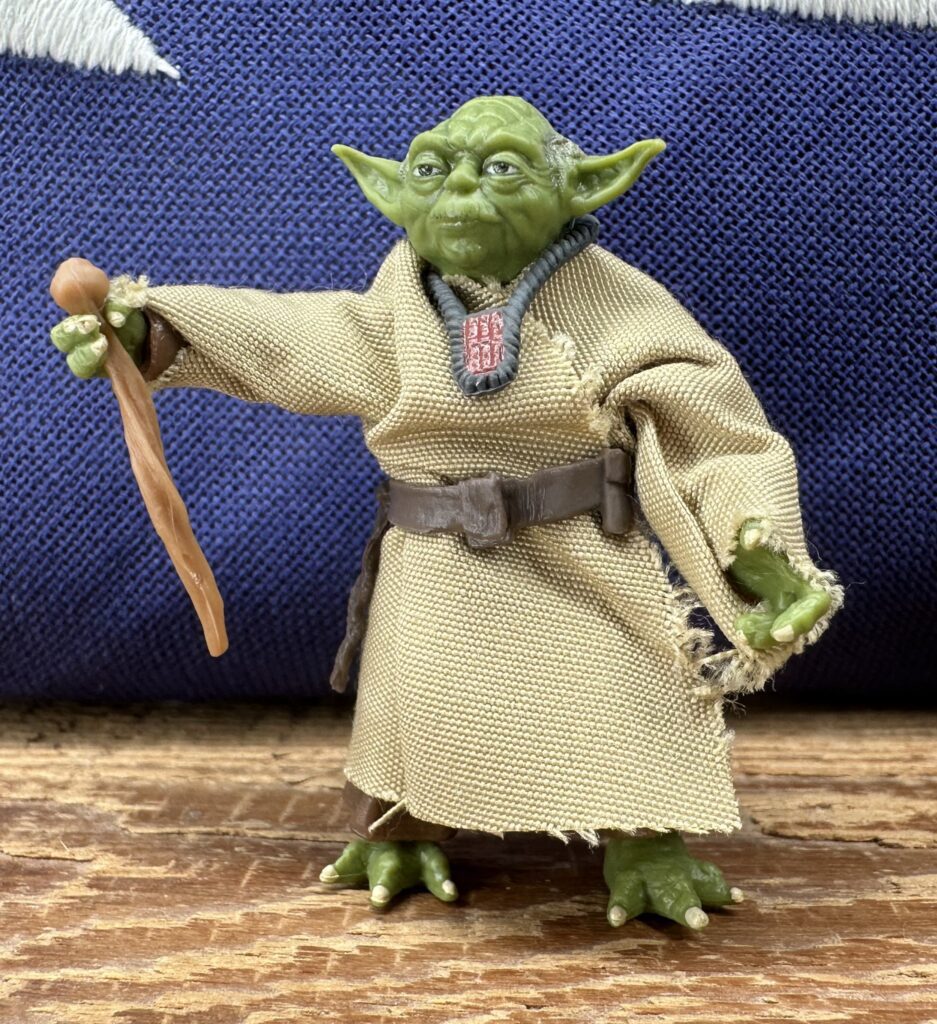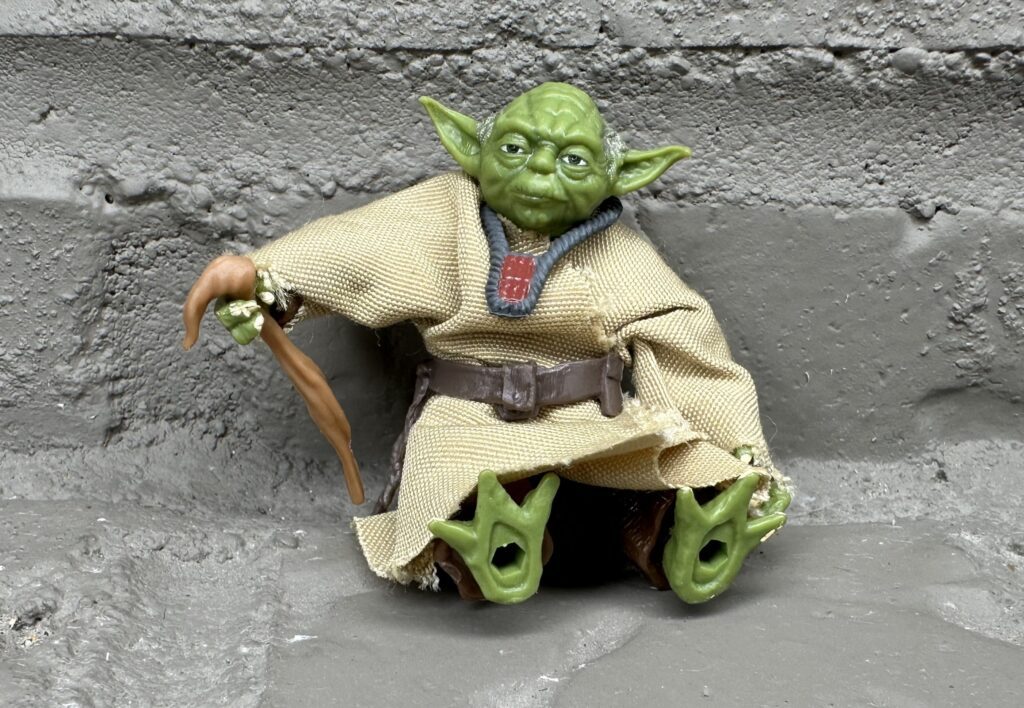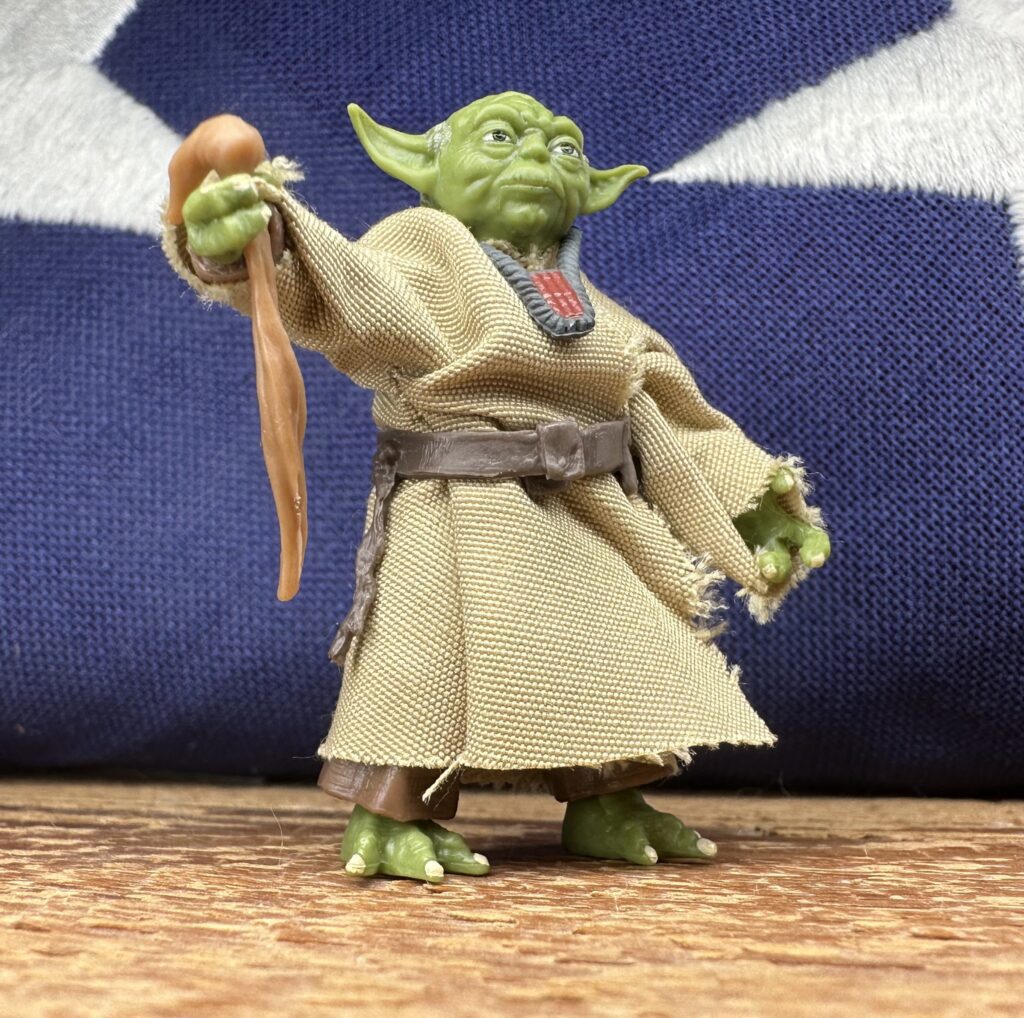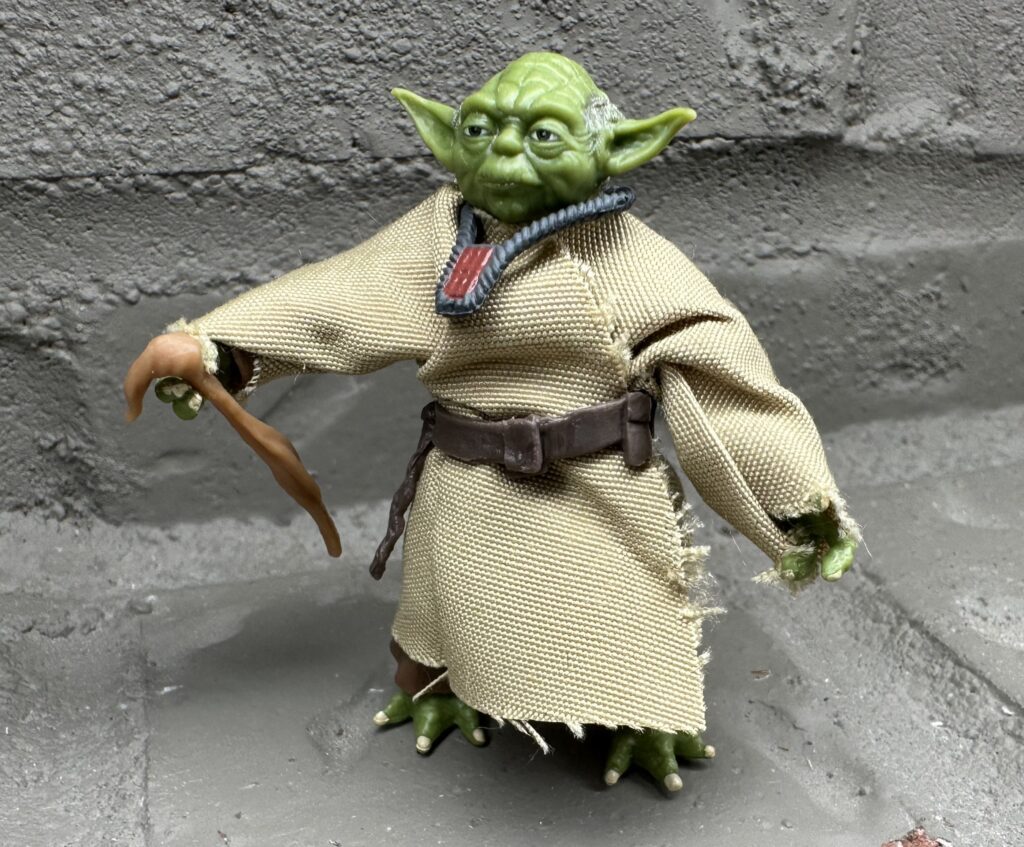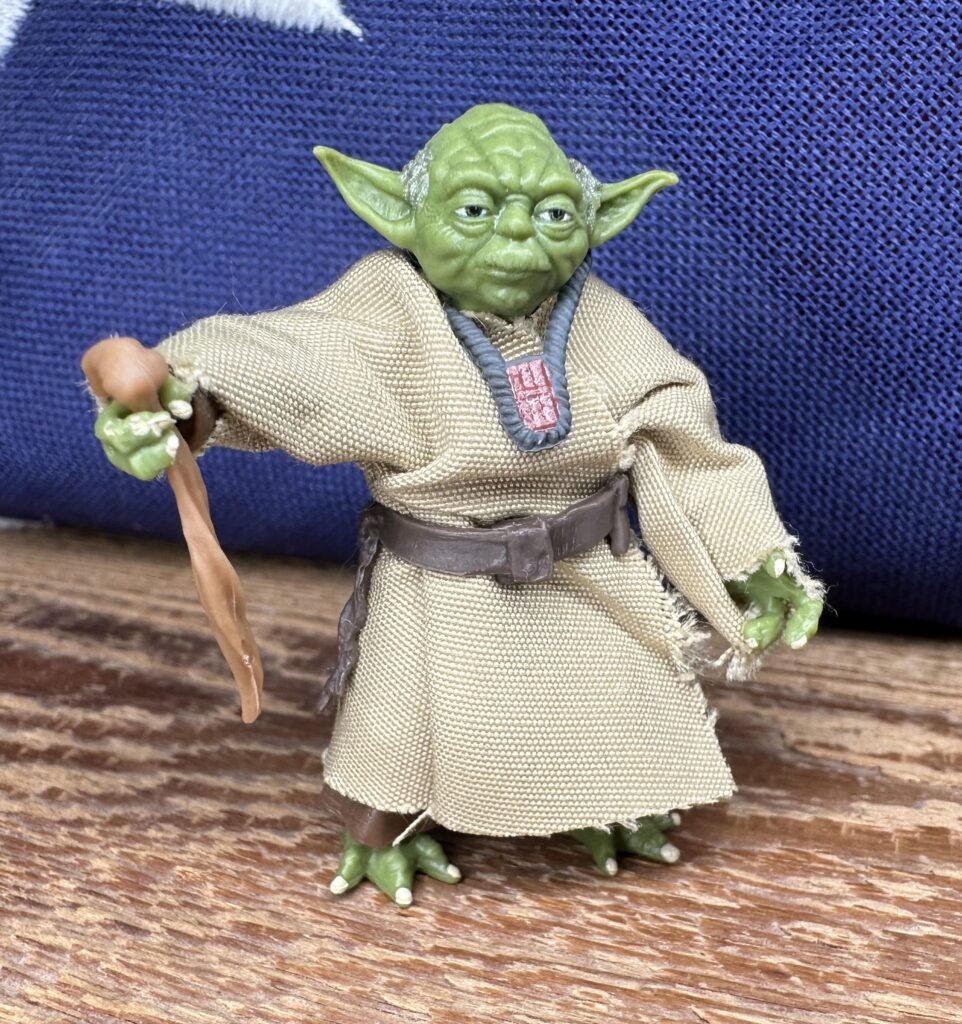 ---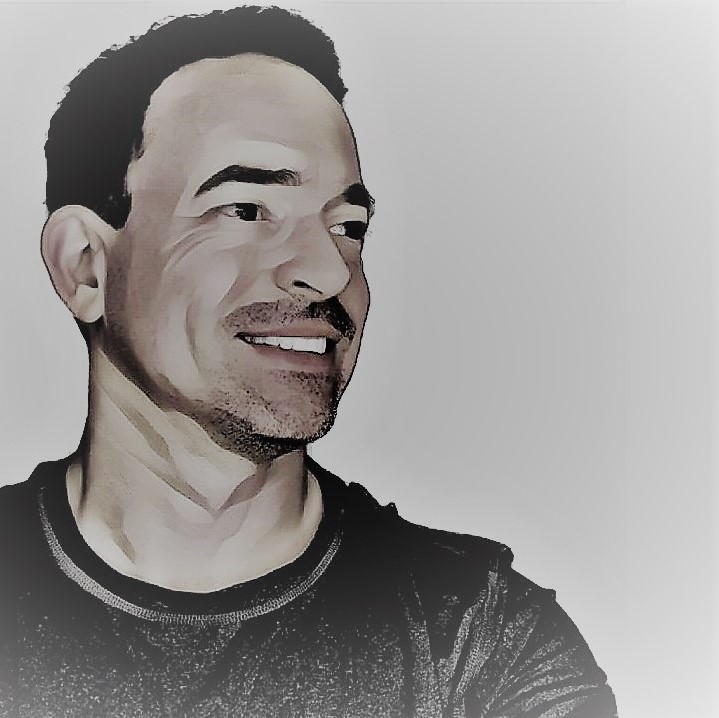 R.J. Bachman
Attic Capital – Writer, Editor, and Lifelong Collector
After many years of collecting rare coins, sports cards, and all types of collectibles, I began writing at Attic Capital to share my experience, knowledge, and passion.
I would love to connect with you, so don't hesitate to reach out and let me know more about your passion for collecting.