---
Grab a tall coffee and get settled in a comfortable chair, we're going deep into the weeds on rare coins. If you're a collector, I'm about to run down everything you need to know to get into collecting rare coins.
And if you're an experienced coin collector with decades under your belt, hopefully I can give you a few gold nuggets of knowledge that might have slipped past over the years.
Why Collect Rare Coins?
Let's start off with the obvious question. Why are we doing this? Studying, examining, buying, and selling tiny old coins? What's the big deal, anyway? It's a fair point, and I'm glad you asked.
Instead of answering the question myself, I'll defer to possibly the greatest coin collecting expert anywhere in the world, Mr. Q. David Bowers.
"Infinitely Interesting"
When asked what keeps his interest in rare coins after nearly 70 years of collecting, Mr. Bowers didn't miss a beat. It's hard to disagree with his answer on why coins captivate so many collectors. He simply stated –
"Coins are infinitely interesting. The art of coins, the history of coins, the romance of coins…"

Q. David Bowers
There's so many reasons to love collecting coins. History, art, and romance, like David Bowers explained, and dozens more factors that make coins fascinating. In fact, when you get down to the heart of the matter, everyone has their own unique answer to the question.
I was given a Kennedy Half Dollar when I was ten years old. That's all it took for me to love coins. Of course, the coin wasn't important to me at the time. It was the man who placed it in my hand that meant everything. Now, the coin is reminder of a great man who's no longer around. It's a coin I'll never part with.
So let's keep going on our journey, and take an inside look at the never-ending, always captivating, and "infinitely interesting" hobby of coin collecting.
---
The History of Coin Collecting
Many people don't realize coin collecting goes back almost as far as the invention of money itself. The very first emperor of Rome, Augustus Caesar, was a well-known coin collector.
Along with ruling the entire Roman Empire from 27 BC to AD 14, Augustus was fascinated with coins. He was known for gifting coins to others, especially during festivals, to pass along the joy of his coin hobby.
For thousands of years, civilizations have been fascinated with coins. It's considered by many to be the world's oldest hobby.
History's Great Coin Collectors
Along with Augustus Caesar, here's a few other famous coin collectors in history –
Pope Paul II
Lorenzo de' Medici
Holy Roman Emperor Maximilian I
Holy Roman Emperor Ferdinand I
The Duke of Bavaria Albert V
Prince of Wales, Henry Frederick
Ivan Tolstoy
The First US Coins
Once the very first US coin was struck at the newly established Boston Mint in 1652, the English colonies quickly realized the power of coins. Their design, composition, and purchasing power were at the foundation of the new North American economy.
As the newly established colonies grew into the United States of America, coins mark the growth of the country every step of the way.
They are not just coins, but pieces of history that tell an amazing story. Through victory and defeat, good times and bad times, coins remind us of the journey, and the people who shaped it.
Early U.S. Coin Collectors
What made U.S. coins some of the most sought-after and valuable collectibles of all-time? Maybe it was the fact that U.S. Founding Fathers began collecting coins almost as soon as they drafted the Declaration of Independence.
Thomas Jefferson
Thomas Jefferson inspired the American Revolution, led the war against the British, and was also one of the countries first coin collectors.
Beginning is his mid-40s, Jefferson collected European coins made of copper and silver. Later, he was given Moorish coins as a gift. By 1972, Jefferson was hooked on coins.
He received 1,500 half-dimes fresh from the U.S. Mint, and a box of bronze Roman coins ranging from the time of Augustus to Theodosius. Jefferson donated his wide-ranging coin collection to the American Philosophical Society.
Here's a few other early American coin collectors. Their passion for collecting launched coins into the hearts of collectors across the fruited plains.
President John Quincy Adams
President Franklin Roosevelt
The Value of Rare Coins
This is the question most people want answered. What's the value of my rare coins? I have a separate article to help you with your own coin collection, but let's think about the size and value of the coin collector market overall.
The U.S. collector coin market was valued at over $6 billion in 2022.
The entire global coin collector market was valued at over $8 billion in 2022.
The 1933 Saint-Gaudens Double Eagle is the most valuable rare coin in the world, selling at auction for over $20 million in 2022.
More than 125 million people collect coins in the U.S.
Rare Coin Facts and Figures
There is no such thing as a U.S. Penny. The official name of the 1/100th dollar coin is a cent. The term penny was used in Europe and adopted in the American colonies, but it was never an official U.S. Mint term.
Early U.S. coins were easy to counterfeit, so congress passed the Coinage Act of 1792, which made debasing or counterfeiting coins at a U.S. Mint a felony punishable by death.
The very first international coin collecting convention was in Detroit, Michigan in 1962 with over 40,000 attendees.
The Lydian Lion is the oldest coin in the world created nearly 2,700 years ago. Made of a gold and silver alloy, the coin can now be seen in the British Museum in London.
The Players – Biggest Companies Involved in Rare Coins
There are several large coin retailers who dominate the U.S. market with mostly online sales. One of the largest online retailers, APMEX, sells a variety of gold, silver, and platinum products, and also sells rare coins of all types.
Not only do the largest online rare coin retailers and precious metal dealers sell online, but they also buy through quick mail-in purchases, or a consignment process.
Largest Retail Online Coin Shops
Let's take a look at the biggest rare coin, precious metal, and bullion retailers in the U.S. market.
APMEX – Since the year 2000 when founder Scott Thomas opened his first retail shop, APMEX has sold billions of dollars worth of coins. Expanding with a website in 2004, the company has grown to nearly $400 million per year in revenue.
JM Bullion – Founded in 2011 by Michael Wittmeyer and Jonathan Wanchalk, JM Bullion was acquired by A-Mark Precious Metals in 2021. After the purchase of the company for $138 million, the online retail shop remains in operation under the original name.
Auction Houses
Heritage Auctions – In 1967, Steve Ivy dropped out of college at the University of Texas at Austin and started a business dealing rare coins. Four years later, Jim Halperin dropped out of Harvard University and opened a rare coin shop in New England. In 1982, they both joined forces in Dallas to build Heritage Auctions into a billion dollar per year auction house.
Stack's Bowers – Founded in 1933 in Midtown Manhattan, Stack's Bowers has sold coins from some of the most valuable collections of all-time. The John J. Ford, Jr. Collection, the D. Brent Pogue Collection, and the Louis E. Eliasberg, Sr. Collection, to name just a few.
Sotheby's – Sotheby's founder Samuel Baker began auctioning valuable and scarce books in March of 1744 in London. Now, the auction house records annual sales of more than $7 billion with 80 offices around the world.
Great Collections – Dealing solely in certified coins and paper currency, Great Collections auctions was founded in 2010 by Raeleen Endo and Ian Russell. The online auction house has recorded over $900 million in sales since it's beginning, and auctioned almost 1 million certified coins and banknotes.
The U.S. Mint
As a division of the U.S. Department of the Treasury, the U.S. mint produces coinage and is also responsible for monitoring movement of bullion.
In 2022, the U.S. Mint recorded $560 million in revenue from it's numismatic and bullion sales.
The Players – Biggest Private Collectors of Rare Coins
Some of the largest and most prominent coin collections in the world have grown, meticulously curated by their owners for decades, then sold off by the surviving family after the death of the collector.
Who were these rare coin coinsurers? What drove them to build the largest and most impressive coin collections of all-time?
And who are the newest rare coin collectors? Hunting for the most expensive, rare, and coveted coins in the world? Let's take a look at the biggest collector names in coins, past and present.
Past Collections
The Louis E. Eliasberg Collection – In 1950, Louis E. Eliasberg completed his complete collection of U.S. coins including every type, date, denomination, mint mark, and metal ever produced. It's the only collection to achieve such a feat, and most likely will never be done again. After his death, the collection was split between his two kids and auctioned off in three separate sales.
The Eric P. Newman Collection – After he began collecting coins at the age of seven, Eric P. Newman started visiting a local coin shop owned by Burdette G. Johnson. The two became friends, and it was Eric Newman who helped Johnson purchase the only five 1913 Liberty Head nickels in existence. Newman sold his coin collection for over $70 million in 2013 and 2014.
The John J. Ford Collection – During the 1930s, John J. Ford began collecting coins and grew his collection to one of the most extensive in all U.S. history. Working for Stack's coin shop in New York City, Ford became one of the most knowledgeable numismatics in the world. When he died in 2005, his collection was valued at nearly $55 million.
The Norweb Collection – A multi-generational coin collection and one of the most well-known names in numismatics. They once owned a Brasher doubloon, and then donated the coin in 1969 to the American Numismatic Society. Many Norweb Collection coins are now resting in the Smithsonian.
The B. Max Mehl Collection – Born in Poland, then moved to Fort Worth, Texas, Max Mehl couldn't remember a time when he wasn't interested in coin collecting. At age 18 he was a coin dealer, and had an impressive customer list including Colonel E.H. Green, Winston Churchill, and Franklin D. Roosevelt. Mehl promoted coin collecting as a hobby for every American, not just the wealthy. He's remembered as, "the father of modern coin collecting."
The Harry W. Bass Jr. Collection – One of the features of the Harry W. Bass Jr. Collection was a complete collection of early U.S. gold coin denominations from 1795 to 1933. All in the finest condition. Harry W. Bass Jr. was the son of an oil and gas driller in Oklahoma and Texas, and would later build on his father's success in the industry by founding Trinity Gas Corporation in 1939.
The Garrett Collection – In 1981, The Garrett Collection was sold by Stack's Bowers auctions for $25 million. It was the highest amount ever paid for a coin collection at the time of the sale. T. Harrison Garrett began collecting coins while he attended Princeton in 1860. His son, who won the very first American gold medal at the 1896 Olympics in Athens, continued the tradition of his father's coin collection.
Present Collections
Bob R. Simpson – Not only is he the co-chairman of the Texas Rangers baseball team and the co-founder of XTO Energy, Bob R. Simpson is one of the largest active rare coin collectors in the world. The 72-year old collector has auctioned some of his coins in the last few years, but still holds a few amazingly rare coins, including the 1894-S Barber Dime, and the 1792 Silver Center cent.
Popular Celebrities – A few other well-known celebrities have been known to build coin collections. A few names include, Jack Black, Dennis Rodman, Martin Sheen, Wayne Gretzky, and Nicole Kidman.
Grading Valuable Rare Coins
History of Coin Grading
In the 1800s, collectors developed terms to categorize the condition of their coins. But initially, only a few terms existed. Good to Fine, Uncirculated, and Proof, were the most common labels for coins.
By 1949, Dr. William Sheldon proposed a method for grading coins which quickly became known as the Sheldon Scale.
The Sheldon Scale
The 70-point grading scale that evaluates the imperfections, flaws, and overall wear of a coin is called the Sheldon Scale. At the low end of the scale, a grade of 1 indicates a coin that is in "Poor" condition and is almost indistinguishable.
Moving up the scale to a "Good" rating of 5, and "Very Good" rating of 10, the Sheldon Scale progresses all the way to a Mint State score of 60, and a perfect score of 70.
On the high end of the scale, a grade of 60 indicates "Mint State" condition. While a coin that's graded 70 has no imperfections and no flaws when viewed at 5 times magnification.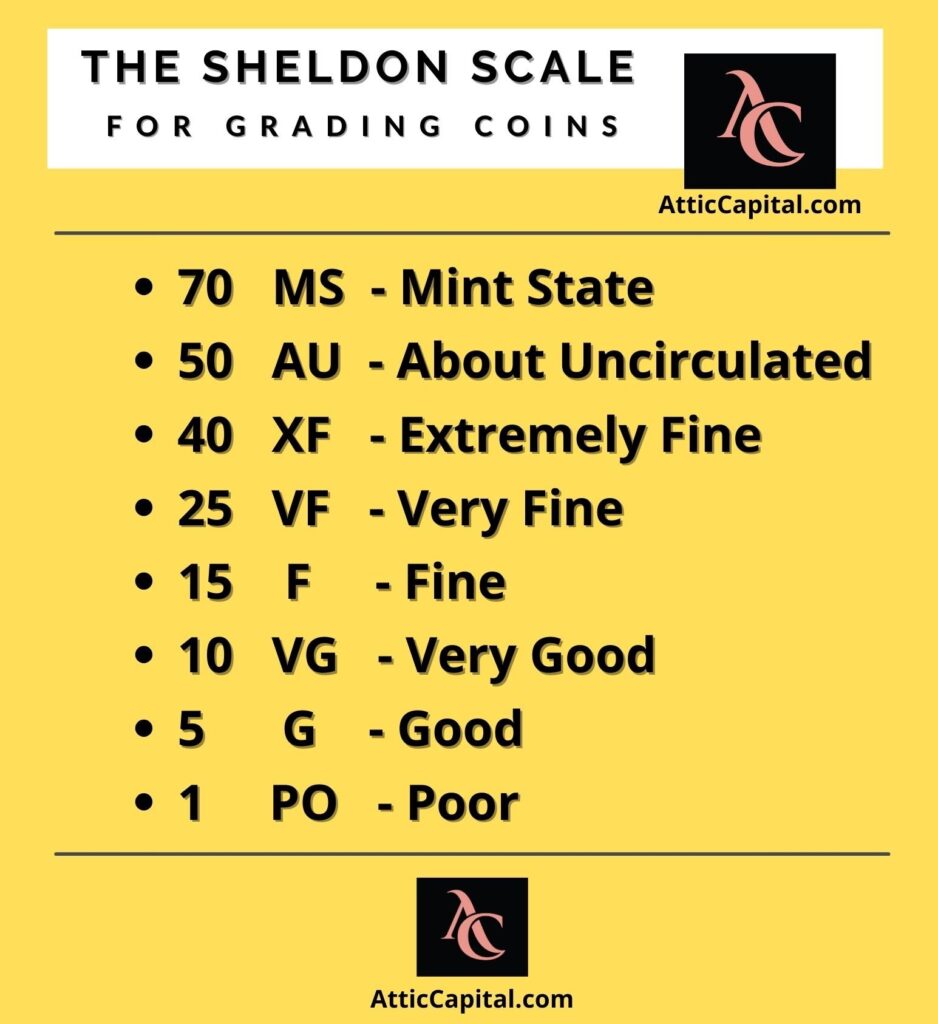 Top Coin Grading Companies
The Attic Outlook – Where is Coin Collecting Heading?
What are the latest trends in coin collecting? You can clearly see coin collecting is in the midst of a big uptrend over the last several years. Looking at the PCGS 3000 Index, coin collecting is on fire! Take a look at the charts over the last 3 years and the last 10 years.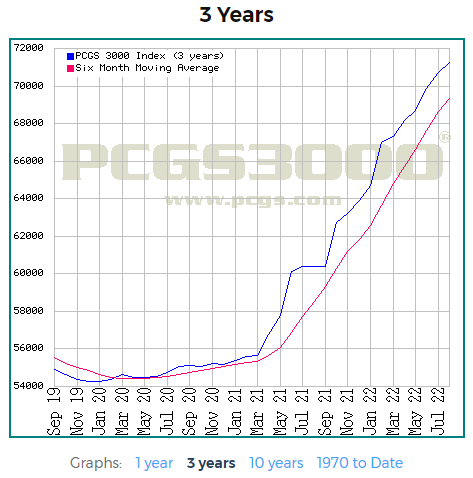 ---
The future is bright for coin collectors. I'm not saying values will continue on their torrid pace which they've enjoyed over the last three years. But new collectors are embracing rare coin collecting for what it is. A wonderful journey through history.
Our friend Q. David Bowers said it perfectly when he said coin collecting is, "infinitely interesting." And will continue to be so into the far distant future.
---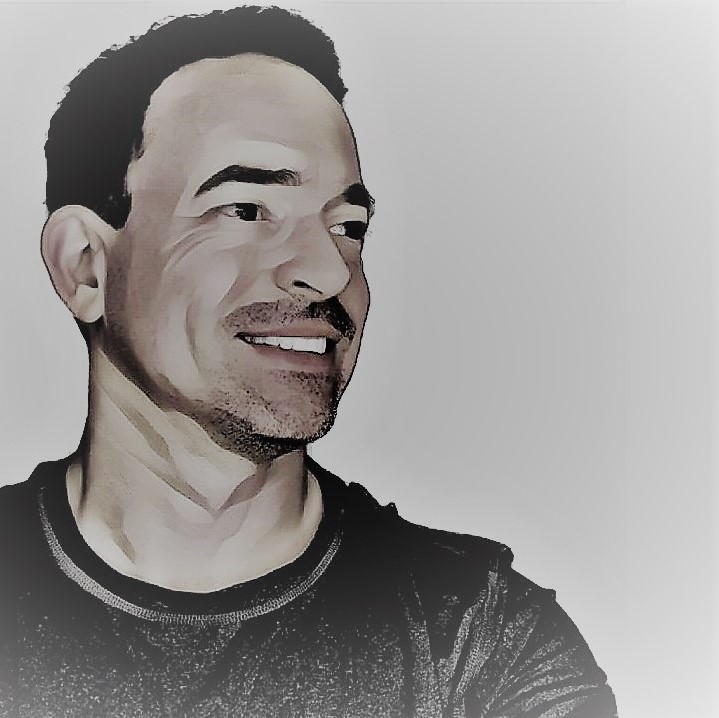 R.J. Bachman
Attic Capital – Writer, Editor, and Lifelong Collector
After decades of collecting rare coins, sports cards, and all types of collectibles, I began writing at Attic Capital to share my experience, knowledge, and passion.
I would love to connect with you, so don't hesitate to reach out and let me know more about your passion for collecting.