---
If you are searching for an underrated, and sometimes forgotten football card, look no further than the Barry Sanders rookie card.
The former running back played for the Detroit Lions 10 NFL seasons and was known to be one of the most elusive runners in football. He's a member of the NFL Football Hall of Fame and one of the greatest running backs in NFL history.
Although his playing career came to an abrupt and sudden conclusion, here's why the Barry Sanders rookie card should not be ignored.
Barry's legacy has only increased over time. If you've yet to collect one for yourself, his rookie cards should be seriously considered.
How Much Is a Barry Sanders Rookie Card Worth?
There are only four different Barry Sanders rookie cards to choose from. Which one is best? And how much is it worth? Here's a quick look at the most valuable Barry Sanders rookie cards from recent auctions.
1989 Police Oscar Mayer Barry Sanders #11 – $300
1989 Topps Traded Barry Sanders #83T – $150
1989 Pro Set Barry Sanders RC #494 – $150
1989 Score Barry Sanders #257 – $2,400
Before we go any further, we need to take a closer look at Barry's early days before getting into the rookie card details.
Barry Sanders' Early Life
Barry Sanders was born in Wichita, Kansas, on July 16, 1968, as one of 11 children. His mother was a nurse, and his father was a carpenter. Growing up, Barry and his two brothers learned the tools of the trade.
This early experience contributed to his work ethic and dedication to a craft, which he would later channel into sports.
Growing up, Sanders was a natural athlete and loved basketball. However, he was shorter than the average athlete at five-foot-eight.
His father convinced Barry that he would have a better chance of earning a college scholarship if he played football.
Dominating Wichita High School Football
In his senior year, Sanders started to dominate the field with amazing stats. He rushed for 1,417 yards in the season's final games, almost setting a city record and winning All-State and All-American honors.
Despite being a stellar athlete, he was overlooked by most college recruiters. This was probably due to his height, so he received only a few scholarship offers.
Sanders accepted the offer from Oklahoma State University and played special teams during his rookie year. And he was only a backup for his first two seasons.
OSU just happened to have Thurman Thomas, another great running back, ahead of Sanders.
Once Thurman Thomas moved on to his NFL career, Sanders was ready to shine.
---
Incredible Records at Oklahoma State University
In his junior year, Sanders was given more playing time and quickly became one of the young superstars of the NCAA.
He set 13 NCAA rushing records, including 2,628 yards rushing, 3,248 total yards, 234 points, 39 touchdowns, 37 rushing touchdowns, 5 consecutive 200-yard games, and more.
The stellar performance would win him the Heisman Trophy, an annual award to the most outstanding college football player in the U.S. Barry was on his way to earning the fitting nickname, "The Human Pinball," for his ability to bounce off would-be defenders.
Into the NFL Draft
Sanders decided to skip his senior year after the NCAA put the OSU Cowboys on probation and made himself eligible for the 1989 NFL Draft.
Notably, four of the first five draft picks selected would later be inducted into the Pro Football Hall of Fame.
The list included quarterback Troy Aikman, linebacker Derrick Thomas, cornerback Deion Sanders, and of course, running back Barry Sanders.
Barry Sanders Pro Football Career
The Detroit Lions selected Barry Sanders as the third pick overall in the NFL draft. Despite a prior NFL rule stating that collegiate juniors could not declare for the draft, the league made an exception for the first time.
Since Oklahoma State was placed on five years probation for numerous NCAA violations, Sanders was allowed to declare for the NFL draft as a Junior.
By the 1990 draft, the rule preventing Juniors in college from declaring for the NFL draft was officially lifted.
While Sanders would miss parts of several games in his first year, he managed to set the Lions' season rushing record and came in just 10 yards shy of the rushing title.
While some were concerned about his size, he was able to keep a low center of gravity and eluded tacklers with complex spins and turns that would make him one of the most elusive runners in football. He would be named NFL Rookie of the Year.
NFL Rookie of The Year
Sanders was the featured running back for the Lions throughout his amazing football career. He led the Lions to the playoffs five times. In 1994, he rushed for 1,883 yards on 5.7 yards per carry average.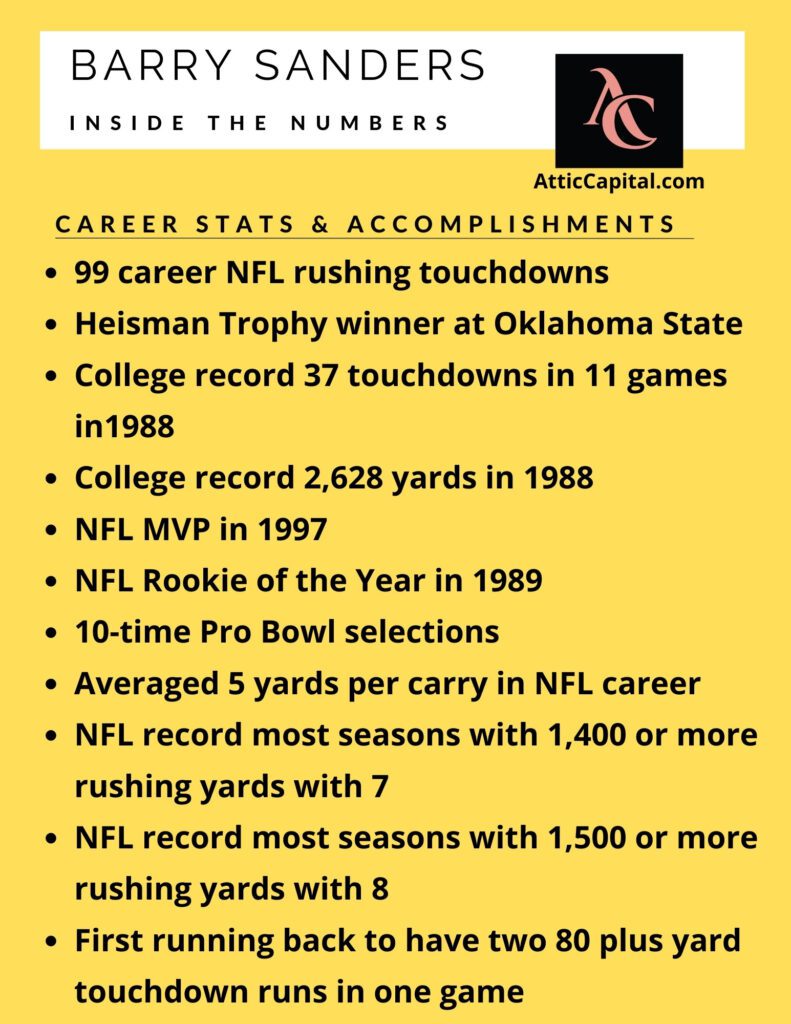 He was named the NFL's Offensive Player of the Year as he broke the NFL record for most rushing yards (237 yards) in a single game without scoring a touchdown.
One of Sanders' greatest seasons came in 1997 when he ran for an NFL record of 14 consecutive 100-yard games.
He became the third player to rush for 2,000 yards in a single season. Sanders set an NFL record by rushing for at least 100 yards in 14 consecutive games and became the third player to reach 2,000 yards in a single season.
10 NFL Pro Bowls in 10 Seasons
Sanders shared the NFL MVP Award with Green Bay Packers quarterback Brett Favre at the end of his last season.
In all ten of his NFL seasons, Sanders achieved Pro Bowl status. Still, despite the incredible stats, the Lions played in zero Super Bowls during Barry's career.
To this day, many people still make the case that Barry Sanders was the greatest running back of all time.
Barry Sanders Football Rookie Cards
The 1989 Barry Sanders Score rookie card with the green border is one of the most recognizable sports cards out there. Collectors can't mistake the close-up shot of the future HOF player.
A PSA 10 Gem Mint card is valued at $2,400 on eBay and features a close-up of young Sanders smiling at the camera.
PSA reports a population of 2,093 GEM Mint perfect 10 rated Barry Sanders Score rookie cards. With a population of almost 10,000, the PSA 9 cards drop down in value to only around $100.
The 1989 Barry Sanders Score football card graded from BGS, or Beckett Grading Services, with a 10 rating sell for nearly $300.
While the PSA 10 rookie card is not exactly rare, I would argue that it should be a staple for any serious collector. It's hard to imagine a PSA 10 Barry Sanders rookie won't be a great card for many decades to come.
1989 Score Barry Sanders Rookie Card with Green Borders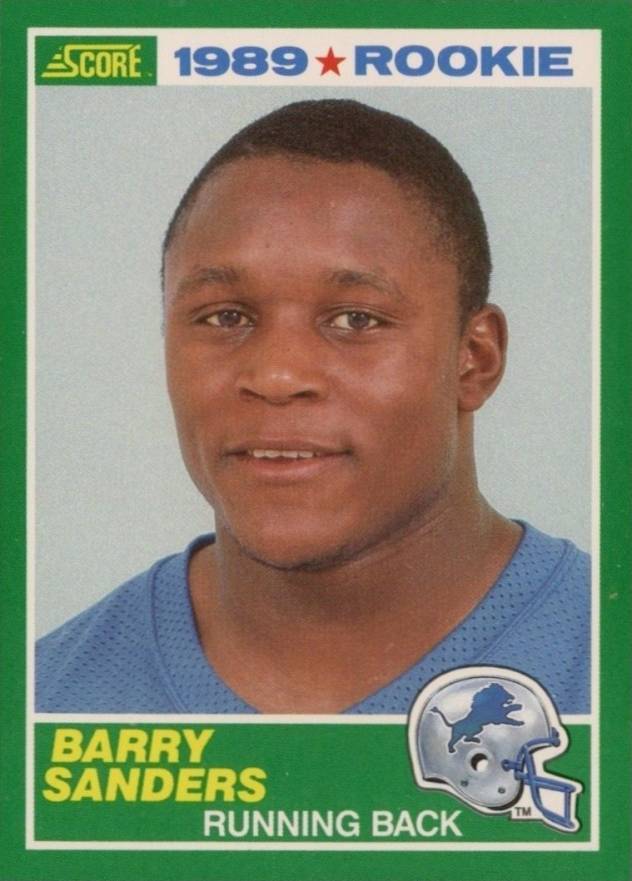 ---
1989 Barry Sanders Pro Set Card, GEM Mint PSA 10
The 1989 Pro Set Rookie Card with a red border is the least valuable rookie card featuring Barry Sanders.
The Pro Set card features Sanders in his white Oklahoma State college football jersey with red pants, dashing with football in hand.
A Pro Set Barry Sanders rookie card PSA 10 Gem Mint is valued at $150.
The overproduction of the 1989 Pro Set football cards attributes to the low prices for the Sanders rookie, although I would still consider it one of my personal favorite football cards.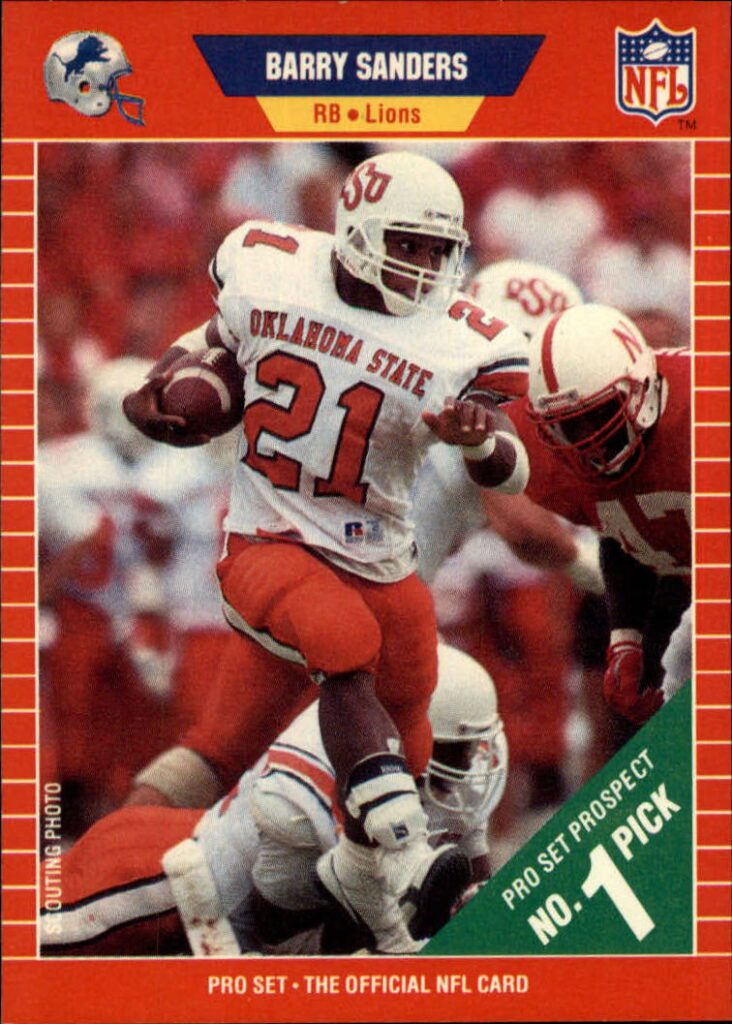 ---
1989 Police Oscar Mayer Detroit Lions Barry Sanders
PSA 10 Police Oscar Mayer Barry Sanders trading cards can be found for $300 on eBay. PSA 9 graded cards are selling for $60, and PSA 8 cards sell for $30.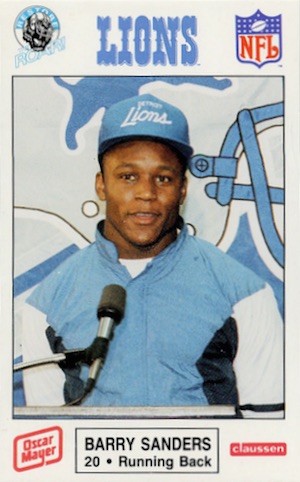 ---
1989 Barry Sanders Rookie Card Topps Traded Football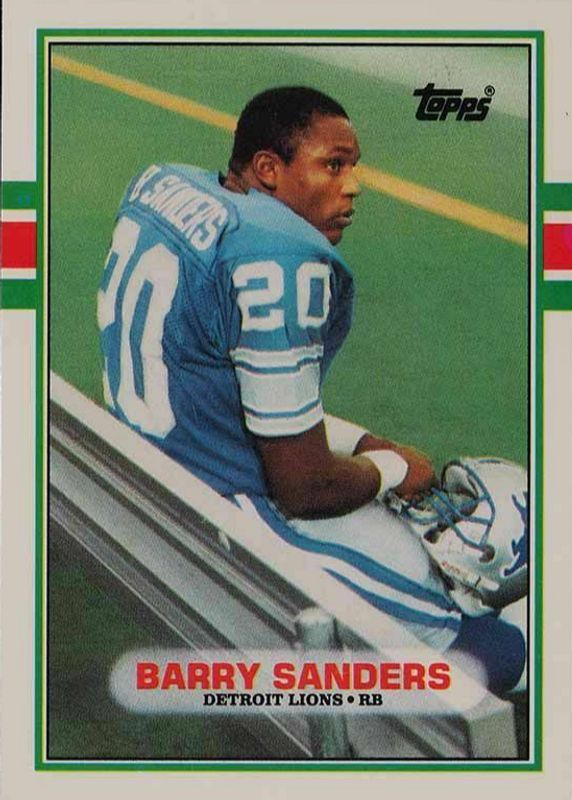 ---
Other Great Barry Sanders Football Cards
2016 Barry Sanders Detroit Lions Panini Prizm #165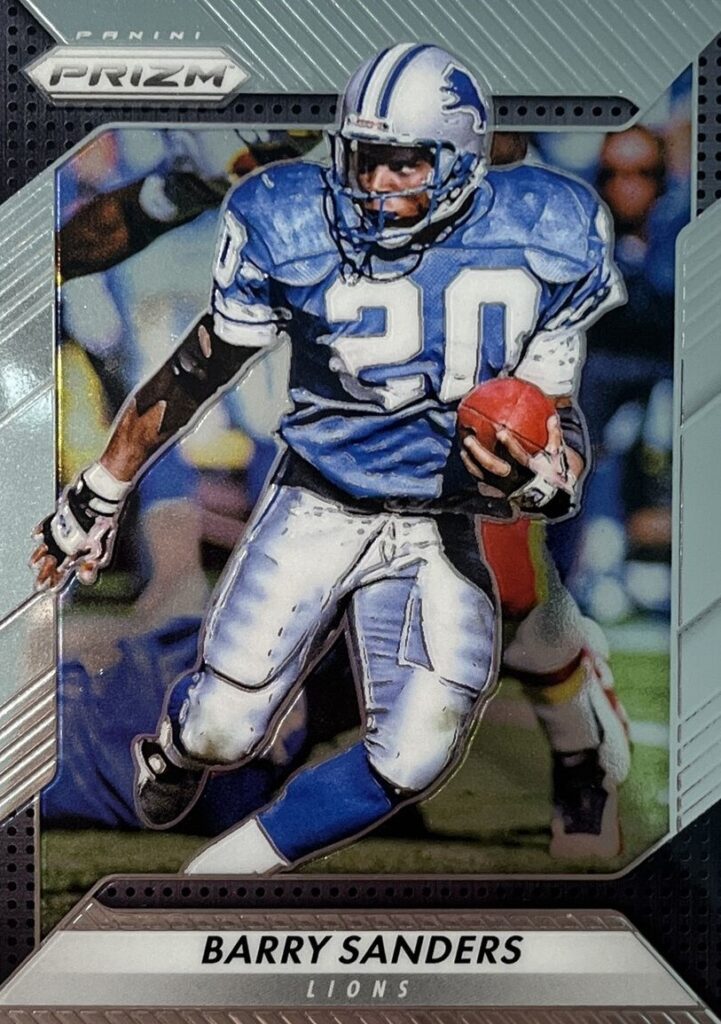 2021 Barry Sanders Donruss Downtown #DT-14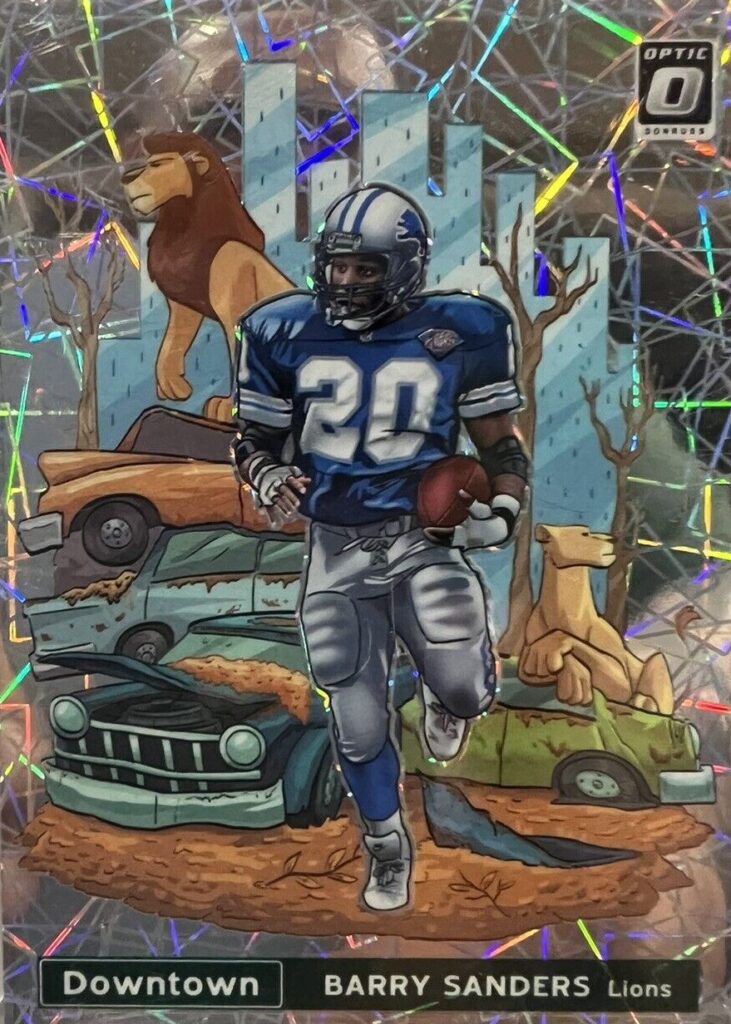 1999 Barry Sanders Topps Chrome Refractor #25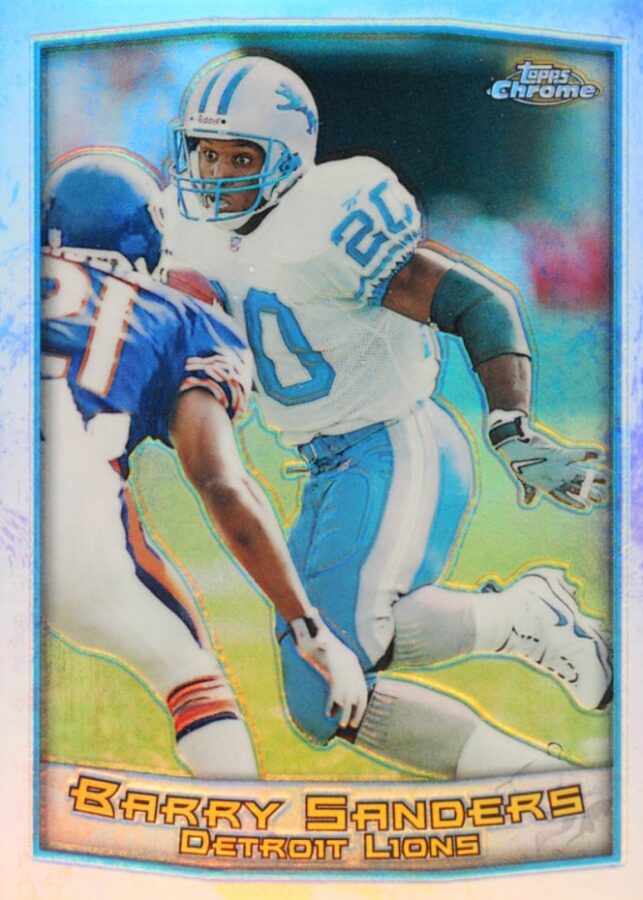 1996 Barry Sanders Upper Deck Collector's Choice MVP Gold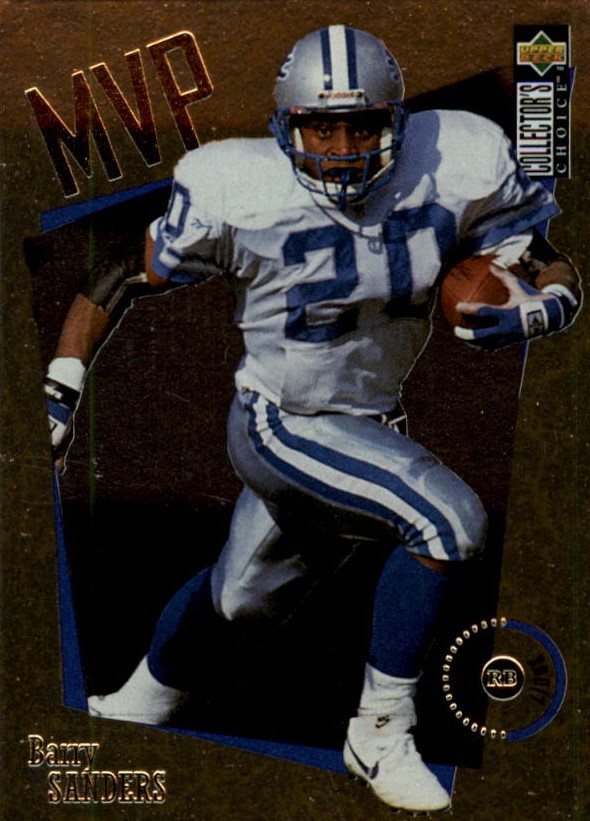 2021 Barry Sanders Contenders Optic All Time Autograph Prizm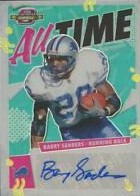 1991 Score Dream Team Barry Sanders Autograph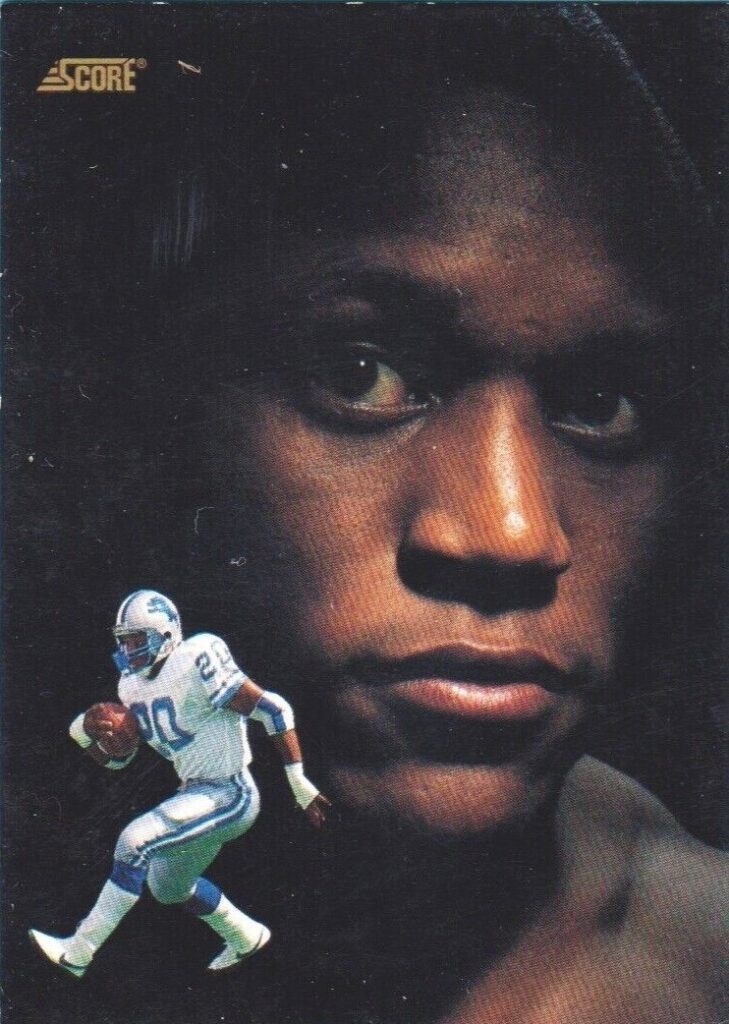 1990 Barry Sanders Fleer #284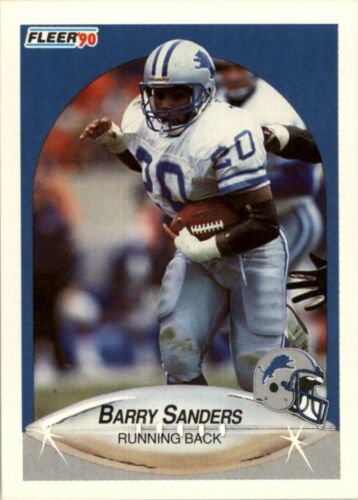 1990 Barry Sanders Pro Set #102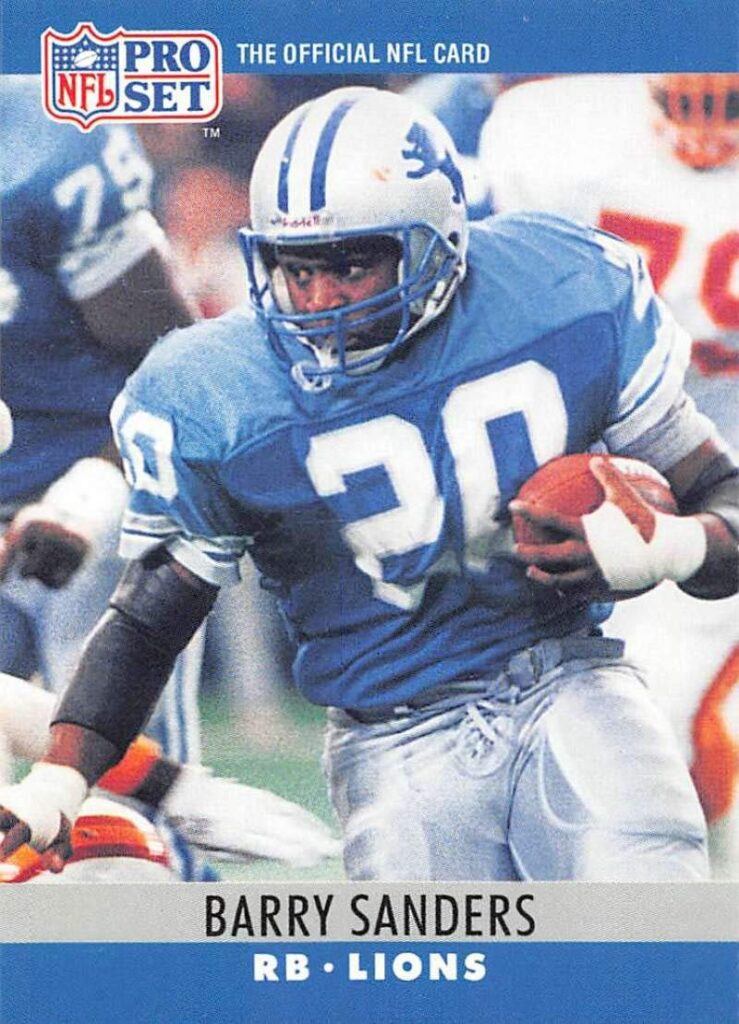 1991 Barry Sanders Pinnacle #358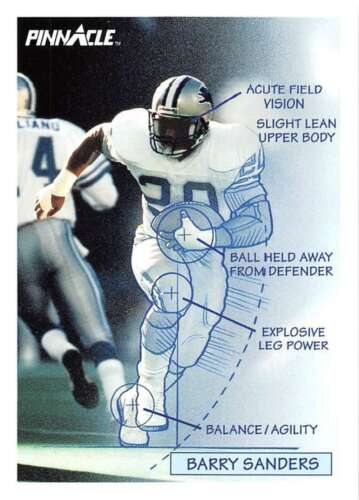 1992 Barry Sanders Pinnacle #15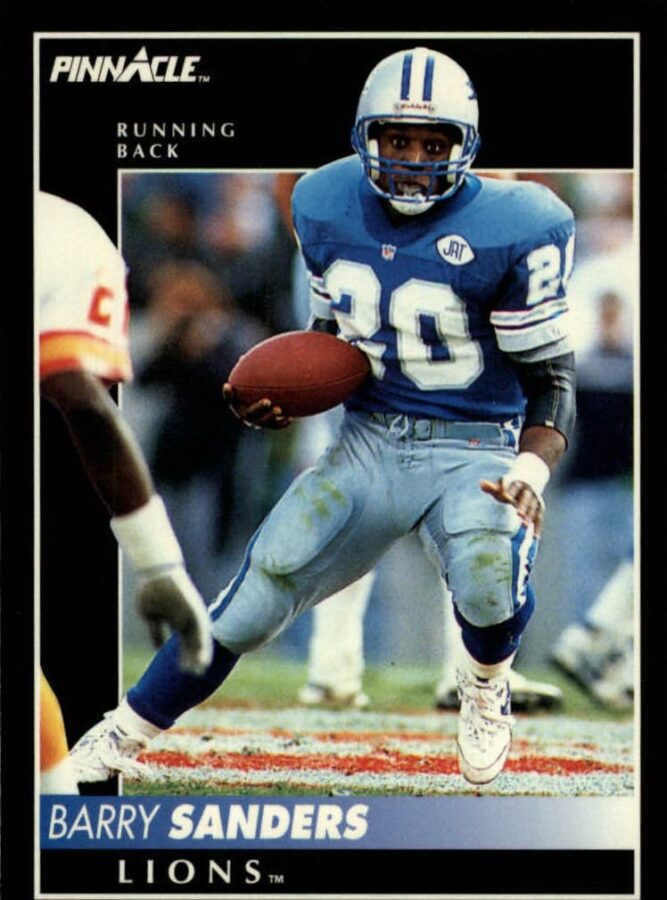 1999 Barry Sanders Bowman Chrome #149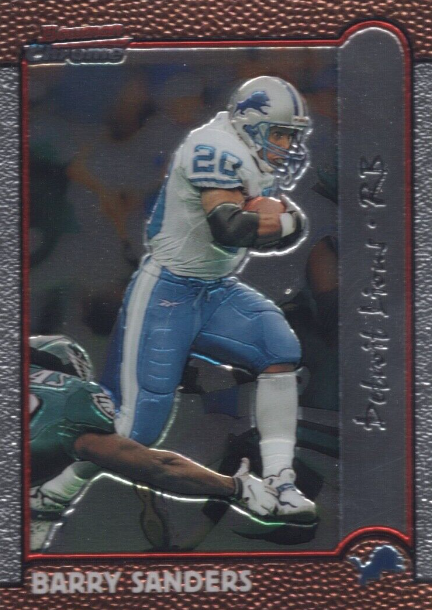 ---
Learn more about the rookie cards of two all-time great running backs –
---
Barry Sanders Retirement
In 1998, Sanders unexpectedly retired from football. Why did Barry Sanders retire at the top of his game?
He announced in a press release:
"The reason I am retiring is simple, my desire to exit the game is greater than my desire to remain in it. I have searched my heart through and through and feel comfortable with this decision."
At the end of his career, he had 15,269 rushing yards, the highest total rushing yards ever by any NFL player in 10 years, 2,921 receiving yards, and 109 touchdowns.
Unfortunately, he retired just 1,400 yards short of Walter Payton's rushing record.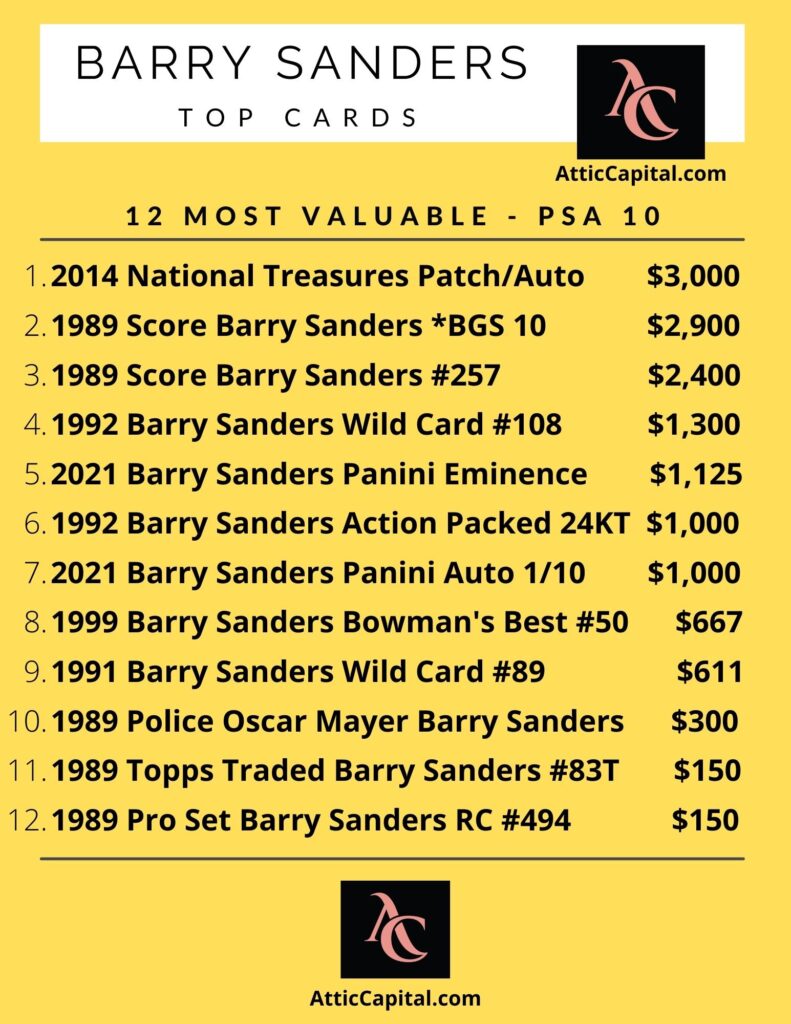 Sanders was inducted into the Pro Football Hall of Fame in 2004. In 2005, he was inducted into the Oklahoma Sports Hall of Fame.
In 2019, Sanders was included in the NFL 100th Anniversary All-Time Team as one of the greatest all-time running backs. He joined fellow Hall of Fame running backs such as Jim Brown, Earl Campbell, and Emmitt Smith.
What Does Barry Sanders Do Now?
While Barry has been a Detroit Lions fan since the day he retired, recently, he's been getting into the hometown spirit with his own restaurant franchise.
He was on-site for the opening of Barry Sanders' Lefty's Cheesesteak next to Ford Field, home of the Lions. He's a co-owner of a restaurant chain around the Detroit area. The restaurants feature Lions memorabilia from Barry's Hall of Fame career.
Barry is also heavily involved in charity work and is known as a devout Christian. He spends lots of time with his family and four sons. He was also named a Detroit Lions team ambassador in 2017.
Barry Sanders Rookie Cards for Sale
While Sanders' career seemed to end prematurely, there's no doubt he retired at the top of his game. Something that's rarely achieved by the game's greats.
He will go down in history as one of the NFL's best running backs of all time.
His impressive performance on the football field in the 1990s and his humble demeanor throughout his life show why his football rookie cards are highly valued.
If you don't have a Barry Sanders rookie card yet, I'd recommend adding one to your wish list.
---
Barry Sanders Best Runs
We can't leave without one final look at a few of the Detroit Lions HOF running back's best runs.
Barry Sanders was one of the greatest running backs in the world, but that's not what made him unique. His incredible humbleness as a teammate and as a person makes Barry Sanders an all-time legend in my book.
---
Read more about sports cards greatest rookie cards –
Barry Bonds Rookie Card, How Many Should I Have?
The Legend of the Ken Griffey Jr Rookie Card
Rickey Henderson Rookie Card and the Man of Steal
---
Card Collectors –> Looking to Sell Baseball Cards? Here's How (and Where) To Do It