---
Whether you're a newly minted numismatist or a seasoned collector, the Draped Bust half-dollar is a great coin to add to your collection.
Bust half-dollars were the first half-dollar coins made by the U.S. Mint, and the Draped Bust half-dollar arguably sports the most beautiful design in the series.
Here's what you should know about the history and value of this striking silver coin.
The Bust Half-Dollar History
These coins are known as Bust half-dollars because they all feature a bust of Lady Liberty on the Obverse. Flowing Hair, Draped Bust, and Capped Bust distinguish the designs.
To get a sense of the significance of the Draped Bust half-dollar, you need to understand the history of the Bust half-dollar.
Flowing Hair Half-Dollar — 1794 to 1795
Even though the Flowing Hair half-dollar was the first half-dollar coin minted in the United States, it featured no denomination.
Its Obverse had a portrait of Lady Liberty with her long hair flowing behind her. The reverse had a heraldic eagle surrounded by a laurel wreath. 
Robert Scot, the chief engraver of the U.S. Mint from 1793 to 1823, was the coin's engraver and designer. The U.S. Mint made just over 300,000 Flowing Hair half-dollars in the two years this coin was produced.
Due to the limited mintage and the age of the coins, even Flowing Hair half-dollars in circulated condition are quite valuable today, much more than the coin's bullion value alone.
They can sell from about $1,200 to over $39,000.
The condition of a coin might seem subjective to a layperson. That's why serious collectors have their coins graded by a reputable service like Professional Coin Grading Service (PCGS), Numismatic Guaranty Company (NGC), or Certified Acceptance Corporation (CAC).
Just about any coin offered at auction will be officially graded.
Buying half-dollar, PCGS-graded coins can be a great way to add historic coins to your collection.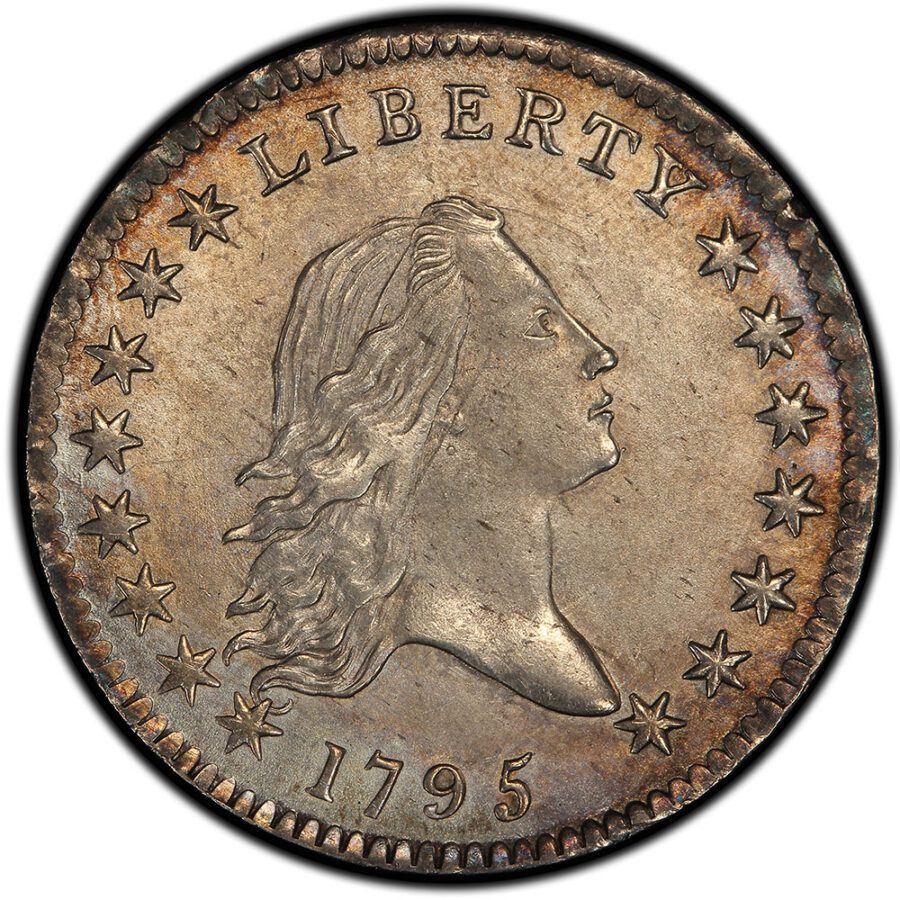 ---
Draped Bust Half-Dollar — 1796 to 1807
In 1796, the U.S. Mint updated the Bust half-dollars to include a new portrait of Lady Liberty on the Obverse.
On this coin, her hair was mostly loose but had side waves pulled back with a ribbon. The portrait was ringed with stars.
This new portrait of Lady Liberty has quite an interesting origin story. Artist Gilbert Stuart did the original picture. He used a real person to inspire Lady Liberty: Mrs. William Bingham, a Philadelphia socialite.
She was considered the most beautiful woman of her time, so she was a fitting model to draw eye appeal to the new coin.
The Small Eagle Design
From 1796 to 1797, the Draped Bust half-dollar was struck with the so-called Small Eagle design on the reverse.
Over these two years, the Mint made only 3,918 of these coins. Because they are so rare, coins in merely average condition can sell for around $50,000. A coin in uncirculated condition can be worth up to $480,000.
The Mint took a break from minting Draped Bust half-dollars from 1798 to 1800. In 1801, the reverse design was updated as well.
Updated Design in 1801
It featured a heraldic eagle with 13 arrows (a symbol of war) and an olive branch (a symbol of peace) in its claws.
Over the years, about 1.6 million Draped Bust Heraldic Eagle coins were made, so this variety is less valuable than the Small Eagle version.
Still, uncirculated coins can sell for nearly $90,000, and especially rare coins can sell for over $200,000.
The United States Mint also struck Draped bust quarters from 1796 to 1807 with a similar design.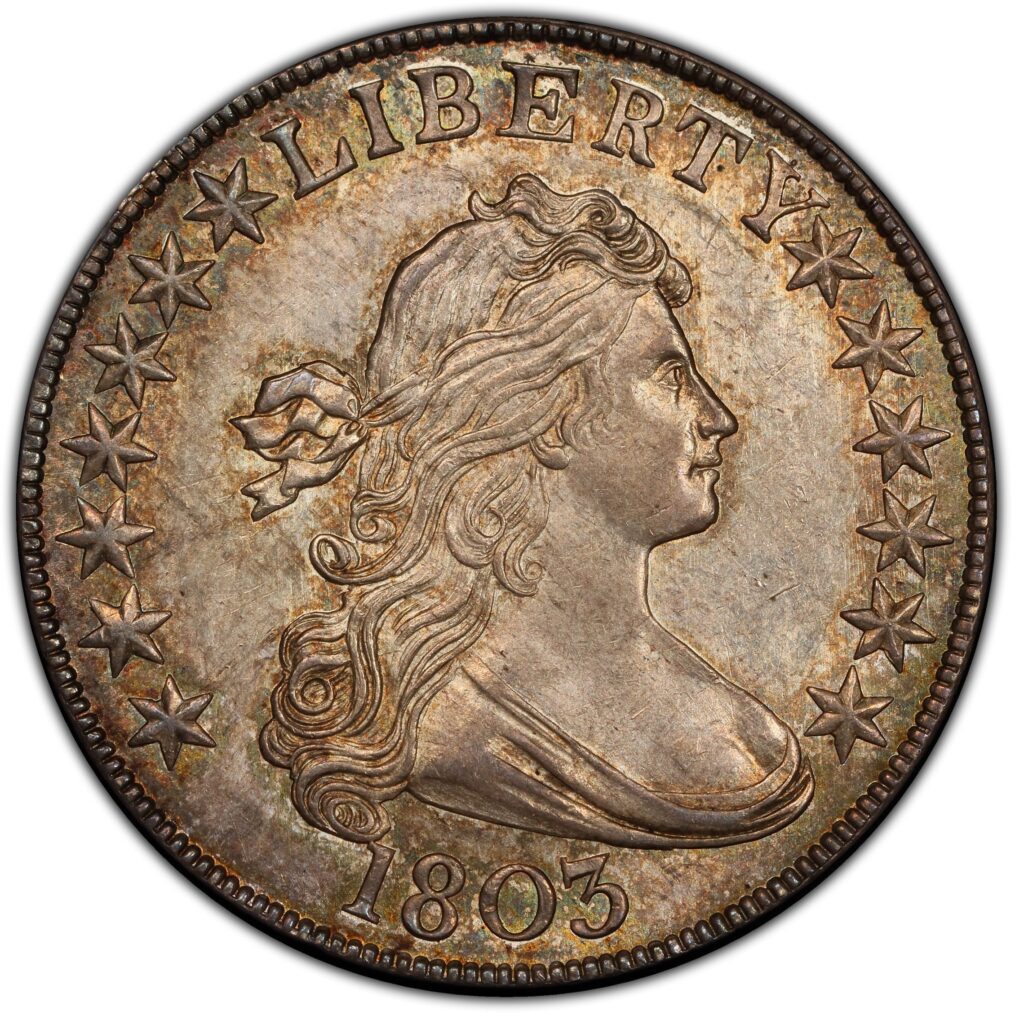 ---
Capped Bust Half-Dollar — 1807 to 1839
The Capped Bust half-dollar had the longest production run of all Bust half-dollars. This updated design's Lady Liberty now wore a cap inscribed "Liberty."
The coin's reverse featured a new eagle design, with the eagle holding three arrows in one claw and an olive branch in the other.
There were more than 92 million Capped Bust half-dollars made. The most valuable coins are usually from older mintages. Those in excellent condition can sell for $120,000 or more.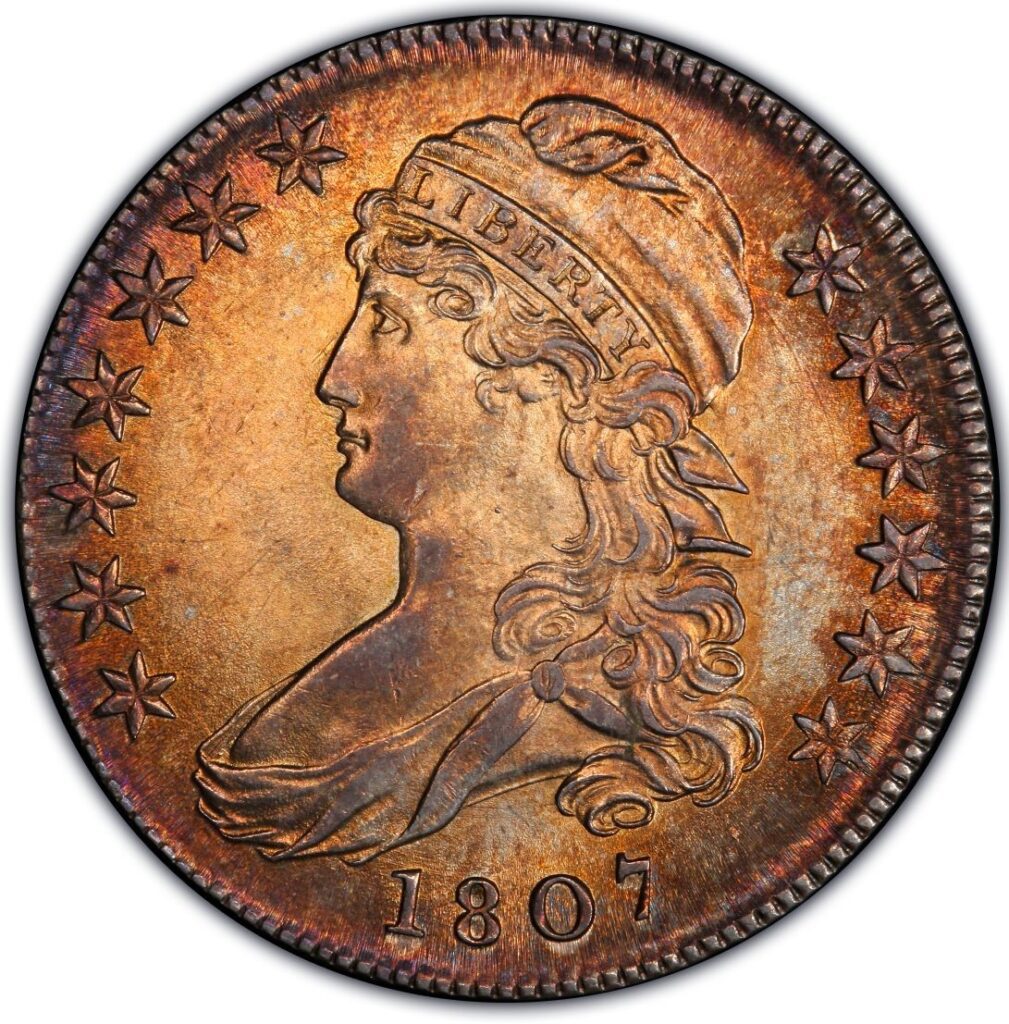 ---
Most Valuable Draped Bust Half-Dollars
As anyone well-versed in numismatics knows, errors and other abnormalities make for valuable U.S. coins.
Here are three of the most valuable Draped Bust half-dollars to look for.
1797 Draped Bust Half Dollar, 15 Stars
This design is one of the rare small eagle coins, so you already know it's valuable. It's also rare — in 1797, some Draped Bust half-dollar coins had 15 stars.
Others had 16 (in honor of Tennessee joining the Union).
A Draped Bust silver half-dollar with 15 stars in average condition can sell for almost $50,000.
And if you're fortunate enough to find one in near-mint condition, it may be worth over $1.6 million.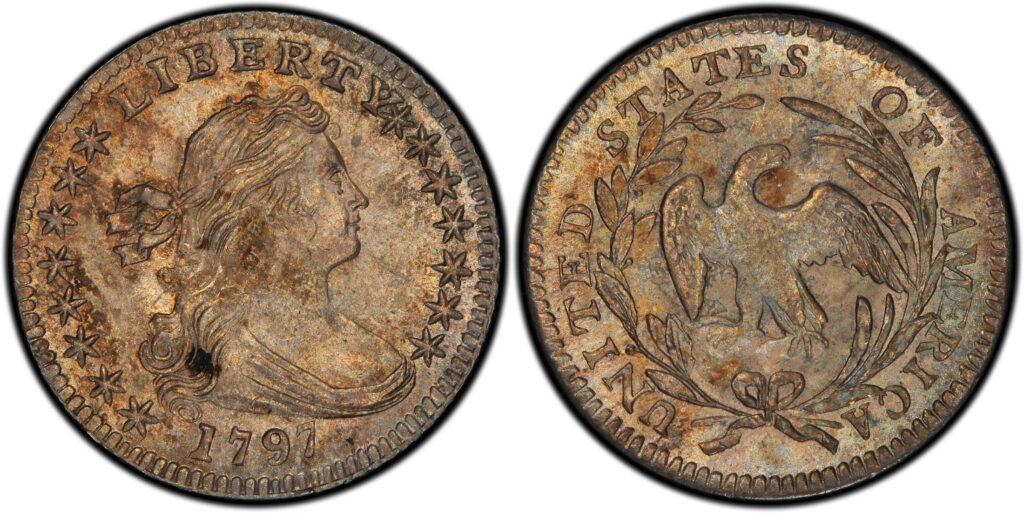 1797 Draped Bust Half Dollar, 16 Stars
While the 16-star coin isn't as valuable as the 1797 15-star coin, it still costs a pretty penny. In average condition, it's worth around $42,000.
A bust half dollar AU Details (About Uncirculated) condition, the coin is worth thousands. In uncirculated condition, it can sell for about $680,000.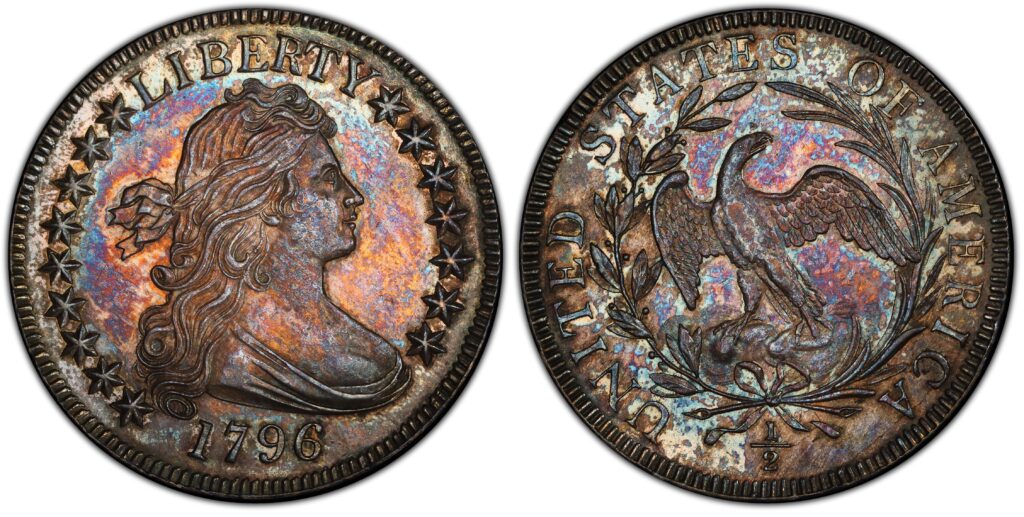 1806 Draped Bust Half Dollar, Knobbed 6/Stem Not Through Claw
This extremely rare variety features an interesting error: The stem of the olive branch does not go through the claw of the heraldic eagle.
The number six in "1806" features a knobbed end (rather than the pointed end found on most other coins).
The no-stem coin also features large stars. Coins in good condition can sell for over $200,000.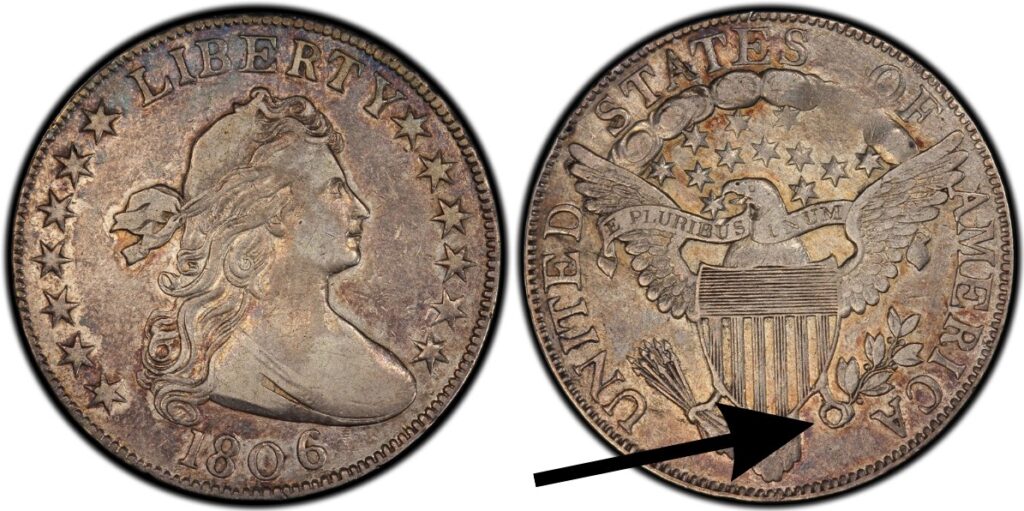 ---
Most Valuable Capped Bust Half-Dollars
The most sought-after Capped Bust half-dollars are those with errors. Here are three of the most valuable coins.
1812 Capped Bust Half Dollar, 2 Over 1, Large 8
This interesting variety features an error — the "2 Over 1" refers to the number two being struck over the number one in "1812."
This type of error occurs when a die is restruck with a new mintage year.
The "Large 8" indicates that the number eight in 1812 is larger than the eight in a similar variety called the 2 Over 1, Small 8.
If you find a coin in uncirculated condition, it's worth over $100,000 in today's money.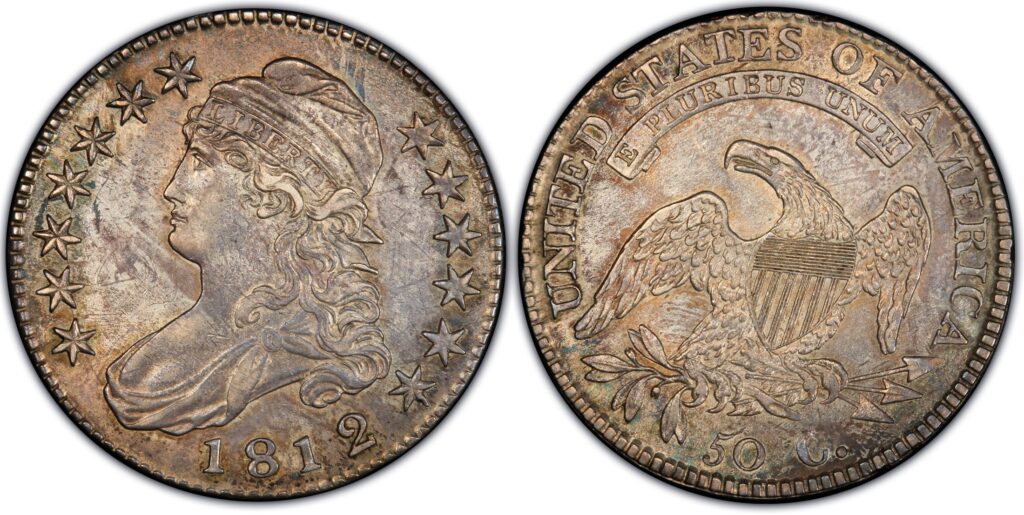 1815 Capped Bust Half Dollar, 5 Over 2
This variety is hard to identify. But if you look very closely, you can see that the number five has been struck over a two in "1815."
Uncirculated coins of this variety are worth much more than a dollar bill, values are over $50,000.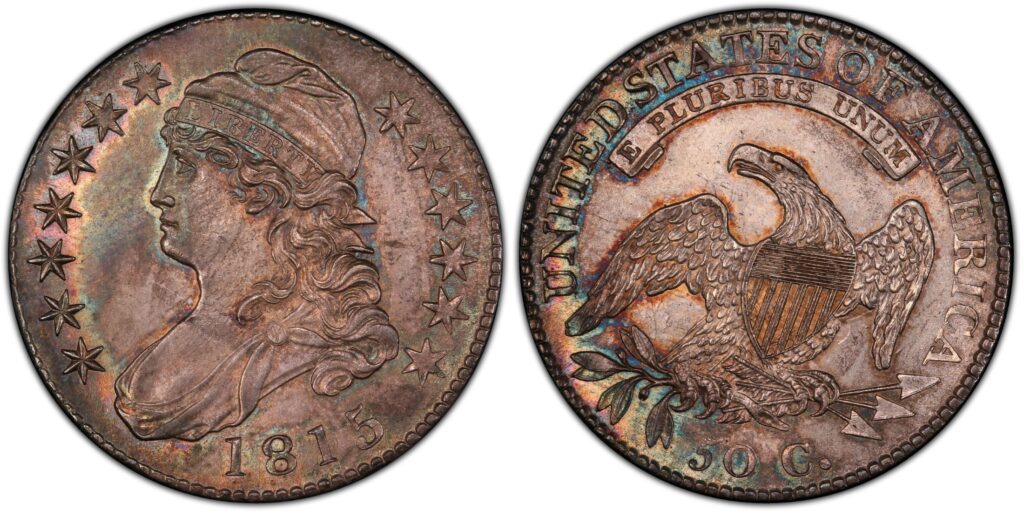 1820 Capped Bust Half Dollar, No Serifs on E's
This variety features a few errors in "UNITED STATES OF AMERICA." The back end of each letter "E" has no serifs. In addition, the bottom right of the letter "A" has been cut off.
Uncirculated coins of this variety can fetch nearly $40,000.
That said, these coins rarely appear at auctions. Collectors know of only about 63 surviving coins. Because they are rare and prized, the coins don't trade hands very often. Most collectors tend to hold onto them for the long term.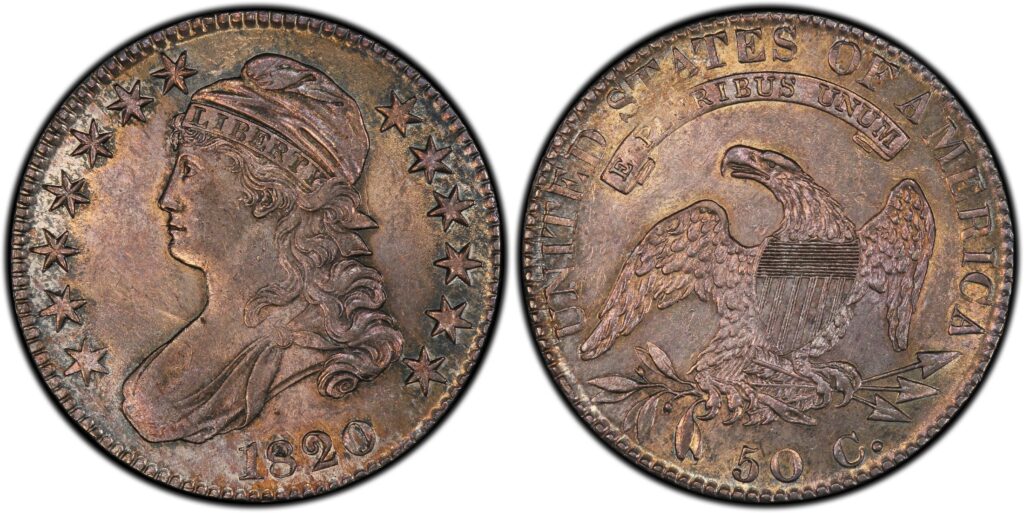 ---
Early Half-Dollars
With all other factors (condition, etc.) equal, earlier mintage coins are generally more valuable.
And as you saw above, two of the earliest half-dollars were the Draped Bust Small Eagle and Draped Bust Heraldic Eagle half-dollars.
Draped Bust Small Eagle Half-Dollars
These two coins have very different reverse designs, making them easy to tell apart.
The Small Eagle design features a realistic eagle standing with its wings spread.
The eagle is ringed by a laurel wreath with a bow at the bottom, a reeded edge, and the words "UNITED STATES OF AMERICA" surrounding it.
As the name suggests, the eagle is relatively small and takes up only a portion of the design.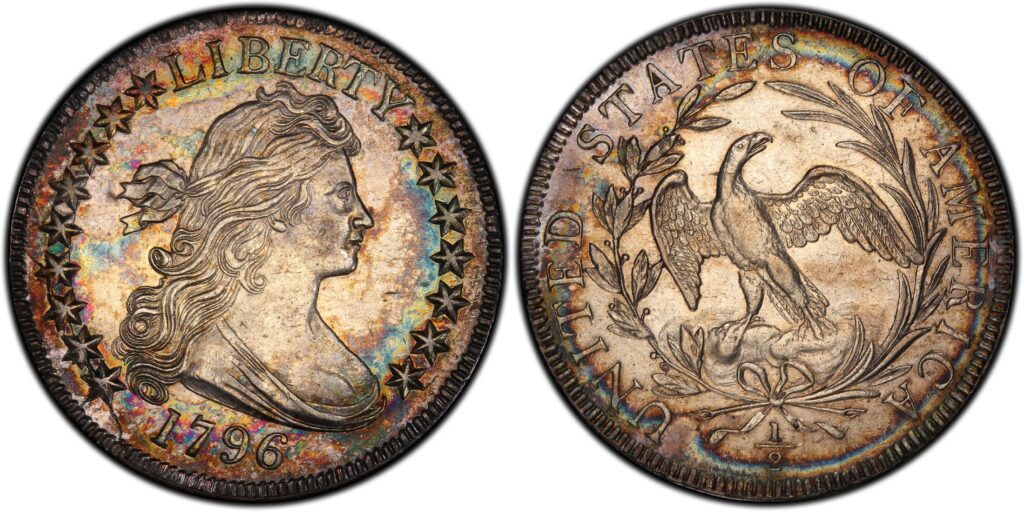 Draped Bust Heraldic Eagle
This majestic updated design features a larger heraldic eagle with a shield. In one claw, it holds 13 arrows. On the other, it contains an olive branch. Thirteen stars hover above the eagle's head.
This design is especially notable because it introduced a national motto to U.S. coinage: E pluribus unum (Latin meaning "out of many, one").
This motto is printed on a banner flowing below the eagle's beak.
And just like the previous design, this one has "UNITED STATES OF AMERICA" written around the edge of a coin.
If you're eager to get into the specifics of early half-dollars, the 1967 book "Early Half Dollar Die Varieties 1794–1836" by Al C. Overton is a great place to start.
It discusses the many designs and variations of these historic coins. If you're a serious, detail-oriented collector, it's a great reference book to keep on your shelf.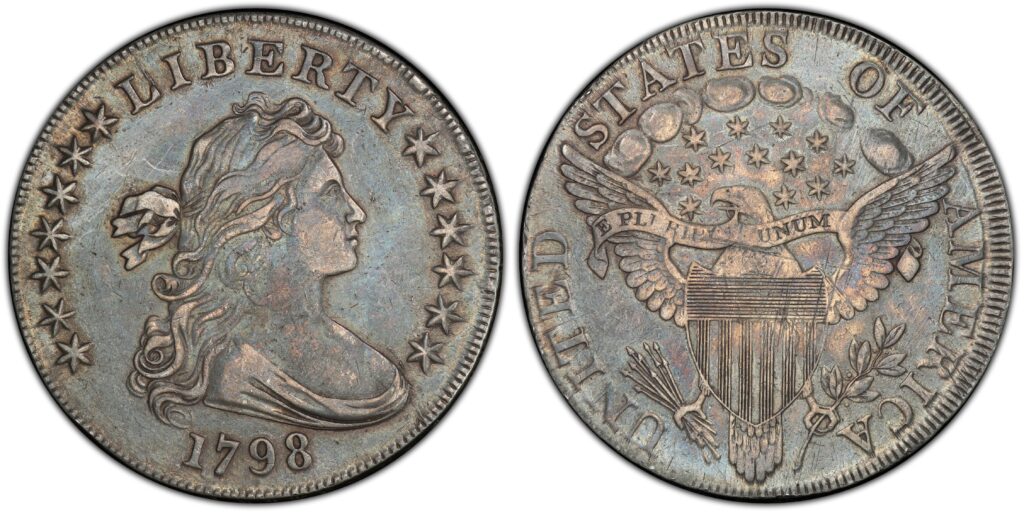 ---
Add a Draped Bust Half-Dollar to Your Collection
Some Bust half-dollar varieties are much rarer than others.
It can be fun to seek them out, but if you're searching for an especially rare variety, it can also seem like it could be challenging.
The draped bust half-dollar period was especially important for U.S. coinage history. It was the same time half dimes were produced, along with several other important currencies.
Purchasing a Bust half-dollar from another collector is an option, but these coins are often costly.
It's worth taking your chances at yard and estate sales to look for Bust half-dollars, too.
Even if you stumble upon a more common variety, you're still adding a piece of American history to your growing coin collection.
---
There's More to Learn About The Draped Bust Half-Dollar Coin –
Here's What We Already Learned –
Robert Scot was the designer behind the Flowing Hair Half-Dollar, and Chief Engraver of the Mint from 1793-1823.
The Capped Bust Half-Dollar had the longest production run of all bust halves, and values can get as high as $120,000.
If you're looking for a 1797 Draped Bust Half-Dollar, the 15-star coin is more valuable than the 16-star. In uncirculated condition, this key date can reach prices of over $600,000 at auction.
More Little Known Facts About the Draped Bust Half-Dollar Coins –
The draped bust half had a three-year hiatus from 1798-1800 when no coins were struck.
Coin designer Robert Scot designed the Draped Bust and Flowing Hair Bust coins, while John Reich designed the Capped Bust fifty-cent piece.
The fifty-cent coin dates back to George Washington, when the basic mint act was signed into federal law by the U.S. government in 1792.
The most valuable Draped Bust Half Dollar is from the key date of 1797 when an MS66-graded coin sold for $1.8 million.
Common mint errors were misstrikes and overstrikes. Poorly constructed dies were mostly to blame for Draped Bust errors, as the size and number of the stars were inconsistent, and created extremely valuable and rare variations.
At the same time the draped Bust Half Dollars were struck at the U.S. Mint, the very first gold coins were produced by Mint director Henry DeSaussure. In 1795, 744 gold Half Eagle coins were struck featuring a draped bust design on the obverse and an eagle with a wreath and palm branches on the reverse.
Continue on Your Coin Collecting Journey –
---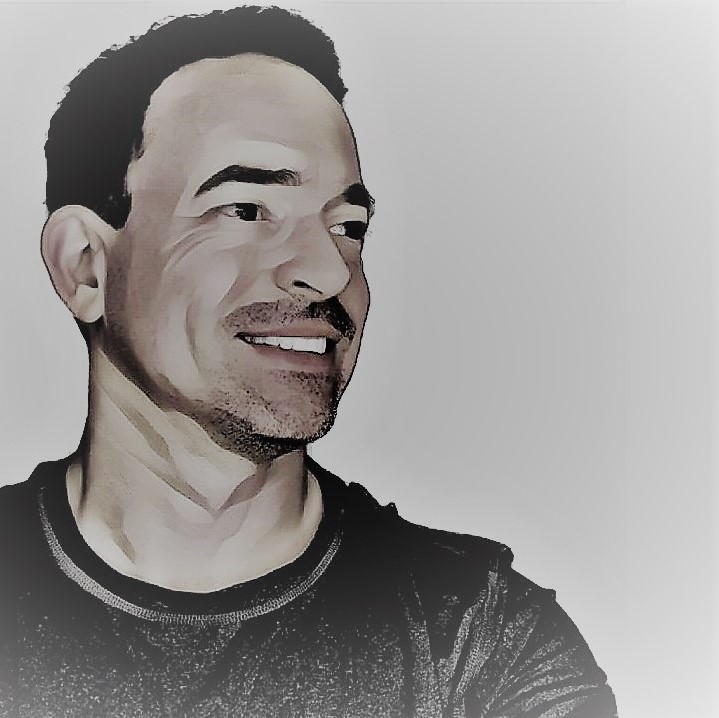 R.J. Bachman
Attic Capital – Writer, Editor, and Lifelong Collector
After many years of collecting rare coins, sports cards, and all types of collectibles, I began writing at Attic Capital to share my experience, knowledge, and passion.
I would love to connect with you, so don't hesitate to reach out and let me know more about your passion for collecting.