---
George Gruhn turned a hobby of collecting vintage guitars into one of the most well-known guitar shops in the world. The legendary Gruhn Guitars in Nashville TN is a global hub for both musicians and vintage guitar collectors.
Gruhn describes his early days of guitar collecting as "a compulsive mania." He says Gruhn Guitars is a business that is "a result of a hobby that got out of hand."
In an interview for Marty's Music, George discussed his love for vintage guitars and the magic behind great instruments where he said,
"To me, one of the things that separates the really truly great instruments from the average is that the average may feel like a good, compliant tool, a good servant. The really great ones feel alive and then they make suggestions that you would not have thought of otherwise."

George Gruhn
Gruhn Guitars History
Since 1963, George Gruhn has been buying and selling used instruments, but there's an intriguing story behind the company's start.
After studying zoology and animal behavior at the University of Chicago, George moved to Knoxville for a research job at the University of Tennessee. It turned out he would remain in Knoxville for only one semester.
One day, he received a phone call from none other than Hank Williams, Jr. Hank was looking for old Martin guitars. It just so happened that Gruhn had already made a name for himself as a source for prime-time instruments.
Sonny Osborne from the Osborne Brothers' bluegrass band had told Hank about Gruhn's collection of Martin guitars.
The Big Break for George Gruhn
Gruhn recalls a phone conversation with Hank Williams, Jr. about the various guitars in his Knoxville apartment and what he'd be willing to sell.
Hank, calling from Nashville TN, replied, "well, I can be there in four hours." Four hours later, Hank Williams Jr. showed up in Knoxville at George's apartment, ready to make a few deals.
Hank bought various guitars from Gruhn over the next few days and eventually convinced George he needed to move to Nashville. "There's nobody in Nashville like you," Hank proclaimed to George.
That was all George needed to hear. He quit school and headed to Nashville shortly after that.
---
Building the Epic Brand of Gruhn Guitars
He started Gruhn Guitars in 1970 with just twenty-two instruments. Over fifty years, he's grown it to become one of the largest dealers of vintage and used instruments in the world.
George has sold guitars to some of the biggest names in music.
Eric Clapton, Paul McCartney, Neil Young, and Johnny Cash have all purchased guitars from George. It's been said that George knows more about vintage guitars than anyone on earth.
His first shop was located next to the Ryman Auditorium, home of the Grand Ole Opry. The original shop was named "GTR," which stood for George Gruhn, Tut Taylor, and Randy Wood.
Word traveled that Hank Williams Jr. encouraged Gruhn to open his own shop, so naturally, interest was high. Musicians were eager to visit the new shop near downtown Nashville and see what the buzz was about.
As the store gained worldwide recognition, famous musicians and multi-millionaire collectors traveled from all corners of the world to visit the famous vintage instrument store.
Gruhn's Passion to Collect
George Gruhn explains his love for guitar collecting on the company website, where he says,
"Guitars, which I feel are the ultimate collectible, can be looked at, touched, listened to, and played. At the same time, they are beautiful pieces of art that can be appreciated on so many levels. A guitar responds to the individual player and sounds completely different when you play it then when you listen to someone else play it…There is, therefore, greater depth of appreciation with musical instruments than with almost any other collectible, perhaps even more than with painting and sculpture."

George Gruhn
Gruhn's Guide
Not only is George Gruhn one of the most knowledgeable guitar collectors on the planet, but he's also a skilled author of numerous books. He could be considered an official historian of the stringed instrument.
In 1991, he published Gruhn's Guide to Vintage Guitars: An Identification Guide to American Fretted Instruments, along with co-author Walter Carter. In the days before the internet, this was an essential guide for every guitar collector.
And in 1997, he published Acoustic Guitars and Other Fretted Instruments: A Photographic History.
Not only is he the author of definitive books, but he also wrote numerous articles for 'The Music Trades' magazine.
Vintage Guitars and Values Over the Years
The vintage guitar market has changed dramatically over the years. In a recent interview for Acoustic Guitar, Gruhn was asked what the most popular vintage models are these days.
He responded that today's most popular vintage models are the same ones that were popular when he opened his store in 1970. The 1950s electric guitars and 1920s and 30s acoustics were the most in-demand guitars back then. And they still are.
Gruhn also commented on the current state of the market. Speculators have driven up prices and valuations.
From 2000 to 2007, prices increased tenfold for some models. He adds that the high-end market is delicate, and if younger collectors don't step in at some point, prices could collapse.
He sees many new national instruments entering the market from Baby Boomer collectors looking to sell out and downsize collections.
Vintage Guitar Values
A recent report by Vintage Guitar Price summarized the latest year in vintage guitar values.
By tracking sales of vintage guitars from the four major brands, Vintage Guitar Price created an index and has tracked values over the last twenty years.
Fender, Gibson, Gretsch, and Martin make up the VGP50 price index.
Values increased only a moderate amount over the last year. Here's a summary of the four brands and the composite VGP50 Index gains.
Fender Index 1.9% increase in 2021
Gibson Index 1.8% increase in 2021
Gretsch 93 Index 1.5% increase in 2021
Martin Index 1.2% increase in 2021
VGP50 Index 1.5% increase in 2021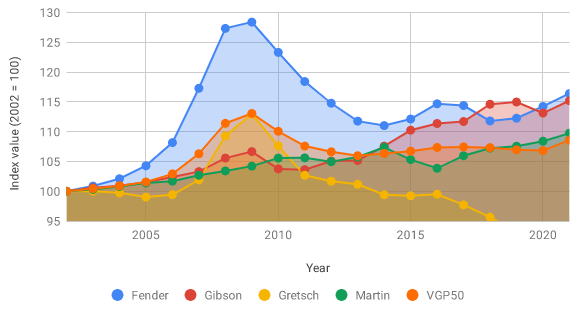 ---
How George Gruhn Evaluates Vintage Guitars
About ten years ago, George Gruhn published a few of his vintage guitar newsletters. He discussed some of the factors he considers when valuing string instruments.
A few of the primary issues George considers when assessing vintage guitars are original price, precedent, and rarity.
---
Original Price
The original price paid for a guitar mostly has nothing to do with the market value of a vintage stringed instrument. However, Gruhn explains that it can be an interesting exercise to compare current market values with original list prices.
One indicator George looks at is the price of modern replicas or reissues compared to original list prices after adjusting for inflation. Here, you will see if an extra premium has been added to the price because of a specific model's popularity.
George says list prices can be deceptive when anticipating which instruments will appreciate in the future.
For example, some of the most expensive guitars by list price over the years don't always become the best investments. He adds that vintage market values are a function of supply and demand. Sometimes, it's the least-known models that become extremely valuable rather than the most popular or most expensive.
Precedent
Gruhn describes precedent as a significant contributing factor when valuing vintage guitars.
For instance, if a Telecaster sells for $1,000, other Telecasters like it will have a value of at least $1,000. He explains an instrument's market value will be at least as high as the price it last sold for.
The more models that exist, the higher the number of recent sales, and the easier it is to establish precedent and accurate value.
When a dealer has no recent comparable purchase, it leads us to our next factor in valuation, which is a rarity.
Rarity
George describes rarity in the collector guitar market as somewhat different than other collector markets.
Namely, he says rarity is not always a quantity that indicates value. George gives the example of a custom, one-of-a-kind guitar that might not be considered as valuable as a pristine condition catalog model.
In contrast, he describes the collector coin market, where the rarest coins are usually the most valuable. After identifying the authenticity of an instrument, you want to establish how rare the instrument actually is and if there's an existing market for each specific guitar.
---
For more than 50 years, Gruhn Guitars Inc. has been selling a full inventory of the world's premier vintage Les Paul, Martins, Fender, and classic Gibson guitars. He's also performed a good repair or two on a few of the most famous guitars in the world.
In a recent interview by Vintage Guitar Magazine, Gruhn was asked about some of the biggest changes in the industry over the years. He replied that CNC machines dramatically changed the guitar industry.
The ability to make precision guitar parts contributed to higher quality standards and better-sounding instruments.
Gruhn Guitars, an Institution
People travel from all over the world to see Gruhn's shop in person. Some of the biggest names in music have consulted with George Gruhn and his team.
The most valuable and treasured vintage guitars of all time have been evaluated, repaired, and sold at Gruhn's shop. Over the years, it's become an institution and a voice of authority in the collector vintage guitar market.
In 2006, Garrison Keillor played a New Year's Eve show at Ryman Auditorium near Lower Broadway and visited Gruhn Guitars with Vince Gill before the show.
Like so many other musicians, Gill shared stories about buying some of his first guitars at Gruhn's.
George Gruhn; Knowledge, Integrity, and Service
In 2013, the famous guitar store and repair shop moved to a new location with a larger showroom and additional space.
If you can't visit the famed guitar shop in person at the historical address of 2120 8th Avenue South in Nashville TN, you can find your way to the Gruhn company website using the coveted, Guitars.com domain.
George paid only $30 for the domain many years ago because "he was there before anyone else."
George paid only $30 for the domain many years ago because "he was there before anyone else."
Although the elaborate website features daily updates of their entire inventory and a wide selection of new instruments, along with the ability to submit guitars for online appraisal, the focus remains simple. George says simply, "knowledge, integrity, and service are remarkably low-tech."
---
READ more about rare and valuable collectibles –
How To Find and Identify Rare Arrowheads
Thinking Out Of The Box – A Guide To Collecting Cigar Boxes
The 20 Most Expensive Lego Sets In The World
The Vintage Typewriter – Collectable Machines Making a Comeback
Vintage Tonka Trucks Turn Back the Clock
World's Most Valuable and Rare Diamond Guide
---
Vintage Guitar Price Guides
So how many different vintage guitar price guides are there? Beyond the Vintage Guitar Price Index we discussed above, there are a few more to keep in mind when searching for your vintage guitar value.
The Official Vintage Guitar Price Guide
Vintage Guitar Magazine releases a price guide each year titled "The Official Vintage Guitar Price Guide." For a little over $100, you can order the annual price guide packed full of thousands of makes and models of electrics, basses, acoustics, amplifiers, ukuleles, and much more.
The price guide includes 35 expert guitar dealers with prices for instruments and investment guitars. The guide is available in printed and digital form.
Most Expensive Guitars Ever Sold
Kurt Cobain tops the charts with the most expensive guitar ever sold when his Martin D-18E smashed auction records in 2020. Cobain played the guitar during the legendary MTV Unplugged set back in the day.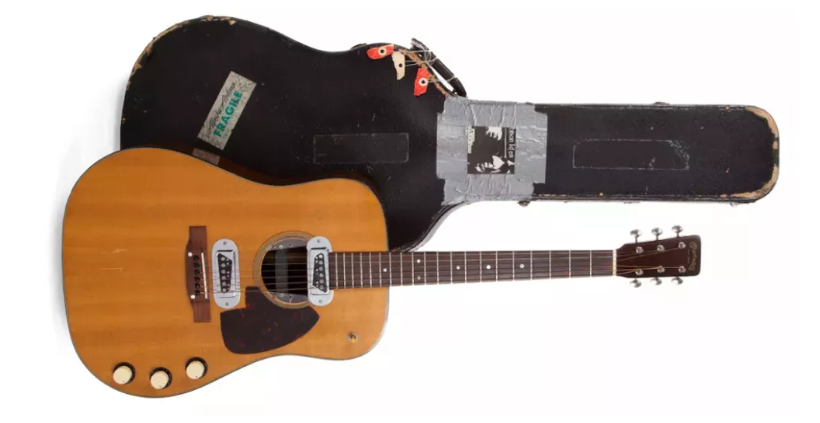 Here's a quick rundown of the Top 10 Most Expensive Guitars Ever Sold.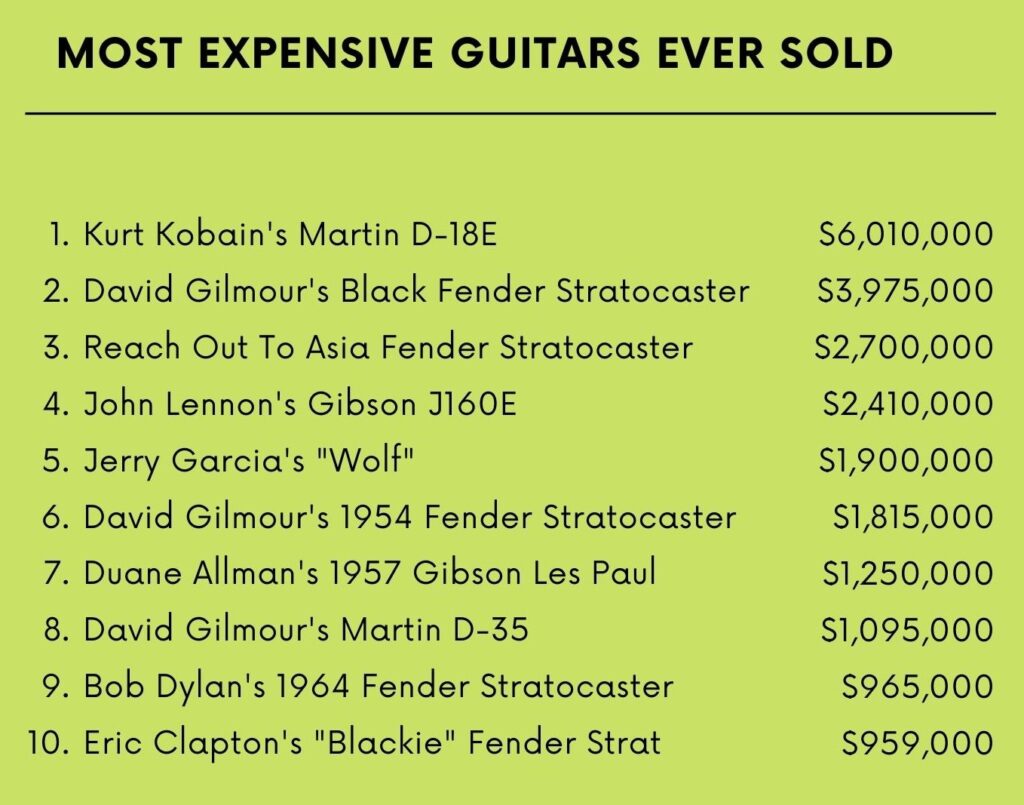 ---
READ more about rare and valuable collectibles –
Top 10 First Edition Pokemon Cards – Catch 'Em All!
Nolan Ryan Baseball Card Value Using eBay
9 Rare and Uncommon Dollar Bills
Vintage and Old Marbles Worth Money
---