---
1974 quarter value is often questioned. With hundreds of millions of 1974 quarters minted, rare coin collectors want to know if any are worth money.
It's one of the most recognizable and widely distributed coins. Since 1932, several U.S. Mints have minted the Washington quarter with a copper-nickel cladding.
Although it's a high-mintage coin, you can still find plenty of valuable 1974 quarters, depending on condition, mint marks, and rare errors.
History of the 1974 Washington Quarter
Sculptor John Flanagan designed the coin in 1932 as part of the bicentennial celebration of George Washington's birth.
Flanagan designed both sides of the 1974 quarter. He adapted the obverse side of Washington's head from a bust by French sculptor Jean-Antoine Houdon.
His original design ran through 1998 and was replaced by the State Quarter series. Once the "America the Beautiful" National Park quarter series were completed in 2021, Flanagan's quarter design will return.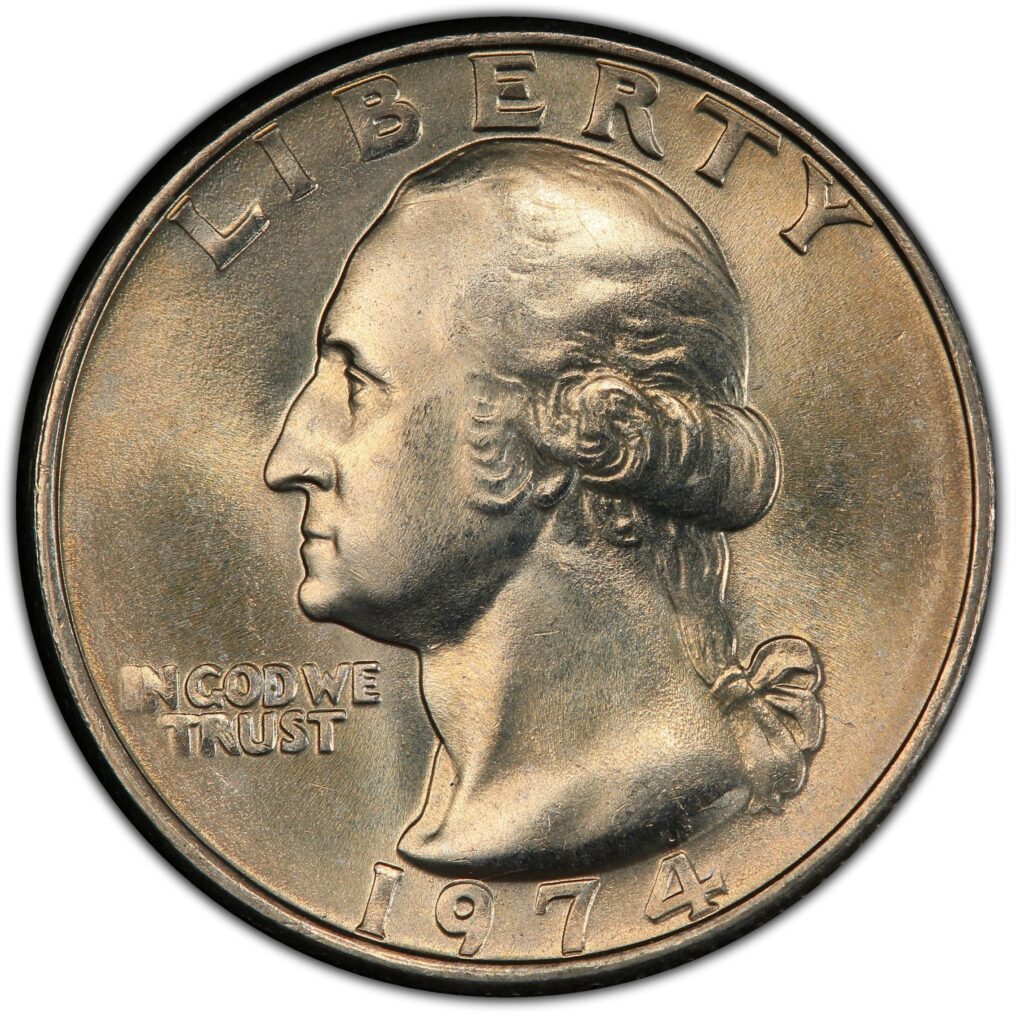 ---
Mint marks can be found to the right of George Washington's neck, on the obverse of the coin to the lower right.
On the reverse is the inscription LIBERTY, and the United States of America, with the spread wings of an eagle, olive branches, and the motto E Pluribus Unum.
One notable slight design change for the 1974 quarter was at the obverse, where the details of the bald eagle were slightly sharpened from previous years' mintage.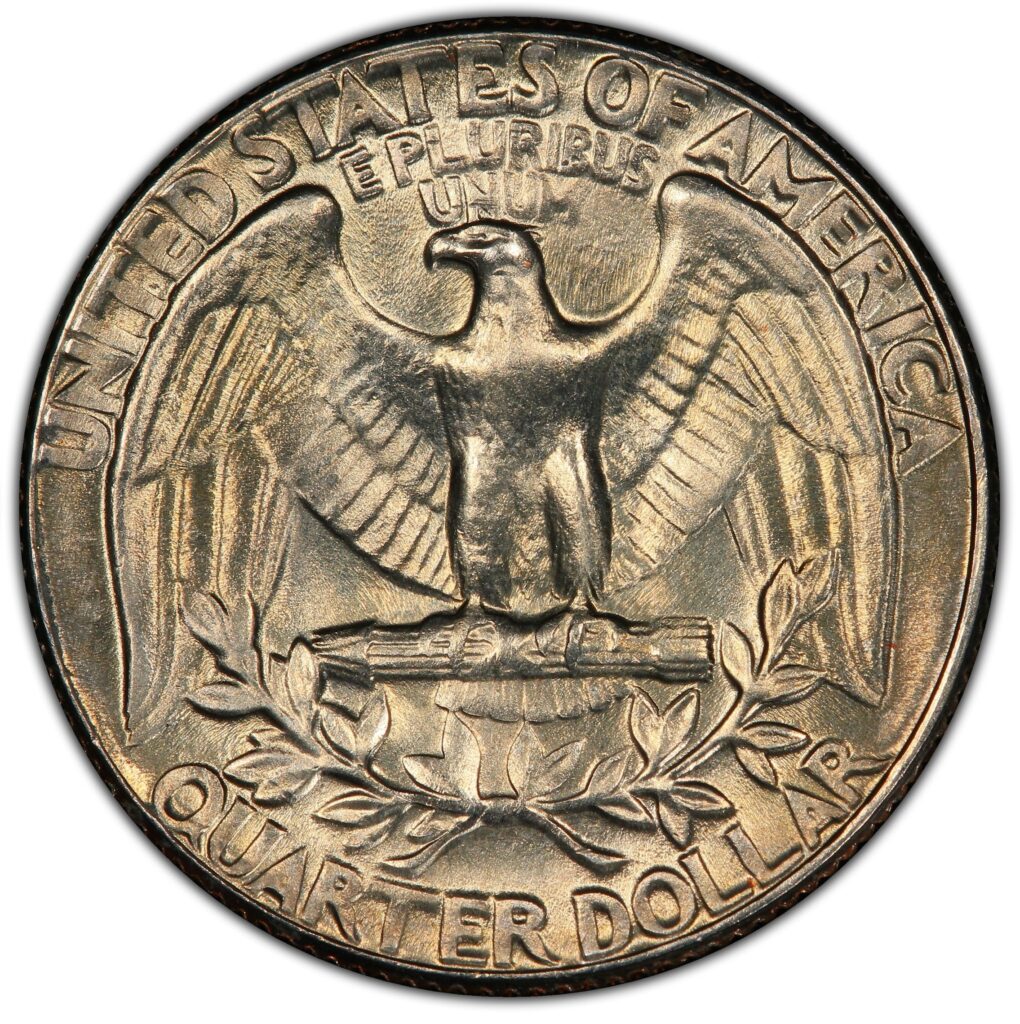 ---
How Much is a 1974 Quarter Worth?
The coin value of most 1974 quarters is 25 cents. In average circulated condition, it's safe to assume the 1974 quarter will only be worth face value. In MS-60 condition, typical U.S. coins may be valued at 0.75 cents.
Because of the high mintages of the 1974 quarter, the most valuable will need to be certified with a high grade. Anything over an MS67 condition coin will be highly valuable and scarce.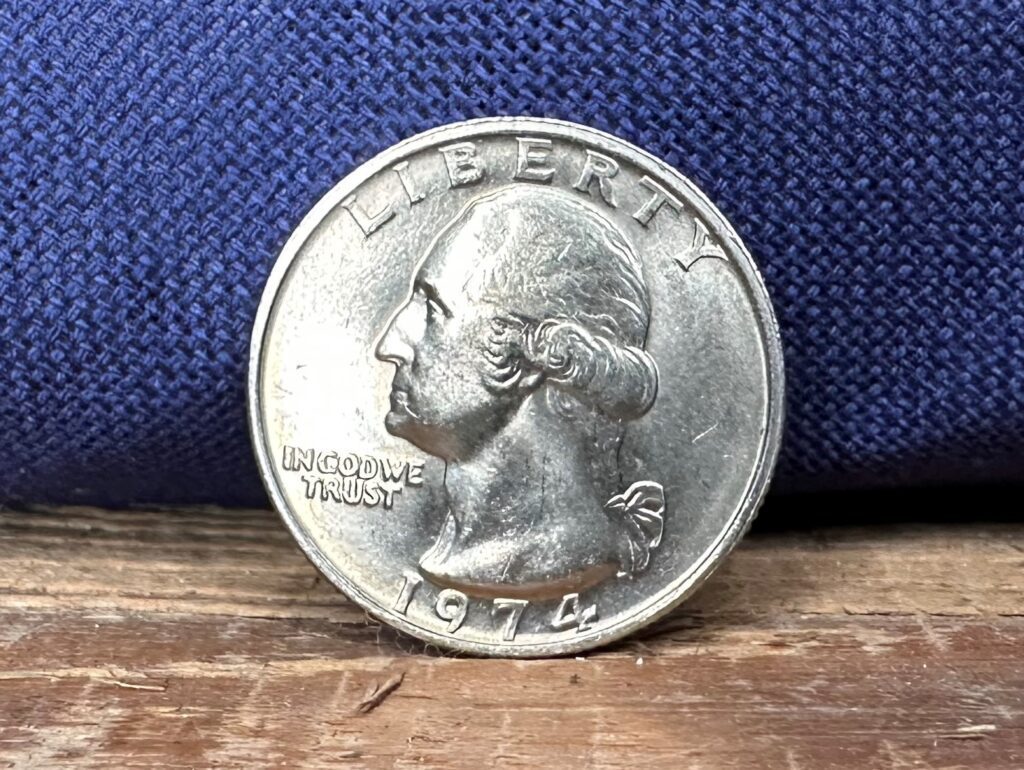 ---
Is a 1974 Quarter Silver?
No, the 1974 quarter coin does not contain Silver. It has zero silver content. The clad U.S. quarters comprise a nickel layer over a copper core with a reeded edge.
Value of the 1974 Quarter
Most circulated 1974 quarters found in pocket change are worth $0.40 to $0.90. But if you can find a 1974-D quarter in uncirculated condition, numismatic values jump to over $300.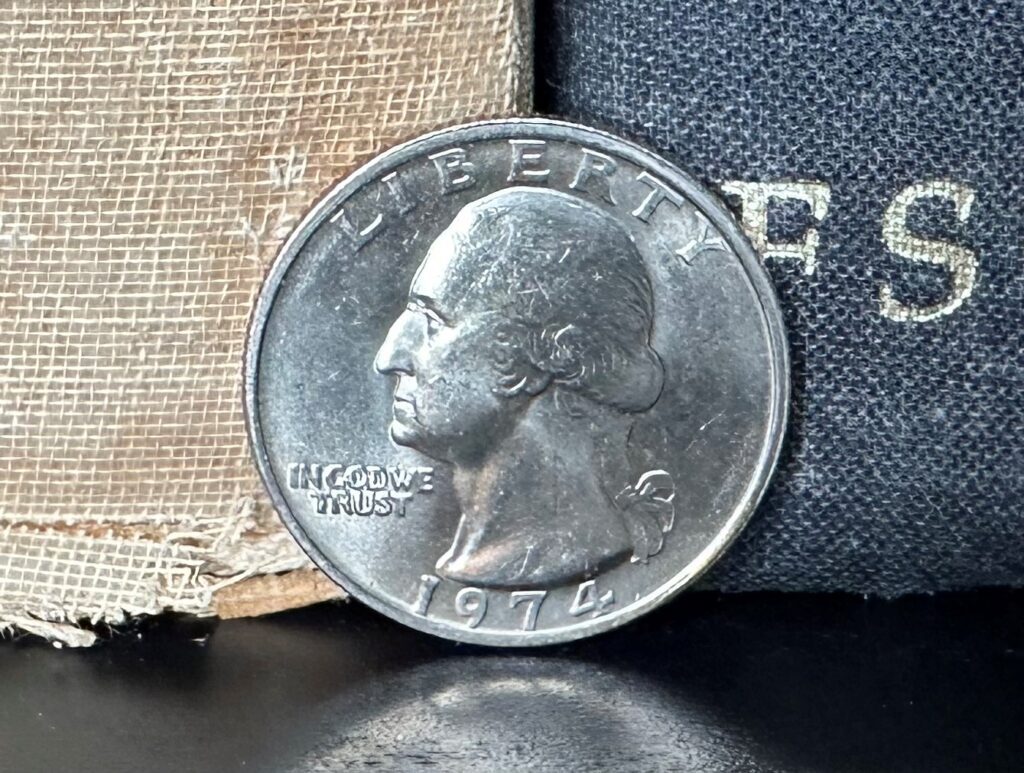 ---
1974 Quarter – No Mint Mark (Philadelphia)
Over 800 million quarters were struck at the Philadelphia Mint, so coins are generally at face value.
However, one of this year's rarest and most valuable quarters was struck at the Philly mint, and in extremely fine condition, its value is over $2,000.
There's no mint mark for the 1974-P Washington quarter, and if you find one that a roll hoarder stored, you could have a coin worth a few thousand dollars.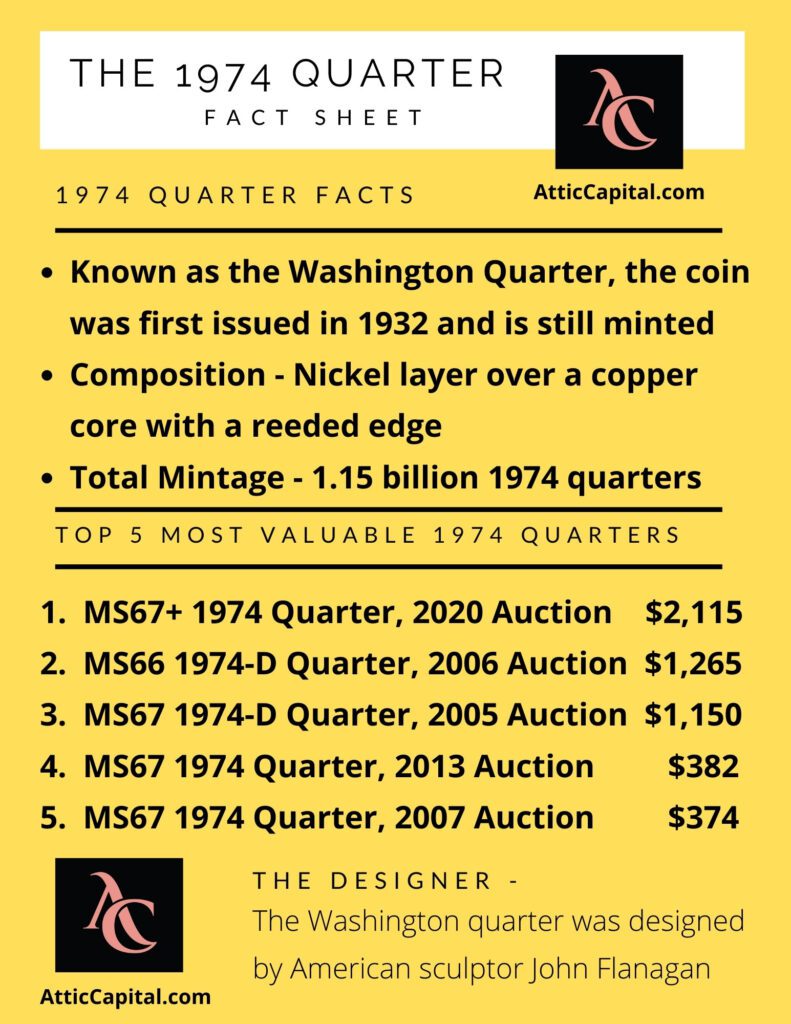 What is the Most Valuable 1974 Quarter?
One of the most valuable 1974 quarters is pictured below. It's a pristine example graded in MS67+ condition and noted as None Finer at PCGS. This coin is just one of two examples to exist in the world.
PCGS notes during the 1950s and 1960s; roll hoarding was popular in the coin-collecting community. While collectors stored coins in rolls, the condition was preserved well.
Roll hoarding ended in the 1970s, making coins from this period relatively more challenging to find in flawless condition.
The coin sold at Legend Rare Coin Auctions in 2020 for $2,150.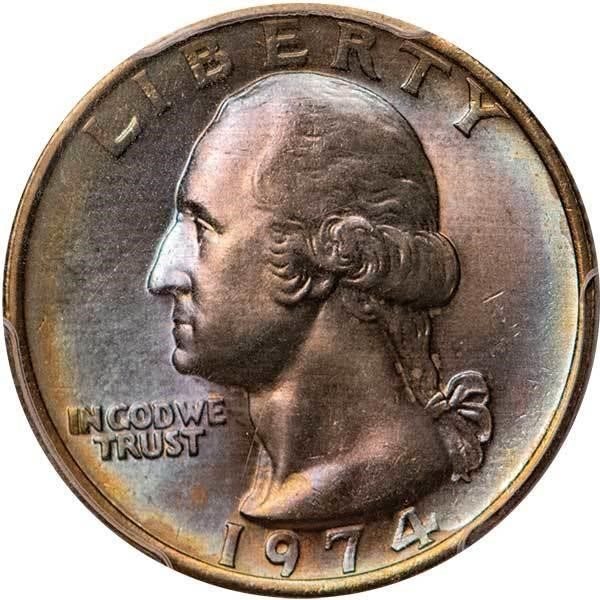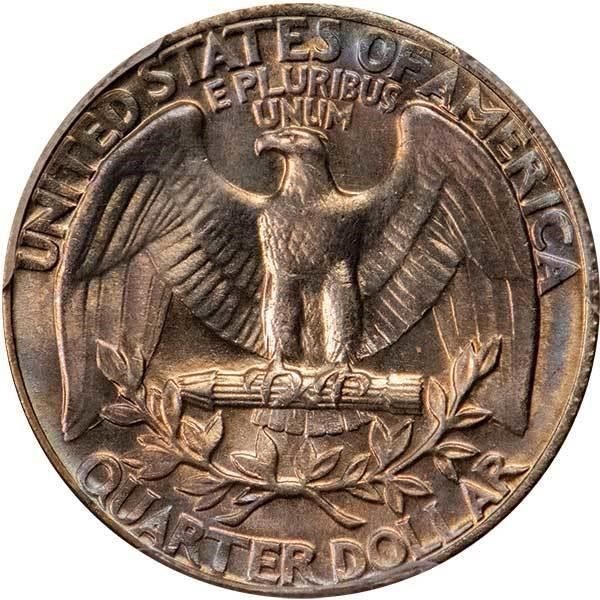 ---
How Much Does the 1974 Quarter Weigh?
The 1974 quarter weighs 5.67 grams with its layered nickel and copper core. The diameter of the reeded edges is 24.3mm.
How Many 1974 Quarters Were Made?
There were 353 million 1974 quarters minted at the Denver mint. Another 801 million Washington quarter coins were minted at the Philadelphia Mint and 2.6 million at the San Francisco mint.
1974-D Washington Quarter
While 353 million quarters were struck at the Denver Mint, a few varieties are worth several hundred dollars. Beautiful quarters graded in Mint state MS67+ condition are valued at $260, with the record on eBay landing $1,450.
MS66-graded coins will be valued in the $15 – $45 range. MS-65 condition coins will only be worth a few dollars.

1974-S Proof Washington Quarter
The 1974 proof quarter was minted at the U.S. San Francisco mint. More than 2.6 million coins were struck. Of the known sales in recent years, a PR69 coin traded hands for $100. PR67 has a quarter value of $8 to $10.

1974 Quarter Errors
Die cracks on the reverse of the quarter are the most common. Die crack errors are caused when the coin strikes with a worn-out, cracked die. These quarter-dollar errors can sell for $5 to $10 on eBay.
Larger die cracks can be more valuable, especially with the special error nicknames becoming popular.
"Spitting Horse" and "Scarface" are a few Morgan Dollars that became valuable error coins because of their nicknames. The "Spitting Eagle" has also gained recognition for the Washington quarter error.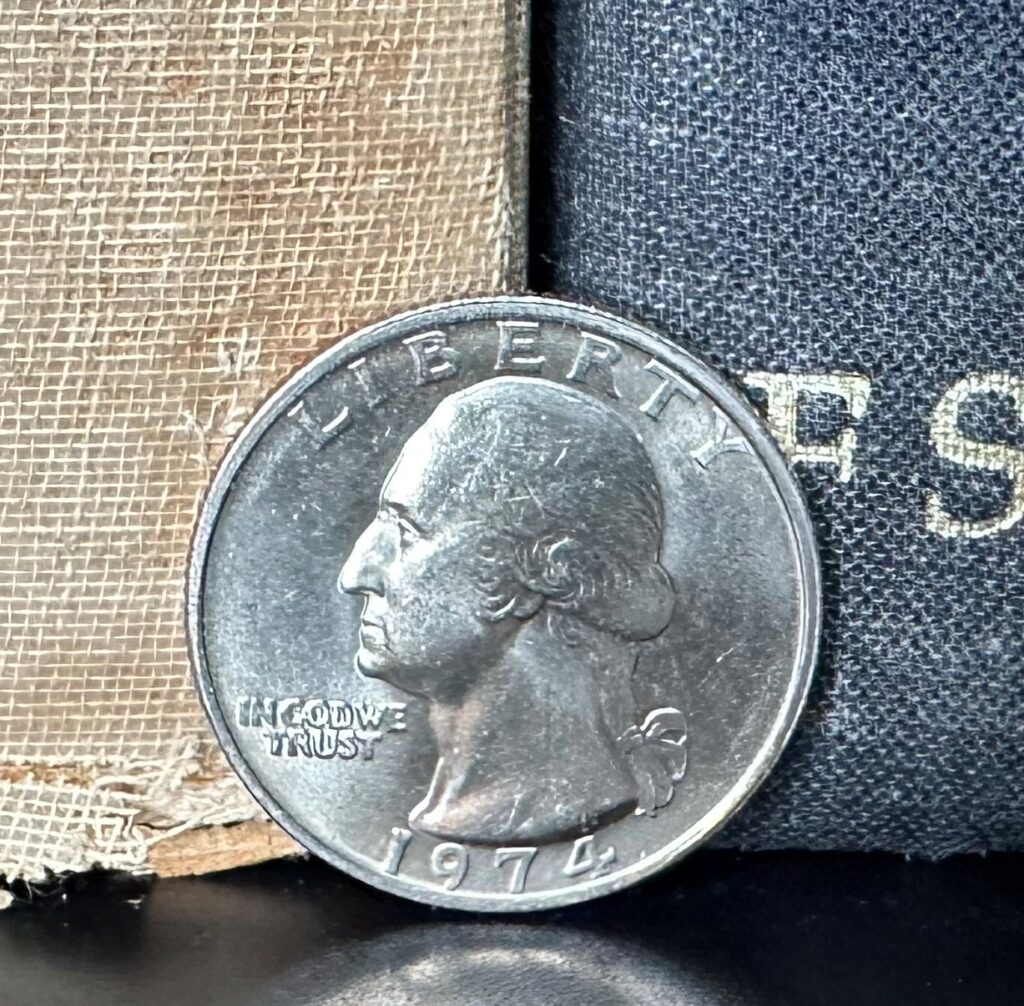 ---
Most Valuable 1974 Quarter Error Coins
Doubled Die Reverse quarters and reverse die cracks are valued between $2 – $50, depending on the type of crack and the location.
Much like Silver dollars and half dollars, mint error coins are typically the most valuable.
How valuable are 1974 error coins? The 1974-D quarter struck on a cent planchet sold for over $2,000 at a Heritage auction.
If you'd like to have your error coin valued, take good pictures and attach them to the grading submission to evaluate your error coins properly.
---
Modern Quarters
The first President of the United States has been featured on the quarter since 1932, which marked the 200th anniversary of his birth.
Modern quarters include the Silver Proof set quarters, minted from 1992 to 1998. Other modern quarters are the U.S. States and Territories quarters, America the Beautiful series, and American Women quarters.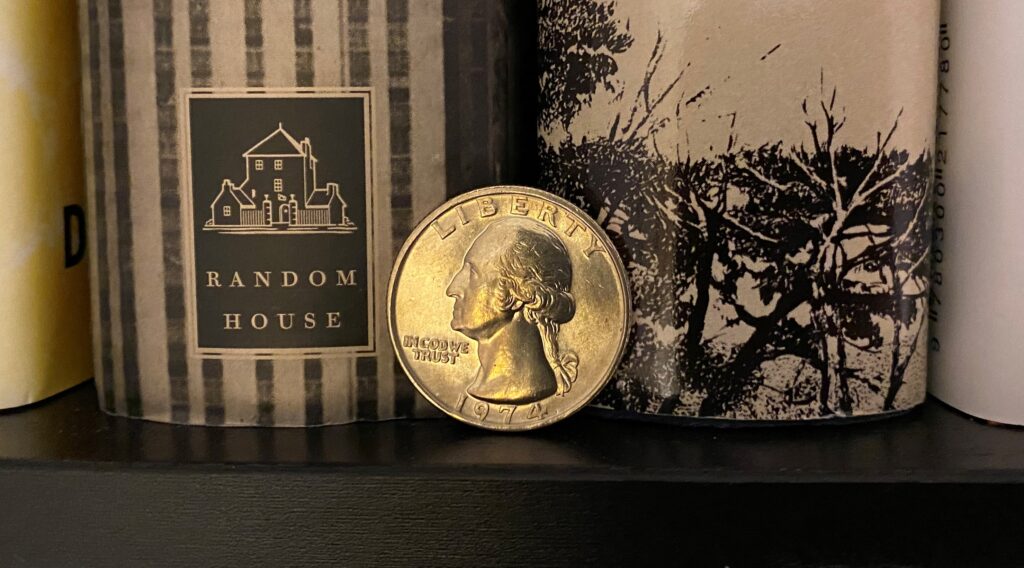 ---
Selling Coins Online
Coins minted with troy ounces of Silver are valuable and worth a lot of money for their meld value. All quarters produced before 1964 are 10% copper and 90% pure silver, which equals .181 troy ounces.
Selling coins online through eBay is the most common, although dozens of top-rated online coin dealers and specialists will purchase coins through their websites.
Whether it's Roosevelt Dimes, Jefferson Nickels, Kennedy Half Dollars, or Bicentennial Quarters, there's a market for your rare coins; it just takes a little research. But most of all, you want to know what you own and its value before you sell.
---
How Do I Sell My Coins? —> Top 7 Best Places to Sell Coins Online
I Would Like to Hear From You!
What's your favorite collector coin?