---
Coin collectors are noticing the bat quarter and America the Beautiful 2020 quarter value. In just a few years, the five unique designs celebrating the National Park Service's 100th anniversary have been growing in popularity.
Each coin has a design on the reverse (tails side) based on one of five national parks or sites. The obverse (heads) side of each coin features the 1932 portrait of George Washington by John Flanagan, used for circulation quarters since the same year.
2020 Quarter Designs
There are five new America the Beautiful quarter dollars for 2020. These commemorative quarters feature designs honoring National Park Service sites in Vermont, Connecticut, the U.S. Virgin Islands, Kansas, and American Samoa.
Here's a guide to all five –
1. National Park of American Samoa Quarter
The first quarter of the series is the National Park of American Samoa quarters, depicting an image of a Samoan fruit bat mother, also known as a flying fox.
This is the largest native mammal in American Samoa and plays a crucial role in pollinating native plants and dispersing plant seeds. The design is intended to raise awareness of the fruit bats threatened status due to habitat loss and commercial hunting.
BAT Quarter Value – $1.00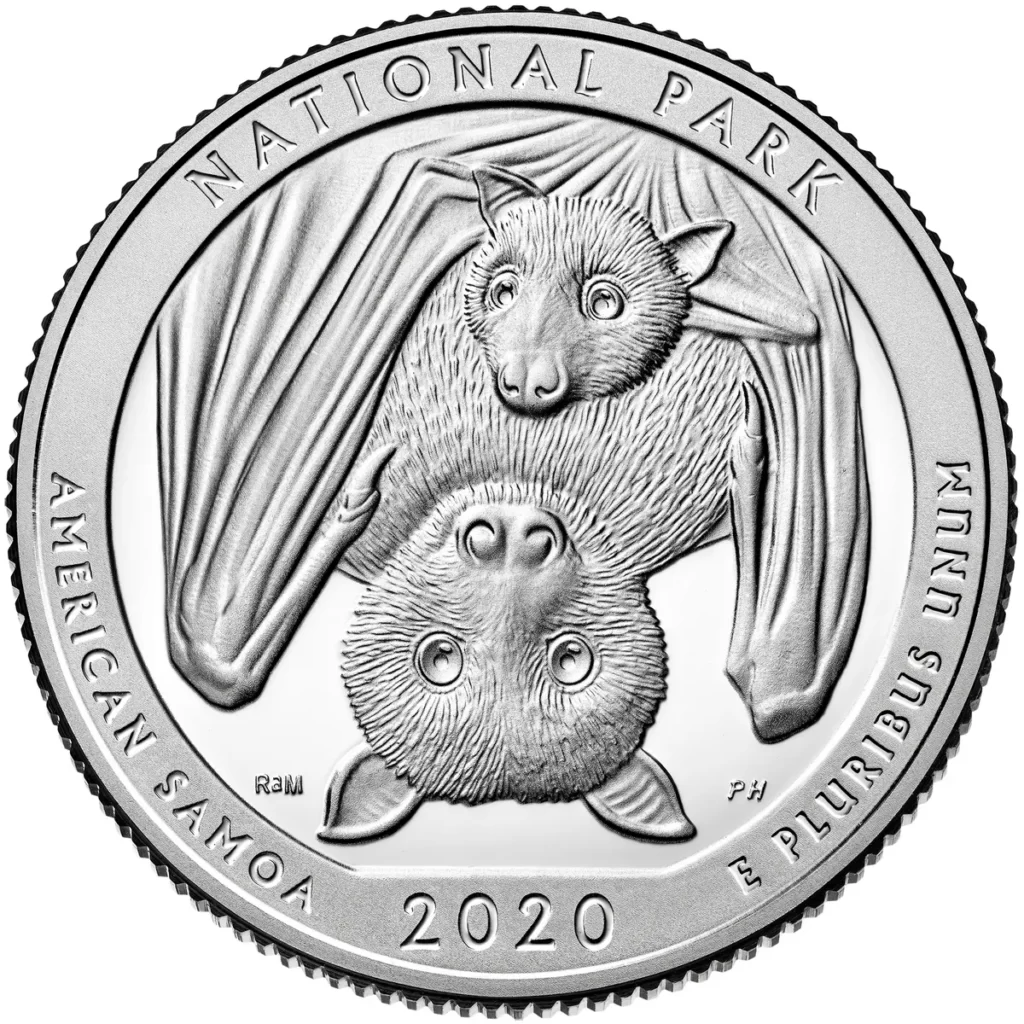 Bat Quarter Value
The bat quarter value depends on the coin's condition and where it was minted. Standard 2020 National Park of American Samoa bat quarters are worth a face value of $0.25.
2020-D and 2020-P bat quarters are worth around $0.50 in uncirculated condition. While "P" and "D" graded coins in MS 65 condition are valued at around $1. The "W" indicates that it was struck at the West Point Mint facility in New York State.
2020-S bat quarters are worth $2 – $3 in MS 65 graded and uncirculated condition.
What is the value of a Fruit Bat Quarter minted at the West Point Mint? The 2020-W bat quarter is valued at $10 in MS 63 condition and over $25 in uncirculated MS 65 condition.
The Privy Mark
The American Samoa National Park quarter is one of two 2020 quarters struck with privy marks. What is a privy mark? Its a designation rarely used by The United States Mint to honor the end of World War II.
The special 2020-W quarters display a "V75" mark on the front-left of the coin. The value for a Samoa Bat Quarter with a V75 privy mark is $25 or more.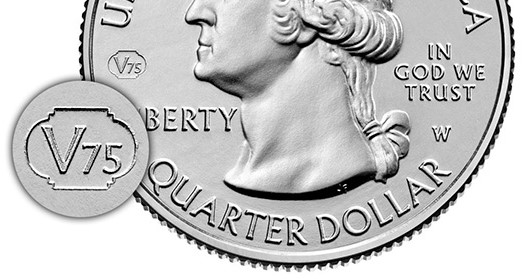 ---
2. Weir Farm National Historic Site Quarter
The second quarter in the series highlights the Weir Farm National Historic Site, which preserves over 60 acres of land and is home to three generations of American artists, starting with Julian Alden Weir, who purchased the farm in 1882.
Weir was part of the first generation of American Impressionist painters. A portion of Weir's studio, a landscape painting by his daughter, Julianna Weir, and an apple tree are depicted in this design.
Weir Farm National Historic Site quarters are the second coins of the 2020 series to include a "V75" privy mark on the front.
Weir Farm Quarter Value – $1.00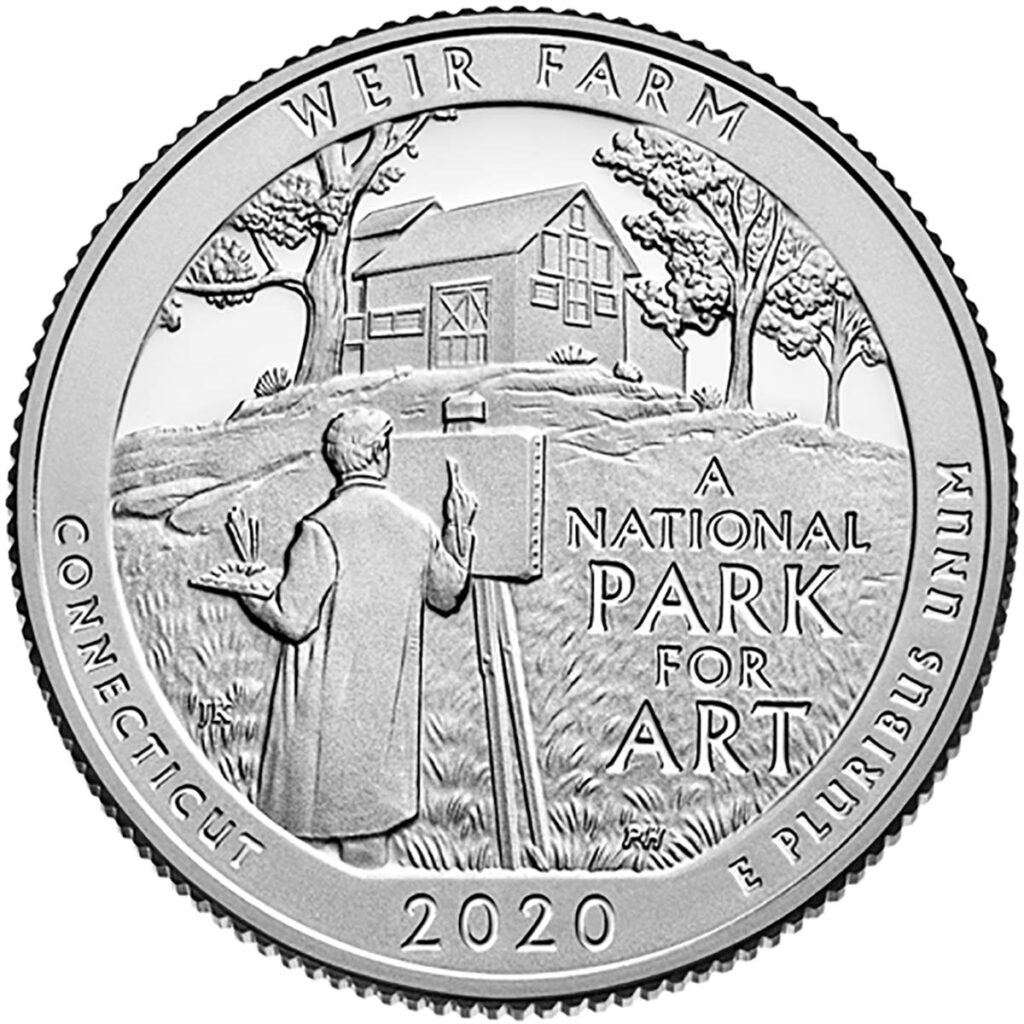 ---
3. Salt River Bay National Historical Park and Ecological Preserve Quarter
The territory quarter for 2020 honors Salt River Bay National Historical Park and Ecological Preserve in the U.S. Virgin Islands. The reverse design depicts Columbus landing on the island with a Taino warrior standing on its shore holding a bow and arrow.
Inscriptions are United States of America, Salt River Bay, USVI, E Pluribus Unum, and 2020.
Discovery at Salt River Bay
In 1690, Christopher Columbus arrived at Salt River Bay, where he explored and claimed the land for Spain.
Today, Salt River Bay National Historical Park visitors can explore archaeological sites where the Arawak people lived about 1,500 years ago.
Mangrove trees are also featured in the quarter's design. Mangroves grow near coastal estuaries and protect coastlines from erosion by buffering against storms and flooding. The trees support various wildlife species that live in their branches or among their roots.
Salt River Bay Quarter Value – $1.00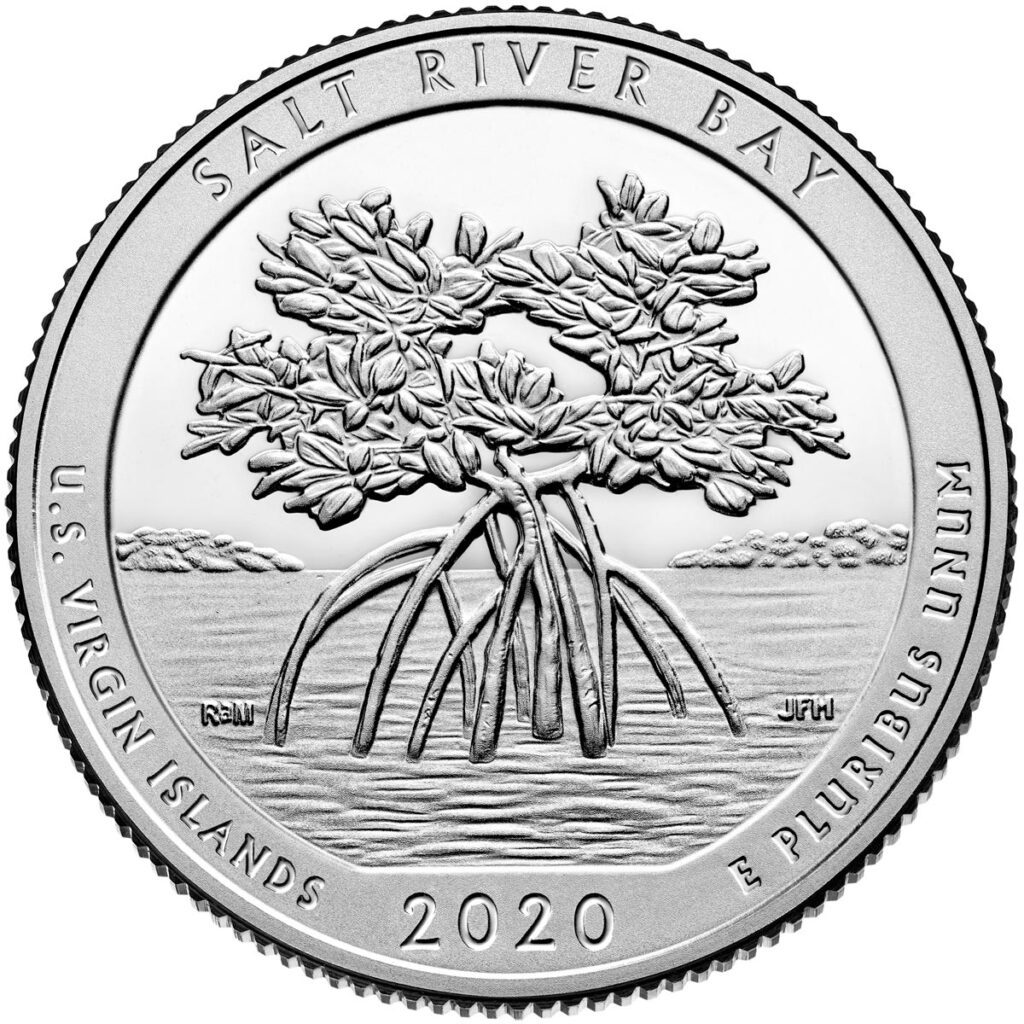 ---
4. Marsh-Billings-Rockefeller National Historical Park in Vermont Quarter
The coin's reverse side depicts an American chestnut tree sapling with a mature American chestnut tree in the background, representing the park's conservation and land stewardship role.
The inscriptions "Marsh-Billings-Rockefeller," "Vermont," "2020," and "E Pluribus Unum" appear around the periphery.
Conservation and Preservation
The Marsh Billings Rockefeller National Historical Park commemorates conservationist George Perkins Marsh, who was influential in public policy and land preservation.
Timber baron Frederick Billings purchased the farm in 1869. And philanthropist Mary French Rockefeller donated it to The Trustees of Reservations in 1992.
Marsh-Billings-Rockefeller is the first National Park Service site honored in Vermont. It's the 42nd of 56 national parks to be featured on the America the Beautiful quarters issued between 2010 and 2021.
Marsh Billings Quarter Value – $1.00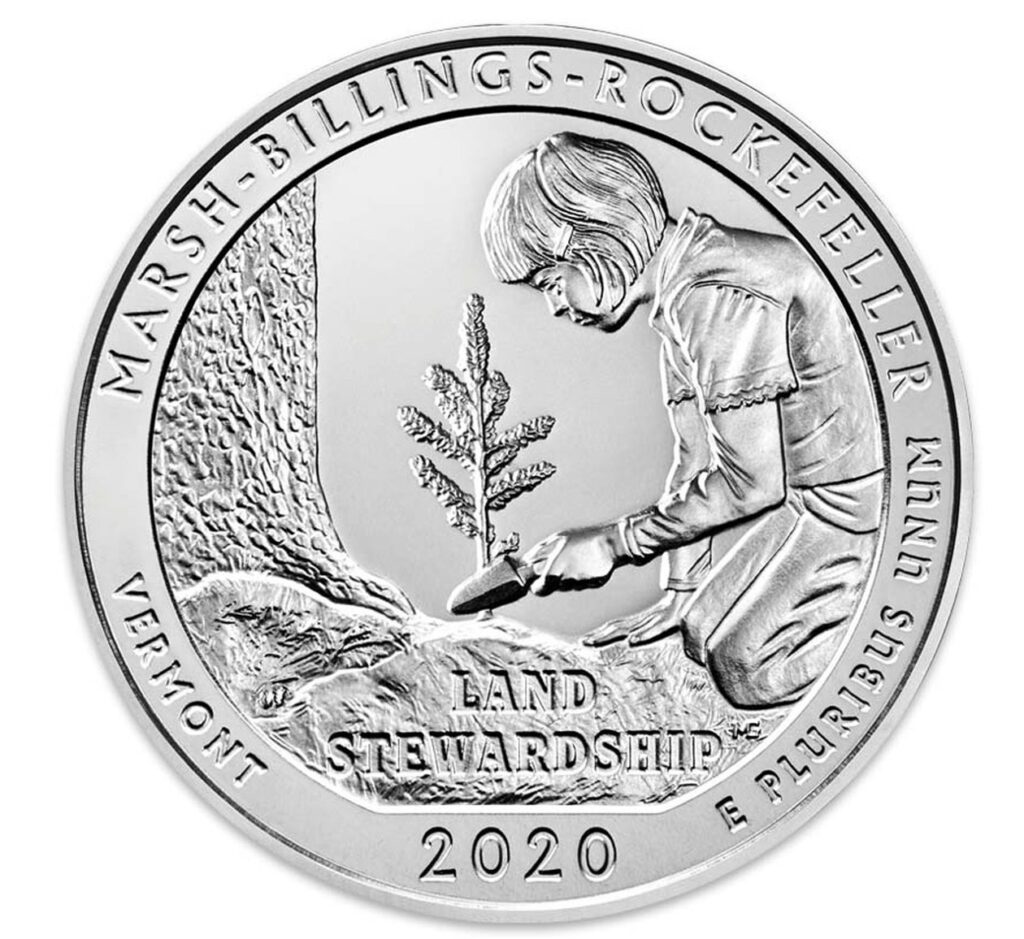 ---
5. Tallgrass Prairie National Preserve Quarter
Tallgrass Prairie National Preserve was chosen to represent Kansas's unique ecosystem and beauty. The preserve is home to the largest remaining expanse of tallgrass prairie in North America.
Tallgrass Prairie National Preserve is located near Strong City, Kansas, and is made up of thousands of acres of scenic rolling hills and native tallgrass prairie.
The preserve was originally part of a private homestead sold to The Nature Conservancy in 1989 and transferred to the National Park Service in 1996.
The reverse of this 2020 quarter depicts Big Bluestem and Indian tallgrass, with a Regal Fritillary butterfly in the foreground. Inscriptions are "Tallgrass Prairie," "Kansas," "2020" and "E Pluribus Unum."
Tallgrass Prairie Quarter Value – $1.00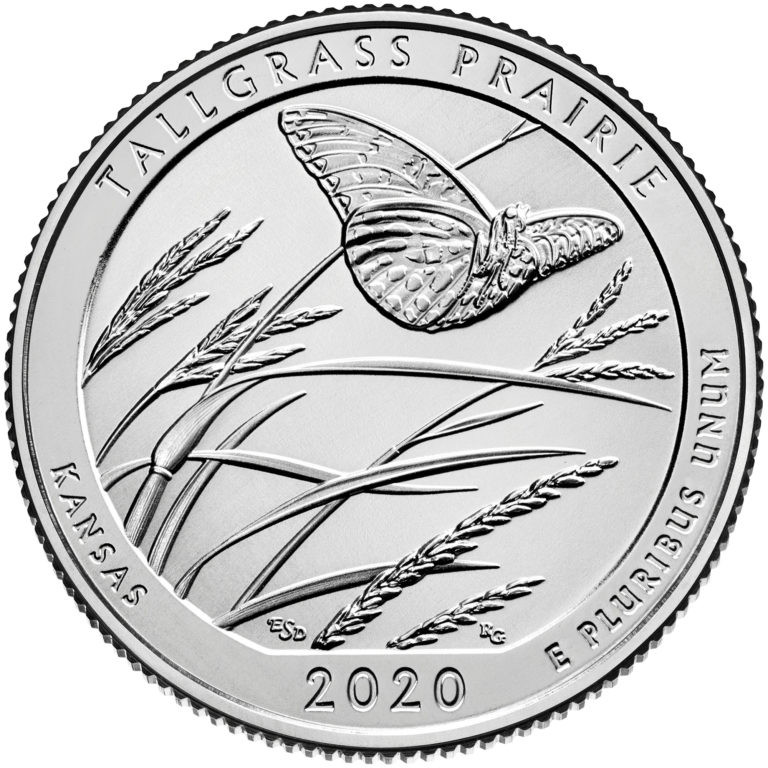 ---
2020 Silver Quarters Proof Set
The US Mint also struck a limited number of 2020 quarters minted in 99.9 percent silver. At a minimum, each coin is worth the melt value of weighted silver, so about $5, depending on current silver prices.
The value of a 2020 sliver proof National Park quarter is around $10. You can purchase the entire set of five silver dollar quarters directly from the US Mint for $60.
Each set includes a certificate of authenticity and a protective lens for each coin. While the obverse is the same George Washington design, the reverse shows the five unique National Park Service designs.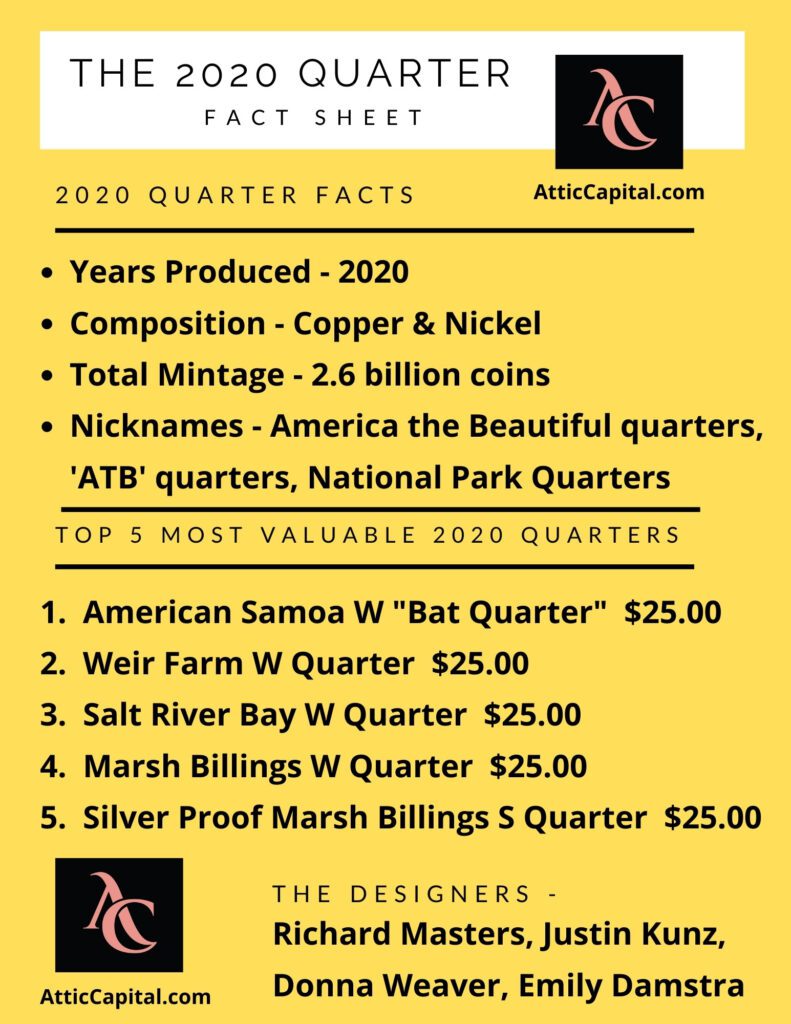 2020 Washington Quarters and Error Coins
Error coins of the 2020 National Park Service designs include die chips, double die errors, the "blind bat," a "tilted collar," and die break errors.
2020 Quarter Release Dates
The Federal Reserve issued the 2020 quarters throughout 2020 on the following dates –
National Park of American Samoa in American Samoa – February 3, 2020
Weir Farm National Historic Site in Connecticut – April 6, 2020
Salt River Bay National Historical Park and Ecological Preserve in U.S. Virgin Islands – June 1, 2020
Marsh-Billings-Rockefeller National Historical Park in Vermont – August 31, 2020
Tallgrass Prairie National Preserve in Kansas – November 16, 2020
About the West Point Mint
The United States Mint at West Point is one of the four mint facilities in the United States. The other three are the Philadelphia Mint, the Denver Mint, and San Francisco Mint.
The West Point Mint plays a crucial role in producing circulating coins (like silver dollars), collecting coins, and protecting America's precious metals reserves.
The West Point facility opened in 1937 as a storage facility for silver reserves. It became an official U.S. mint in 1988.
The W Mint Mark
Although the facility only manufactures precious metal coins, it also produces some of the most important commemorative coins each year. One example is the American Buffalo Gold Coin which includes a "W" mint mark.

The Proof American Gold Eagles with a "W" mintmark are also produced at this location. In addition, all modern proof platinum and palladium coins are struck at this U.S. Mint facility.
Today, the United States Mint at West Point produces blanks, then ships them to other coining facilities for striking into circulating coins and medals.
West Point Bullion Depository
In addition to its official name, the West Point Mint is also known as the West Point Bullion Depository or the West Point Silver Depository.
Why Are 2020 Quarters Special?
The U.S. Mint has a long history of minting coins to commemorate coin collecting and the hobby.
The first collector-themed coin issued by the U.S. Mint was in 1992 to commemorate the 500th anniversary of Christopher Columbus's voyage to the New World.
Tribute to the U.S. National Park System
The America the Beautiful Quarters Program began in 2010, with a new design released every three months until 2021. Each design features the U.S. National Park System or other historical sites and various landmarks from around the United States, with 56 different sites honored when completed.
The 2020 National Park quarters mark the program's tenth anniversary, making this set of quarters extra special for coin collectors.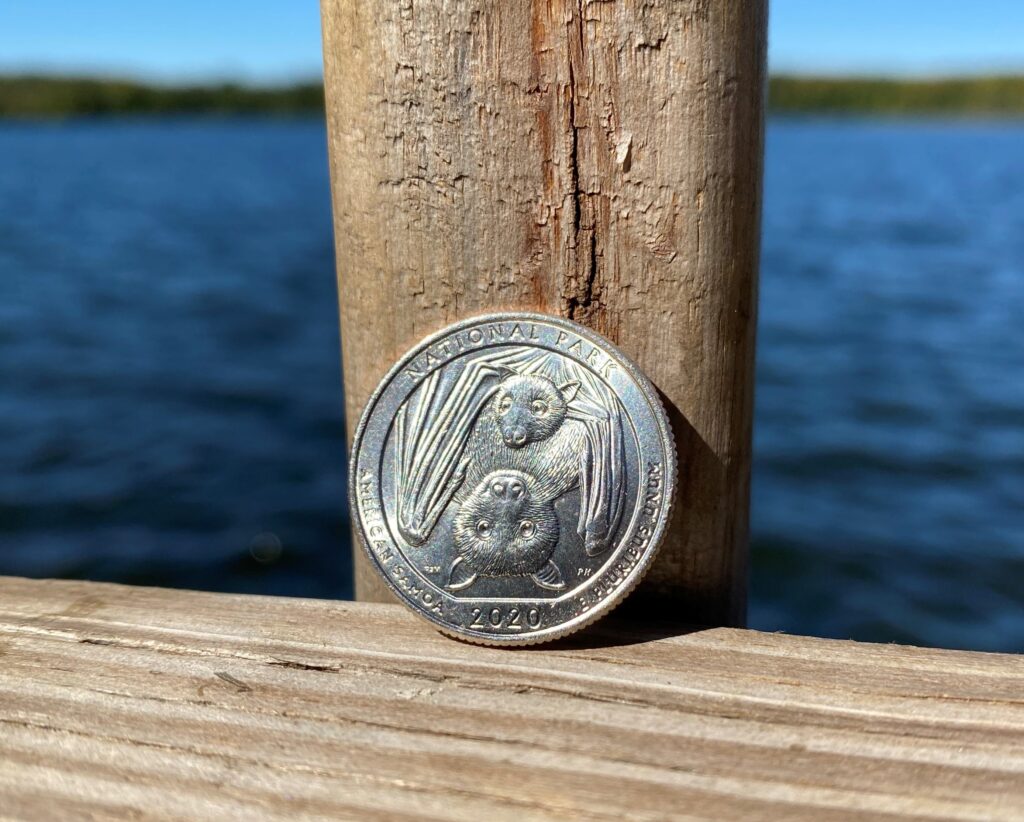 2020 Quarter Value
How much is a 2020 Washington National Park quarter worth? You can expect the 2020 quarters to be worth more than face value.
The amount your coin is worth depends on its condition and the mint mark:
A coin in 'worn' condition is worth between $1 and $2
A coin in uncirculated condition can be worth $12 and $20
Coins in mint condition (grading Mint State-68) are potentially worth $25 or more
For comparison, the Lowell America The Beautiful 2019-W quarters are valued at $25 or more in uncirculated MS+ condition. And a 2009-D District of Columbia
50 States Territories quarter is valued at $1.00 – $2.00.
If you're considering selling a 2020-W quarter, pay attention to vendors offering limited-time deals in exchange for the series. Some coin dealers are offering bonuses for sellers who are offering 2020-W quarters.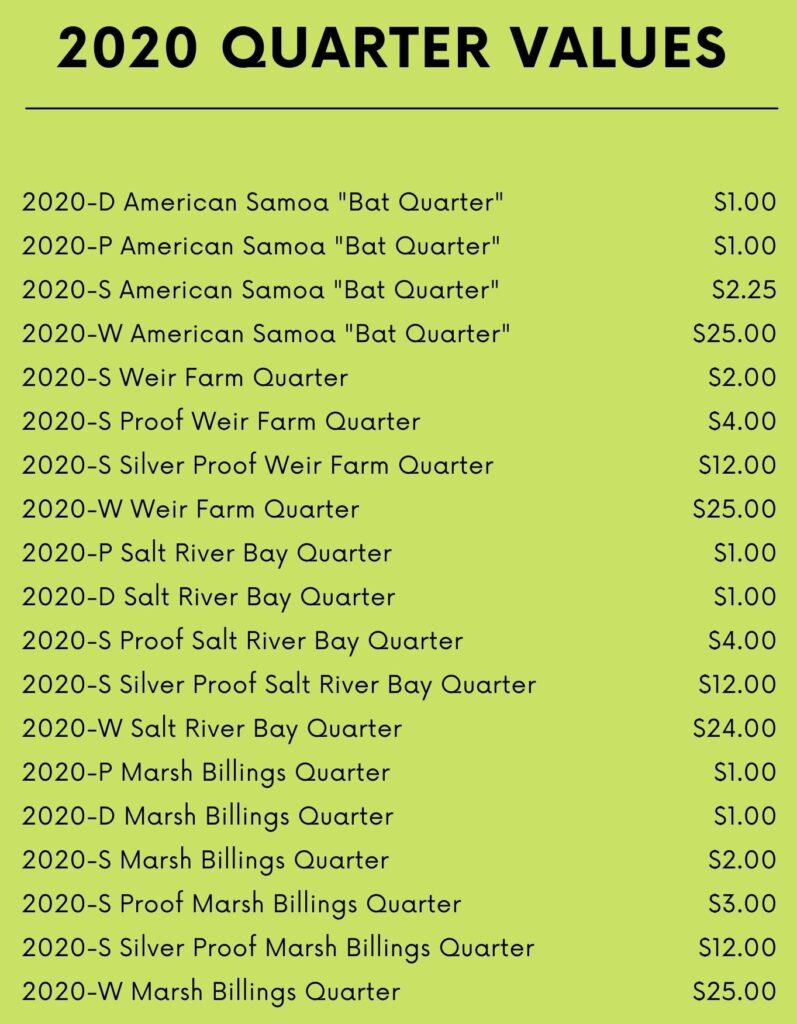 Understanding the Value of Your 2020 Commemorative Coins
Like any other coin, your 2020 quarter value depends on the coin's condition and whether you have had a professional appraise the coin's value.
This commemorative series offers unique designs you won't find on any other coins, celebrating some of the nation's most scenic and historic national sites and treasures.
Whether you are a serious coin collector or just love coin roll hunting for fun, there's a lot to love about the unique 2020 commemorative quarters.
---
Read more about amazing rare coins –
The 1966 Roosevelt Dime, Rare and Unique
A Guide to Rare Buffalo Nickels
The Hunt for Half Dollar Coins
1976 2 Dollar Bill Value and History
Sacagawea Coin: Worth One Dollar or Thousands?
1965 Quarter Values for Collectors
9 Rare and Uncommon Dollar Bills
---
Top 7 Best Places to Sell Coins Online
Tell Us What You Think –
What are your favorite collector coins?