---
In the year 2000, a bottle of 1992 Screaming Eagle Cabernet sold for $500,000 at a charity auction, at the time, making it the highest price ever paid for a single bottle of wine.
Even considering the fact that the event was for charity, the price was nearly double the next highest price ever paid. What makes Screaming Eagle one of the most sought-after wines in the world?
Why Is Screaming Eagle So Expensive?
Quality vines in a location known for producing the best Cabernet were not the only factor contributing to one of the most expensive bottles of wine ever sold.
The secrets behind Screaming Eagle Cabernet continue to propel the brand forward as one of the most sought-after cult wines of all time.
If you're wondering why Screaming Eagle wine is so expensive, keep reading, there's an intriguing story to go along with those top quality vines.
Jean Phillips Buys Land in Oakville for Screaming Eagle
The story of Screaming Eagle doesn't begin with an official launch party, a brand kickoff, and an elaborate marketing campaign. It simply begins with a land purchase of 57 acres.
While Jean Phillips worked as a real estate agent in Napa's Oakville district in the 1980s, something caught her eye.
The plot of land Jean Phillips bought was mostly planted with Cabernet Sauvignon. For the first several years Phillips sold the grapes to neighboring wineries.
The Magical Screaming Eagle Cabernet One Acre
But she sought expert guidance for just one acre that had 80 vines of Cabernet Sauvignon. Through consulting with Robert Mondavi employees, then hiring Richard Peterson, and Peterson's daughter, Heidi Peterson Barrett as the first winemaker.
By 1995, the first vintage from 1992 was ready for release. It was an instant hit, and wine critic Robert Parker launched Screaming Eagle into the stratosphere with a 99 out of 100 rating. The rest is history.
In 2010, Nick Gislason was hired as an assistant to the Screaming Eagle Winemaker, Andy Erickson. Just one year later, Erickson departed the winery and Nick Gislason was named Winemaker at age 28.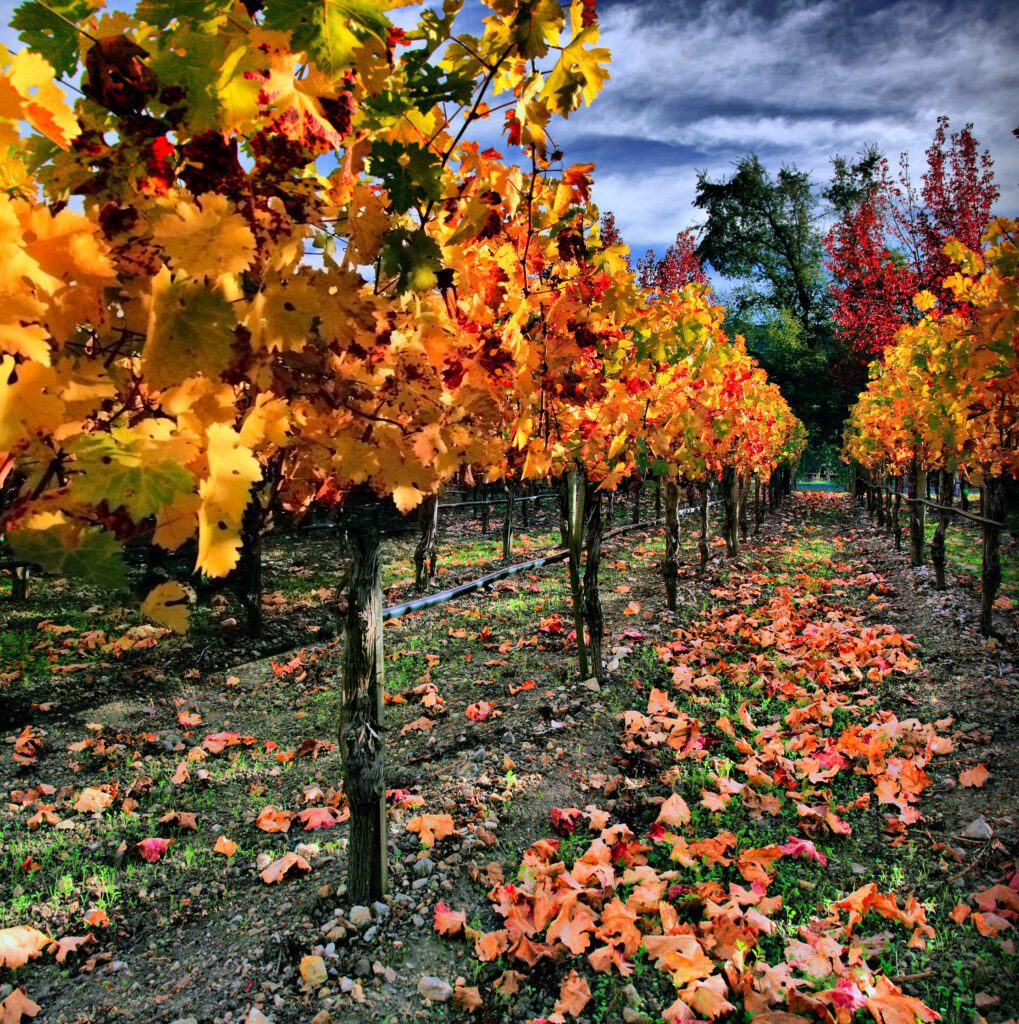 Decades-Long Screaming Eagle Waiting List
You can buy a bottle of Screaming Eagle Cabernet on the secondary market for thousands of dollars per bottle, or you can wait.
Through the Screaming Eagle website, you can reserve your spot on the waiting list and buy bottles directly from the winery.
There's just one small problem with the waiting list; it's ten years long. At least. The winery doesn't make too many comments about how long the waiting list actually is, but speculation is close to a twelve-year wait currently.
Jean Phillips Screaming Eagle Wait List
The winery initially began with a mailing list. Back in the late 1990's founder Jean Phillips began accepting orders only from people who were signed up on her mailing list.
She would limit purchases to just three bottles per year. Quickly there were thousands of people signed up, and she had to discontinue the mailing list concept.
Begging and Pleading for Screaming Eagle
Of course, that didn't stop the requests from pouring in. Letters bombarded the California winery with special requests. People pleaded their case as to why they deserved a bottle or two of Screaming Eagle.
One letter requested a bottle as a gift for the doctor who cured them of cancer. Other letters begged for a bottle to replace one that had "accidentally broken."
In an interview with The Wall Street Journal, Ms. Phillips commented on the letters of special requests, "the first ten you believe, but after you get 200 of those, you don't believe them anymore."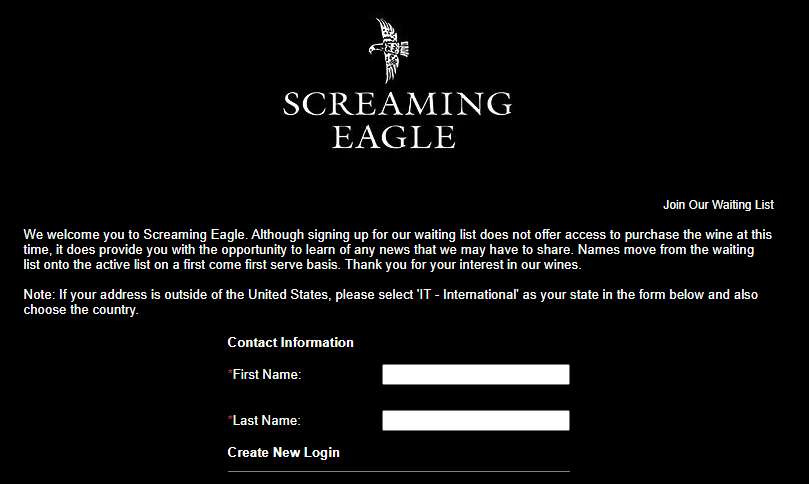 The Owner of Screaming Eagle is Known as "Silent Stan"
When Stan Kroenke and Charles Banks purchased Screaming Eagle winery in 2006, it didn't do any favors to anyone hoping to get a glimpse of the inner workings of the winery.
The purchase price was not disclosed, but Jean Phillips was quoted as saying the offer was one that she couldn't refuse. After three years, co-owner Charles Banks was out of the partnership, leaving Kroenke the sole owner.
It was a match made in heaven as they would say. The ultra-secretive winery was now linked with a mysterious billionaire known as "Silent Stan."

Stan Kroenke
Raised in Columbia, Missouri, where his hometown had a population of two dozen people, Stan Kroenke has developed a reputation as a secretive billionaire.
He began his career working for his father's lumber company sweeping floors when he was ten years old. Later he started his own real estate development company and married Ann Walton, an heiress to the Walmart family.
Along the way, Kroenke purchased sports franchises such as the Denver Nuggets basketball team and Colorado Avalanche professional hockey team.
He also owns the St. Louis Rams, Arsenal F.C., Los Angeles Gladiators, and various other sports and entertainment ventures.
Silent Stan
"Silent Stan" just happens to be one of the largest landowners in the United States owning almost one million acres, so it's no surprise to see wineries included in his vast portfolio.
Stanley Kroenke rarely does public interviews and has been known to be a "hands-off" type of manager to his various enterprises.
The fact that the owner of Screaming Eagle was already known as a very private person fits the secretive brand perfectly and adds to the mystique.
Screaming Eagle Limited Supply
The limited annual production at Screaming Eagle Winery is one of the keys to its success. The exact production numbers are unknown.
The brand has no interest in providing yearly numbers, but it's estimated the winery produces just 5,000 to 9,000 bottles in any given year.
To put this production in perspective, the largest wineries in the U.S. produce tens of millions of bottles per year.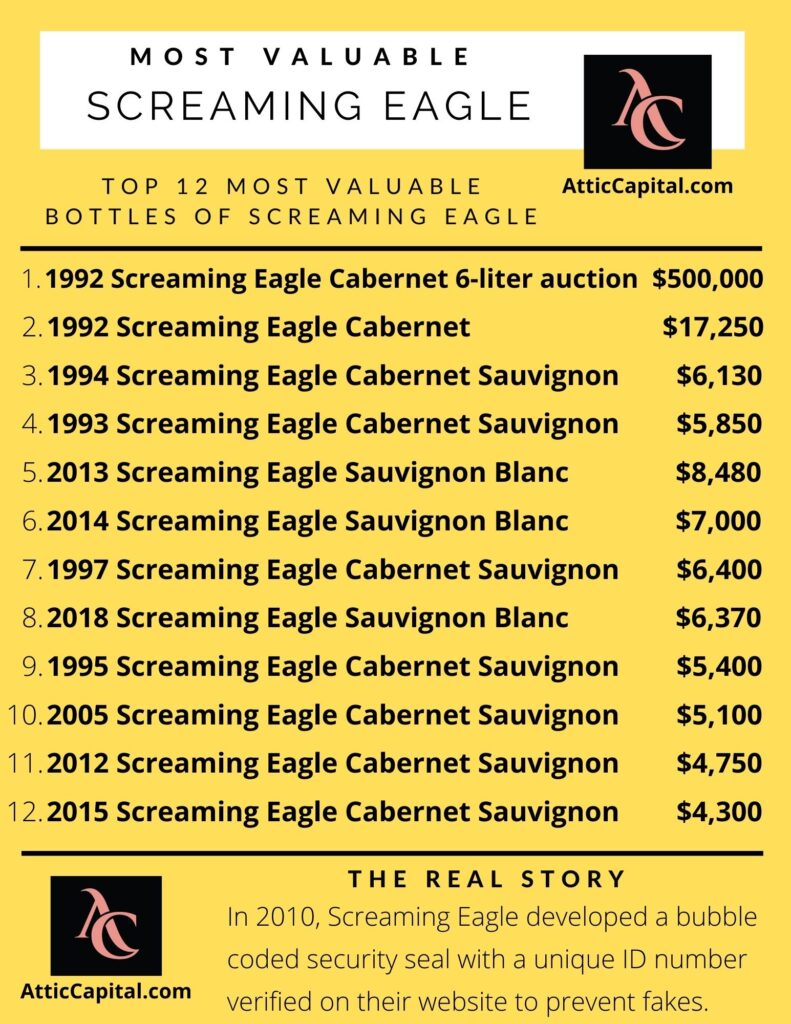 Influential wine reviewer Robert Parker awarded Screaming Eagle Cabernet an almost perfect score of 99 out of 100 in 1996.
Since then, the Oakville, California brand has been synonymous with some of the most expensive wine in the world.
Screaming Eagle Average Prices Per Bottle
1992 Screaming Eagle Cabernet Sauvignon, $17,250
1994 Screaming Eagle Cabernet Sauvignon, $6,130
1993 Screaming Eagle Cabernet Sauvignon, $5,850
2013 Screaming Eagle Sauvignon Blanc, $8,480
2014 Screaming Eagle Sauvignon Blanc, $7,000
2018 Screaming Eagle Sauvignon Blanc, $6,370
Screaming Eagle Merlot, $2,990
Screaming Eagle Cabernet Franc, $3,400
Screaming Eagle, The Flight, Second Flight, $1,000
Screaming Eagle Near-Perfect Ratings
Combine the fact that the brand scores perfect or near-perfect ratings on many of its vintages along with a tiny relative supply, and you will have astronomic demand and prices.
To take this story of limited supply one step further, you need to know about the 1 acre.
Back in 1986, Jean Phillips bought the 57-acre winery, which would become Screaming Eagle. Most of the vineyard was harvested and sold to nearby Napa Valley producers.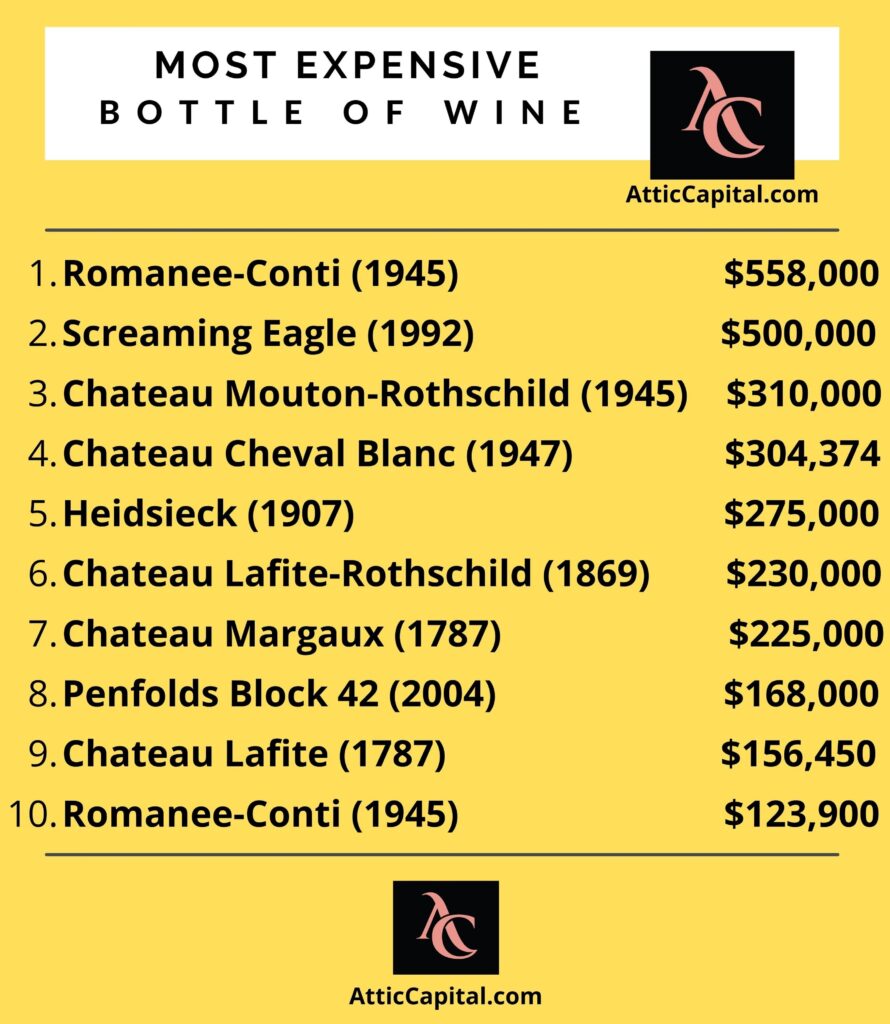 There was one particular acre that Jean kept to herself. This one acre, planted with 80 Cabernet Sauvignon vines, was personally cared for by Jean. It took years to develop small amounts of Cabernet from the one acre.
The Mondavi Friendship
Running short on resources and debt piling up from her operation, Jean approached the neighboring Robert Mondavi Winery.
She asked Mondavi if they would sell the Cabernet for her. They agreed, and she began bottling it by hand. By 1992 she was able to produce her first commercial vintage.
History was made in 1996 when the Cabernet hit the market and earned an almost perfect score by Robert Parker.
The Screaming Eagle Cinderella Story
The 1992 Screaming Eagle Cabernet would eventually land the highest price ever paid for a single bottle of wine.
It's a fantastic tale of humble beginnings, extremely limited supply, and vines from one of the best places on earth to produce Cabernet.
Crazed fans and wine enthusiasts trying to get their hands on just one bottle keep prices soaring. A billionaire owner known for his quiet personality and secretive business dealings only fan the flames of this incredible California wine brand.
Why is Screaming Eagle Wine So Expensive?
So, why is Screaming Eagle wine so expensive? Here's a short list of what contributes to the winemaker's valuable brand.
A near-perfect score by Robert Parker in the first year of bottling
A limited supply of just a few thousand bottles per year
Ultra-secretive billionaire owner
Highest quality Napa Valley cabernet sauvignon vines
---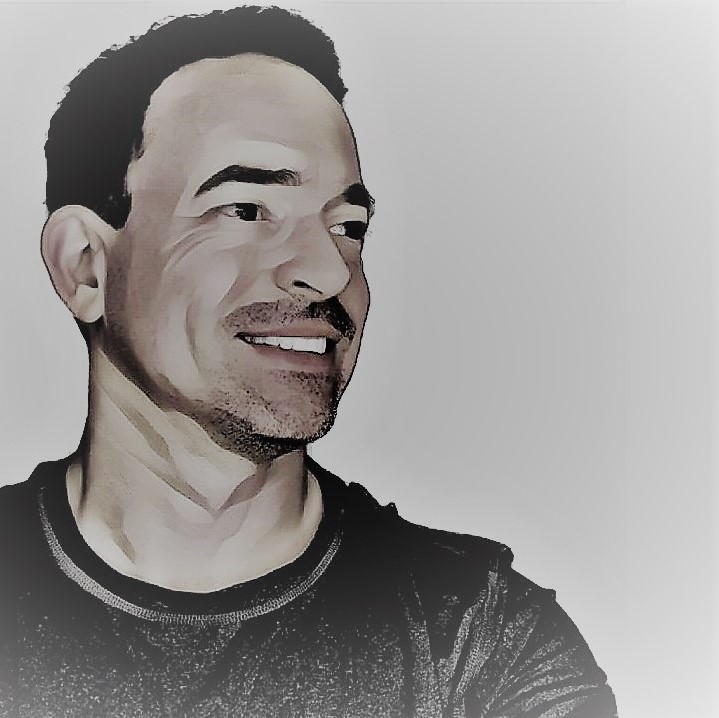 R.J. Bachman
Attic Capital – Writer, Editor, and Lifelong Collector
After many years of collecting rare coins, sports cards, and all types of collectibles, I began writing at Attic Capital to share my experience, knowledge, and passion.
I would love to connect with you, so don't hesitate to reach out and let me know more about your passion for collecting.