---
The first thing you need to know about a 1941 nickel is that it contains no silver.
1941 is the year just before the War-time silver nickels began production from 1942 to 1945.
It's the Wartime nickels that were struck with a silver content of 35%.
The silver content of the 1941 nickel is zero percent. None.
Now that we have that important clarification established, let's see if that 1941 nickel in your hands has any value beyond five cents.
Is My 1941 Nickel Worth Anything?
Great question. You're thinking, "So just tell me what my Nickel is worth so I can get on with my life."
First of all, you'll have to read my guide to valuing coins if you want a quick answer. Secondly, relax. You won't be able to retire from the auction sale of the 1941 nickel you just found. But it still might be worth a couple thousand dollars, at the high end.
Just bear with me for a few minutes, and we'll get to the bottom of this mystery. The 1941 nickel you are holding might be worth more than a nickel.
Let's start with the bad news.
The most valuable 1941 Jefferson nickel to ever sell at auction was a Proof Strike for $18,800 in 2013.
It's highly rare to find a proof coin in circulation, so the chances of the nickel you just pulled out of your pocket being another proof strike worth 18 grand are slim. Slim to none.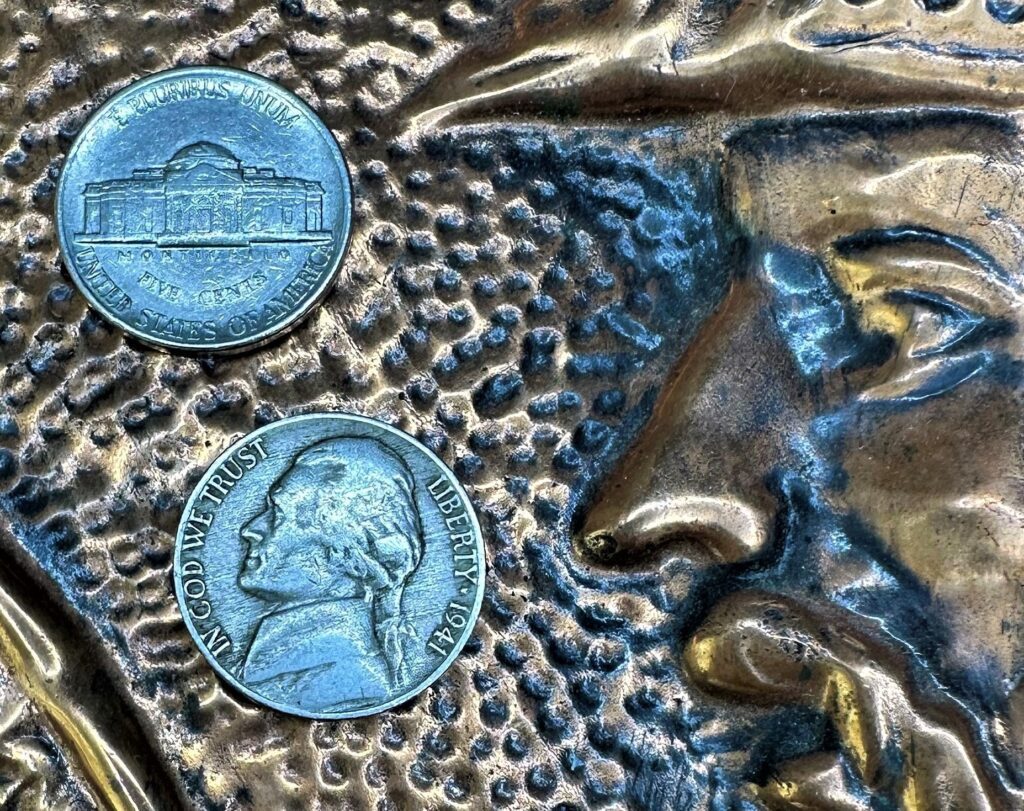 1941 Proof Strike Nickel Record Sale
What's amazing about the most valuable 1941 nickel that sold at a Heritage Auction in 2013 is the extreme rarity.
18,720 proof nickels were minted in 1941, but for some reason, only a small number were preserved by collectors in that year. I'll take one guess as to why –
Perhaps the fact that the U.S. was witnessing the horrors of World War II in Europe, then the attack on Pearl Harbor in December of 1941, had something to do with coin collectors neglecting their "nickel-proof sets."
There were bigger issues at hand in 1941 than organizing your nickel collection – is what I imagine.
The record sale 1941 Proof Jefferson nickel was of pristine condition, a PR68 grade. While there are 156 PR67 proof nickels from 1941, there are only three in PR68 grade.
So you have a "one of three" proof coin, with none graded higher. The recipe for big demand and high prices at auction. Now that we know the facts, there's no wonder why this coin sold for $18,800.
Some people hear about a nickel selling at an auction for $18,000 and think, "I don't get it."
Well, once you learn the history, rarity, and backstory, it's easy to see why collectors love coins.
Hell, I'm ready to add a PR68 Jefferson Proof nickel to my collection right now. Can you imagine owning one of the three "PR68s?" $18,000 seems like a steal for one of the three best 1941 nickels ever produced – out of 300 million nickels produced that year.
Let's keep going, we still have work to do.
---
So, What is MY 1941 Nickel Worth?
You have a 1941 nickel in your hand, and now we know it's probably not worth $18,800.
But people want answers, and you don't really care that much about a rare proof coin sold at auction, you care about the nickel in your hand! What's it worth?!
Your next step is to flip the coin over to the reverse (the tails side) and look for the mint mark. This will tell us where your nickel was produced back in 1941.
If there's no mint mark, it was struck at the Philadelphia Mint.
If there's a "D" mintmark, it was struck at the Denver Mint.
And if you see an "S" mint mark, the nickel was minted in San Francisco.
1941 Jefferson Nickel Value – No Mint Mark
The record auction sale of a 1941 Jefferson Nickel struck at the Philadelphia Mint was $2,875 in 2002.
At the time of the sale, it was the finest example, graded MS68. Since 2002, several other MS68 nickels have sold for less than the record $2,875 sale. In 2020 for example, a MS68 coin sold for $1,050.
To give you an idea of what an MS68-graded nickel would look like, it's almost flawless. Zero scratches, nearly perfect condition.
By definition, an MS (Mint State) graded coin is a circulation strike coin that has never actually been in circulation.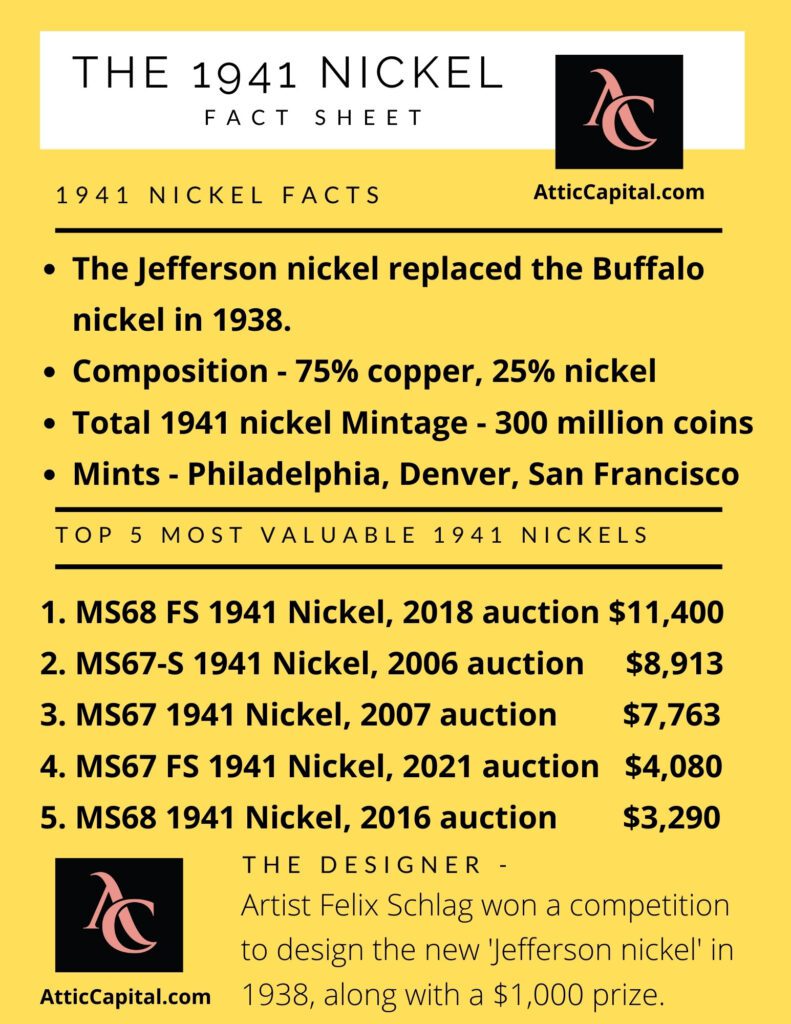 So the 1941 nickel you just found on the street, is in fact, in circulation. It would be almost impossible for your coin to be in "MS" condition.
The record sale for an MS64 1941 Jefferson nickel was $150 in 2010, and that coin also featured a rare error. (we'll get to errors in a minute)
It's safe to assume that if you are holding a 1941 nickel with no mint mark on the reverse, (Philadelphia Mint) then it's worth much less than $150.
1941-D Jefferson Nickel Value – Denver Mint Mark
The most valuable 1941-D Jefferson Nickel sold at auction was an MS68FS for $11,400 in 2018.
The "D" mintmark will be just to the right of the Monticello building on the reverse of the coin.
There are two key points to the record sale of the "Denver" coin, the near-perfect condition, and the "FS," which we'll discuss in a bit.
The MS68 graded coin is just one of two, and none seen finer.
1941-S Jefferson Nickel Value – San Francisco Mint Mark
The highest auction sale price for a 1941-S Jefferson Nickel was $8,913 in 2006.
Why was this particular coin the most valuable? It's just one of four 1941-S Full Steps nickel varieties in graded MS67, and none finer.
Without the "Full Steps," the record sale for a 1941-S nickel was $1,900 for an MS67 coin in 2022 on eBay.
---
Full Steps Jefferson Nickel
After you have determined where your nickel was minted, the next thing to look for is "Full Steps."
Flip the coin over to the reverse, and examine the steps leading up to the Monticello home.
Coins designated as 'Full Steps' have five or six visible steps leading up to the house. Nickels without Full Steps show indistinguishable lines or steps.
You can clearly see the steps leading up to the Monticello house on the coin above.
The coin below has no distinguishable steps and is much more common than the Full Steps coin varieties.
In high grades, a Full Steps coin is much more valuable and rare.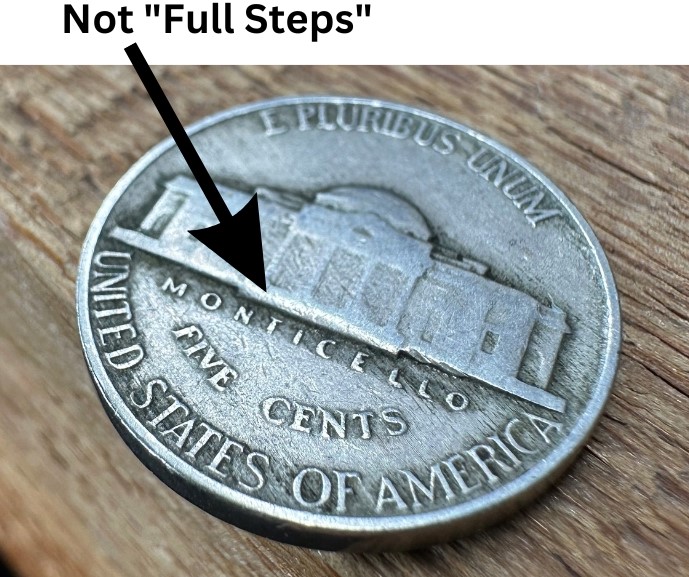 From the Buffalo Nickel to the Jefferson Nickel
Jefferson nickels are now valuable coins worth money to coin collectors, but they were not the original nickels.
The design changed several times before reaching the 1941 nickel. This included the Buffalo Nickel design and the Hobo Nickels.
The 1941 nickel is a U.S. coin that was released in the middle of World War II when many metals were being diverted for wartime use.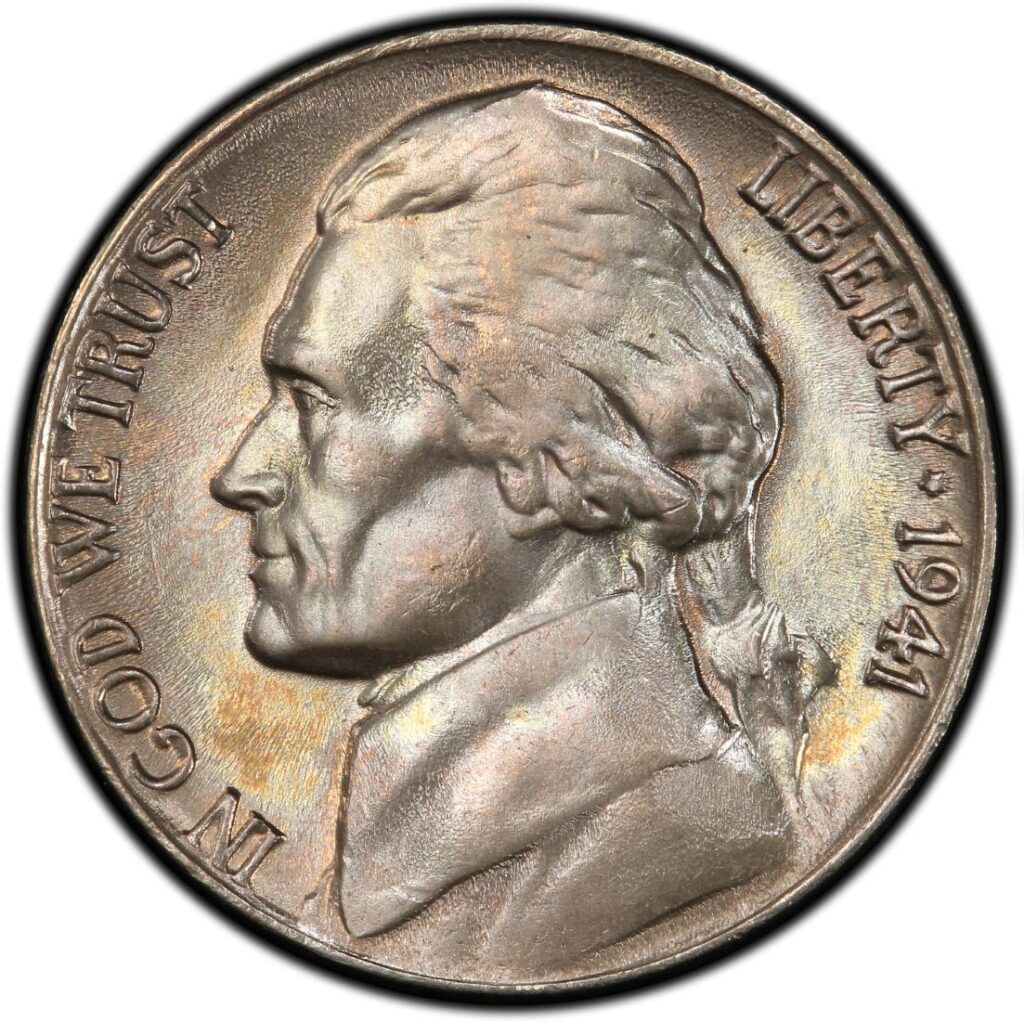 Its composed of an alloy of copper and manganese instead of the usual copper-nickel mix used in pre-war nickels to conserve precious metal.
By the 1930s, it was much more common to see portraits of past presidents occupy lower denomination coins. So after seeing the Buffalo Nickel design for 25 years, it was time for a change.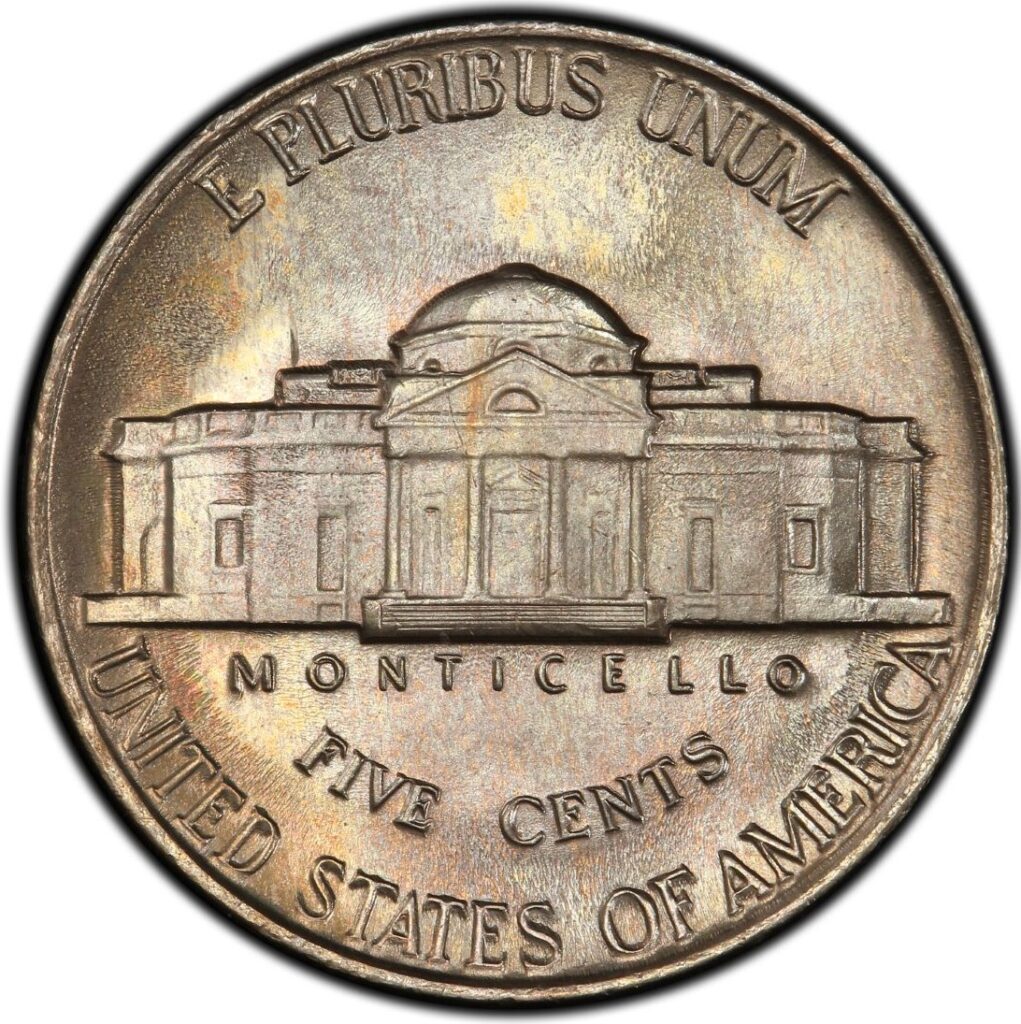 In 1938 we saw two significant nickel designs come out with Jefferson portraits.
The U.S. Treasury Department started a competition for the nickel design.
It features the head of Thomas Jefferson as a portrait on the obverse of the coin and the lettering, "Monticello" for the Charlottesville, Virginia home on the reverse, along with the phrase, E Pluribus Unum, and United States of America.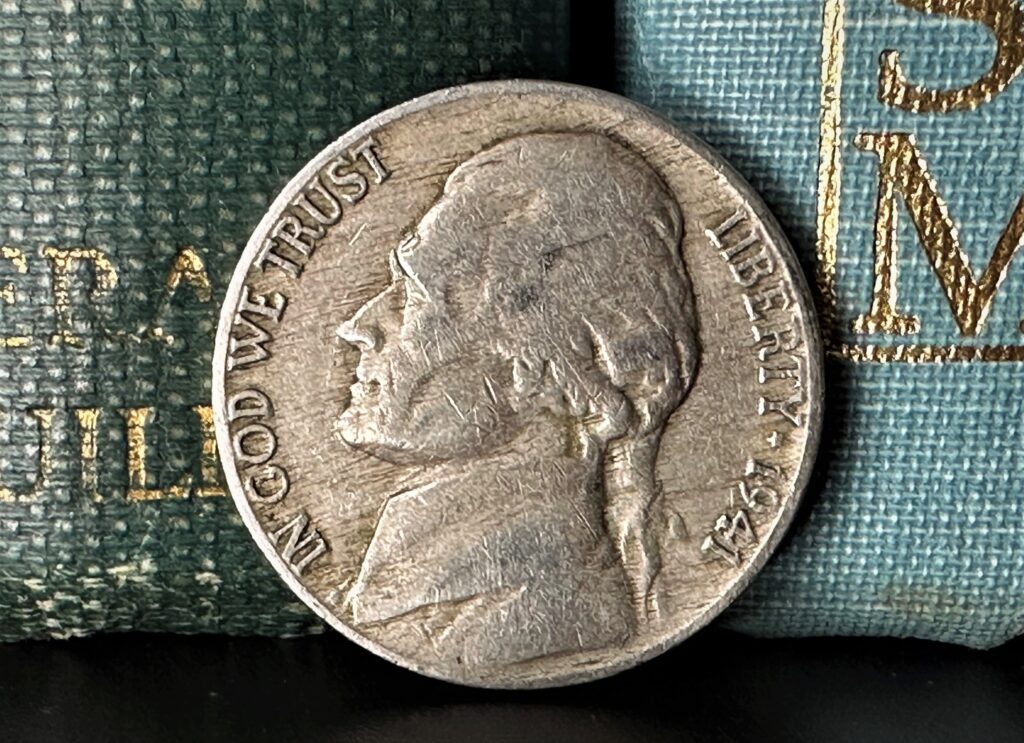 1941 Jefferson Nickel Design
German American sculptor, Felix Schlag, would eventually win the competition, and not long after, production started in September of 1938. That design would remain intact until 2004.
Felix designed the 1941 nickel as part of the "Renaissance of American Coinage" initiated by Treasury Secretary Henry Morgenthau Jr.
The design was intended to be a modern interpretation of the liberty theme used on coins since the early 19th century.
Schlag's front design features a bust of Thomas Jefferson, the U.S. third president on the Obverse. A depiction of Monticello, Jefferson's Virginia home, is on the reverse.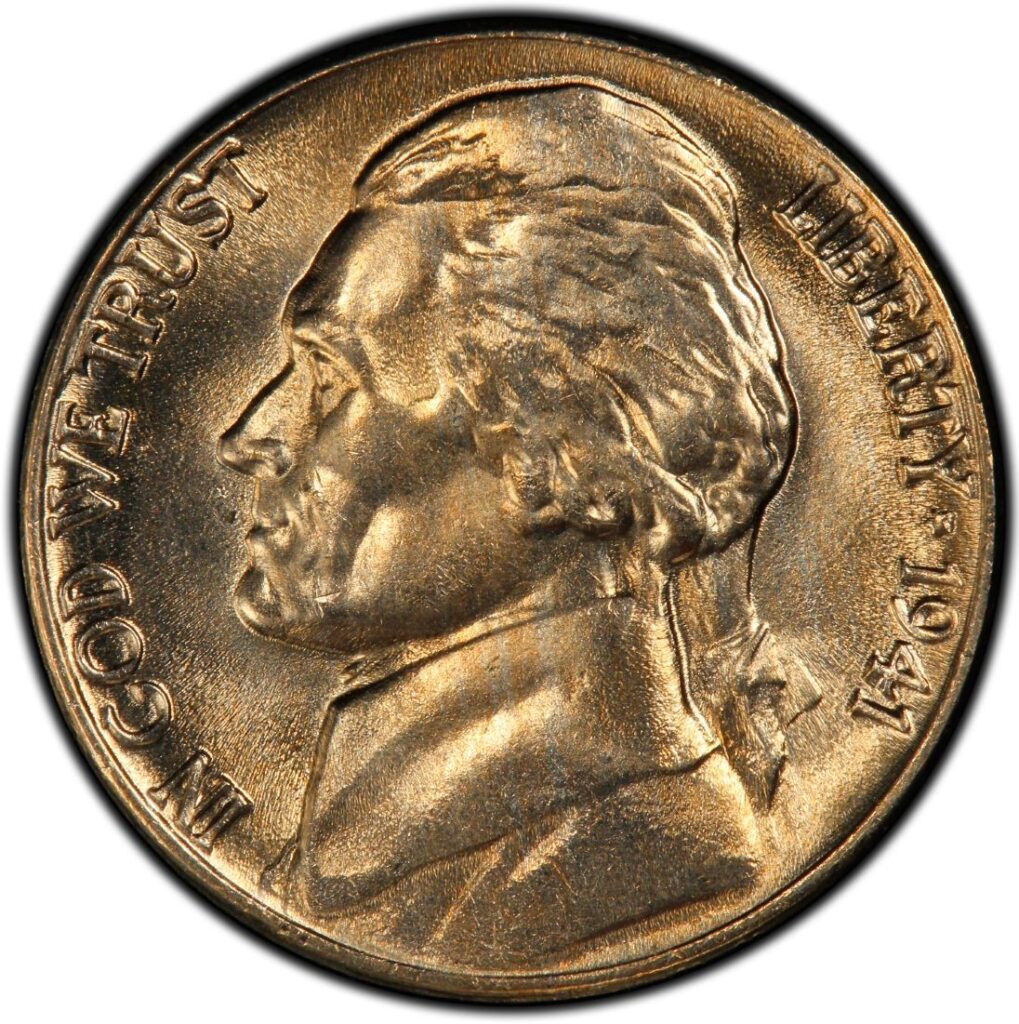 The liberty theme was chosen to represent the values of freedom and democracy that were important to American society during the period.
Treasury Secretary Morgenthau wanted to emphasize his concept of a "New Deal" coinage, which would be distinguished from the traditional classic liberty theme that had been used for decades.
The design was also meant to pay homage to Jefferson, one of the nation's Founding Fathers and a champion of liberty and democracy.
Schlag's design was selected over other designs submitted by dozens of prominent sculptors and engravers, making it one of the most popular and recognizable designs and collectible coins in U.S. coinage history.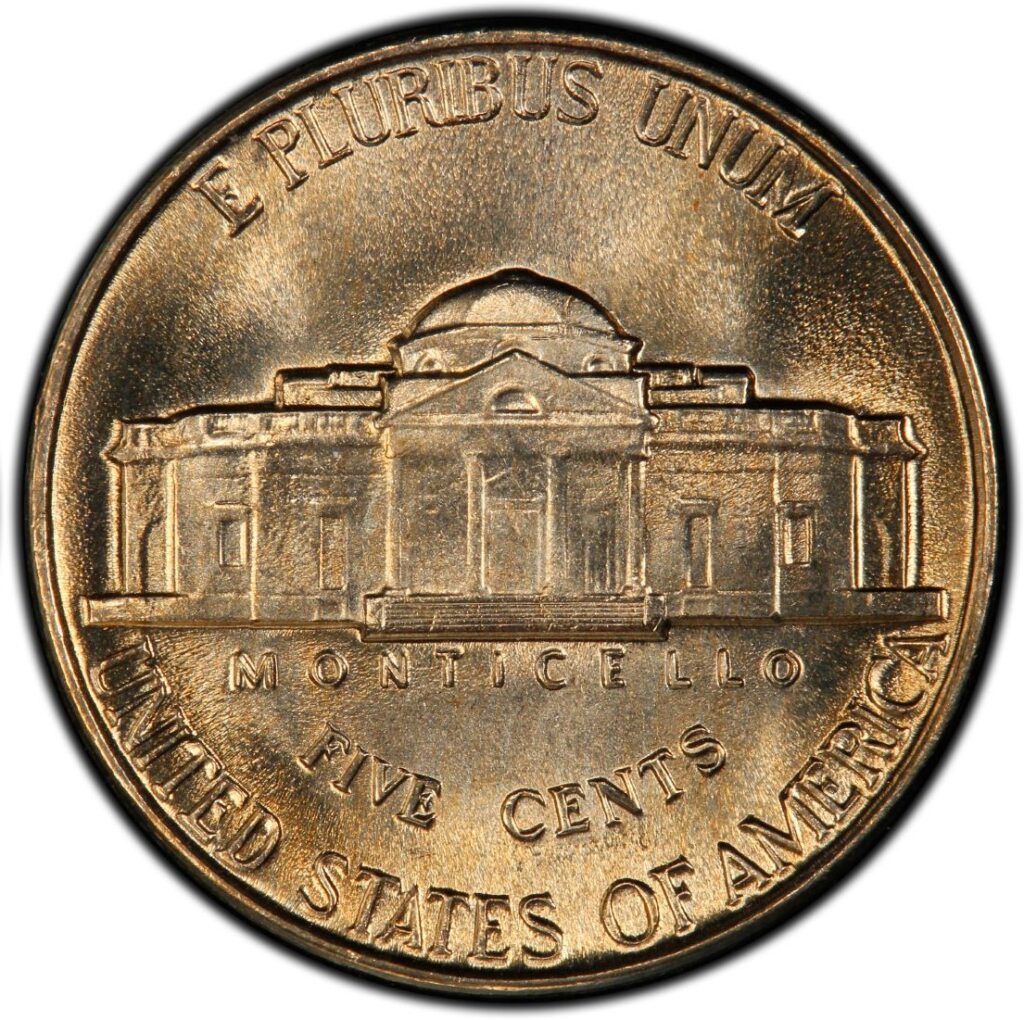 ---
The Pre-War Nickel Composition
Even though the design would remain the same until 2004, the composition would not. It's partly what makes the 1941 pre-war nickel so unique.
Before the U.S. Mint started replacing the composition of the old nickel in 1942, it was made up of 25% nickel and 75% copper.
The 1942 – 1945 wartime nickels changed quickly to 56% copper, 35% silver, and 9% manganese.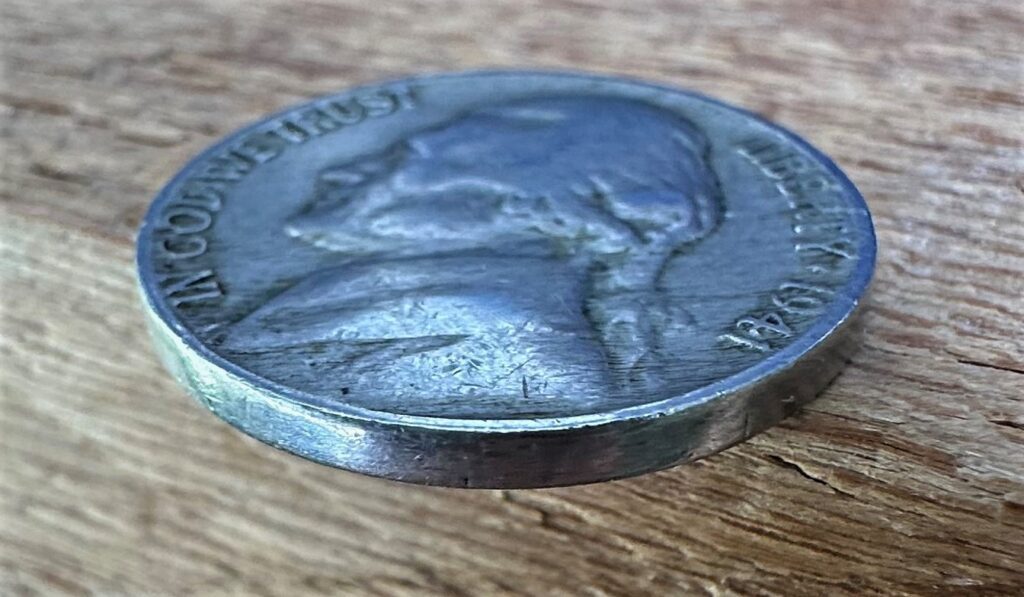 Stange how they got rid of nickel. Why?
Nickel was used in artillery production for ammunition during the war. Aside from the nickel composition, the war nickels have large Mint marks above the Monticello as opposed to smaller marks to the right side.
This was one of the differences that could easily distinguish between a pre-war and a during-war nickel in the Jefferson series.
It's also important to note that these nickels were mass-produced at the start of the war, with 100 million circulated.
---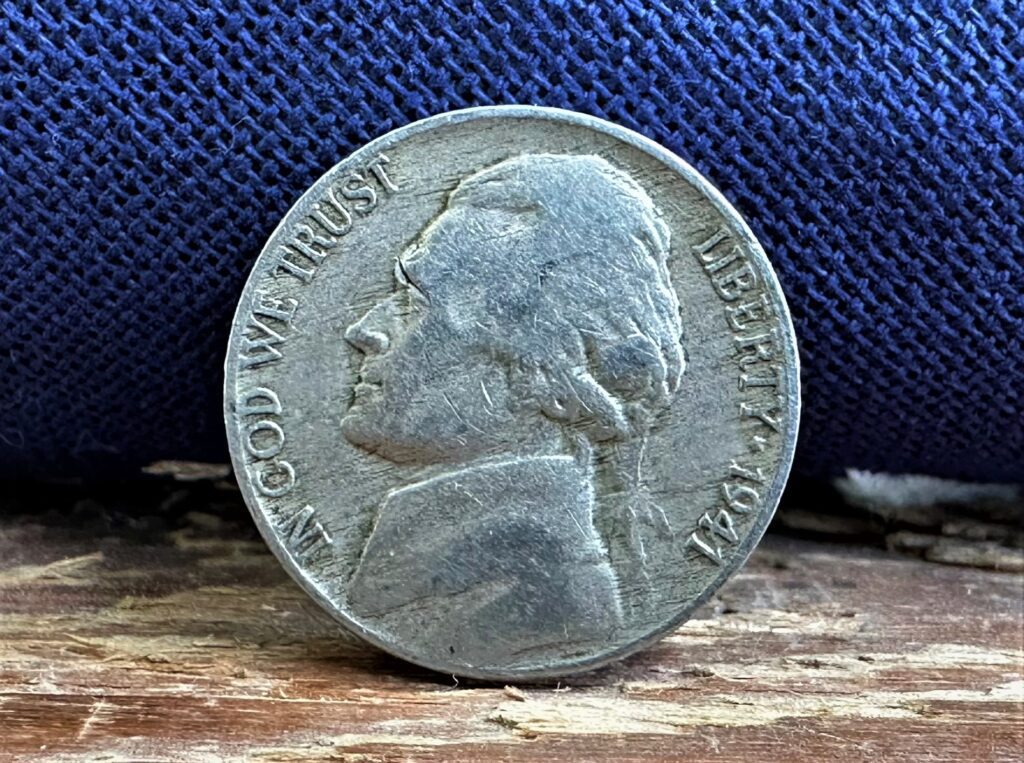 1941 S Jefferson Nickel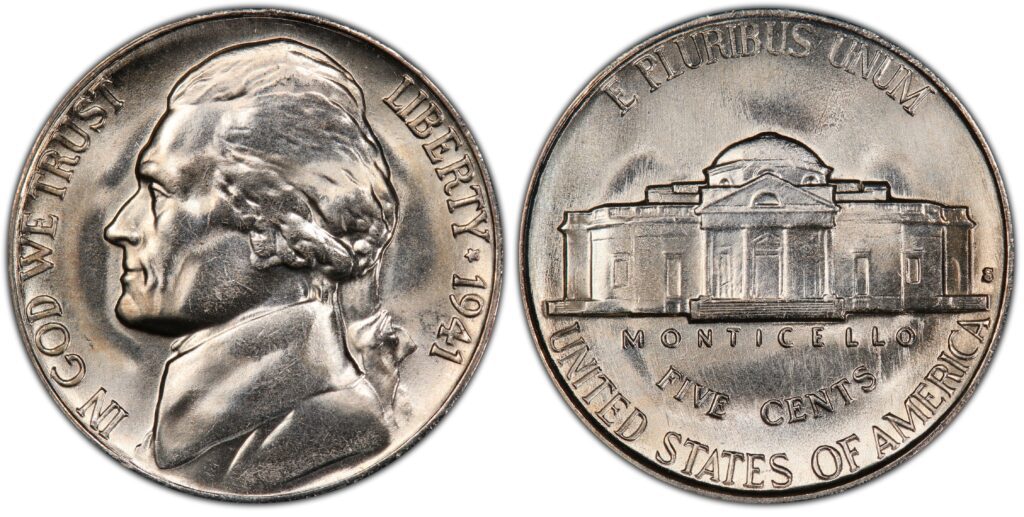 ---
1941 D Jefferson Nickel Value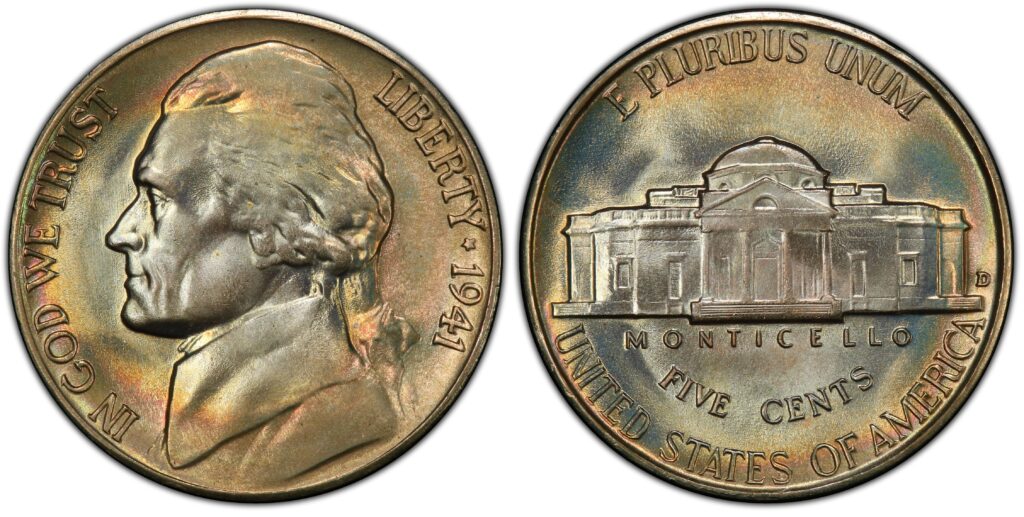 ---
The Philadelphia – No Mint Mark Nickel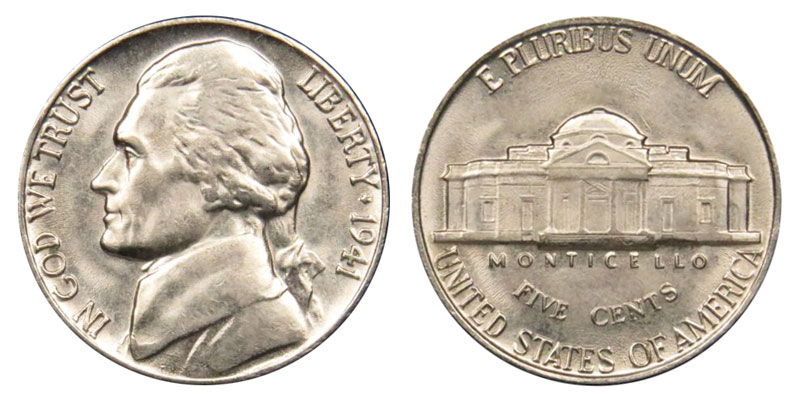 ---
Most Valuable 1941 Nickels
1941 Proof Jefferson Nickels $18,800
1941-D Jefferson Nickel $11,400
1941-S Jefferson Nickel $8,900
1941 – No Mint Mark Jefferson Nickel $5,200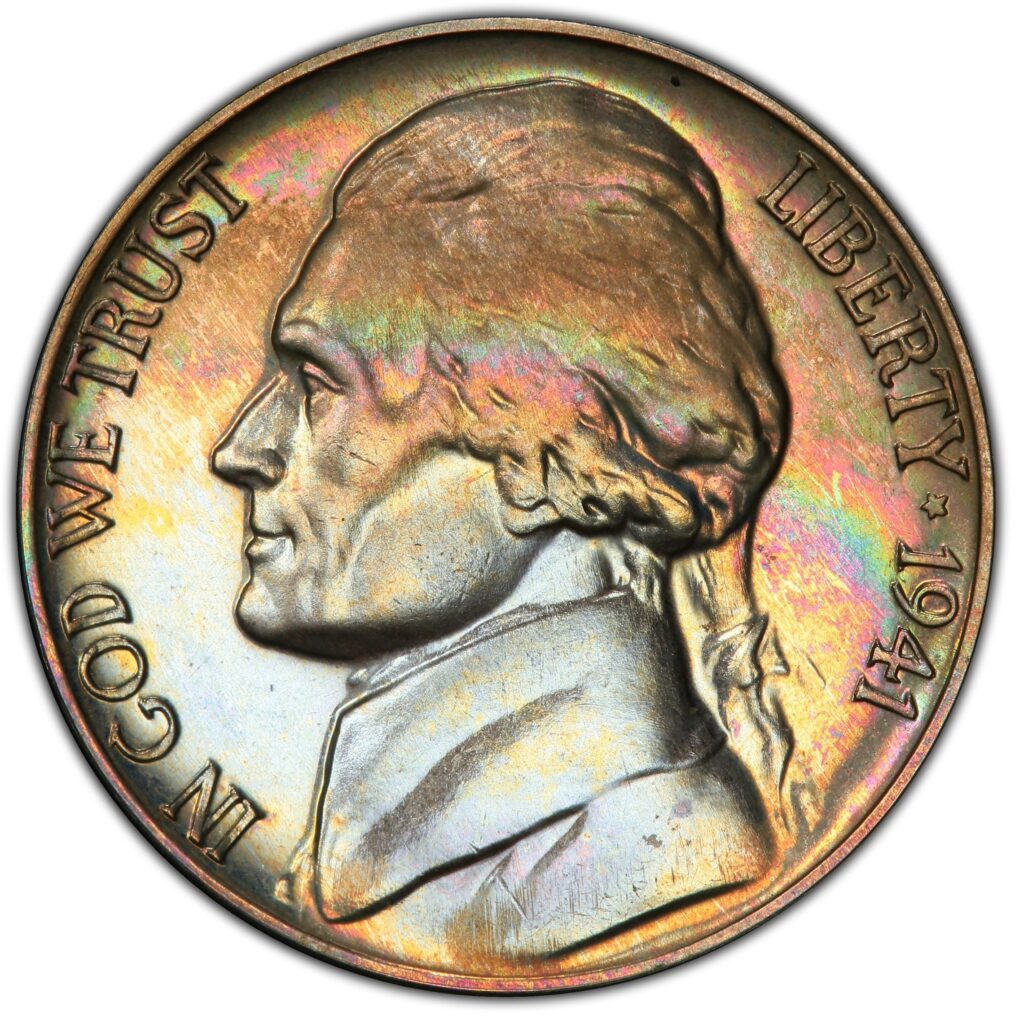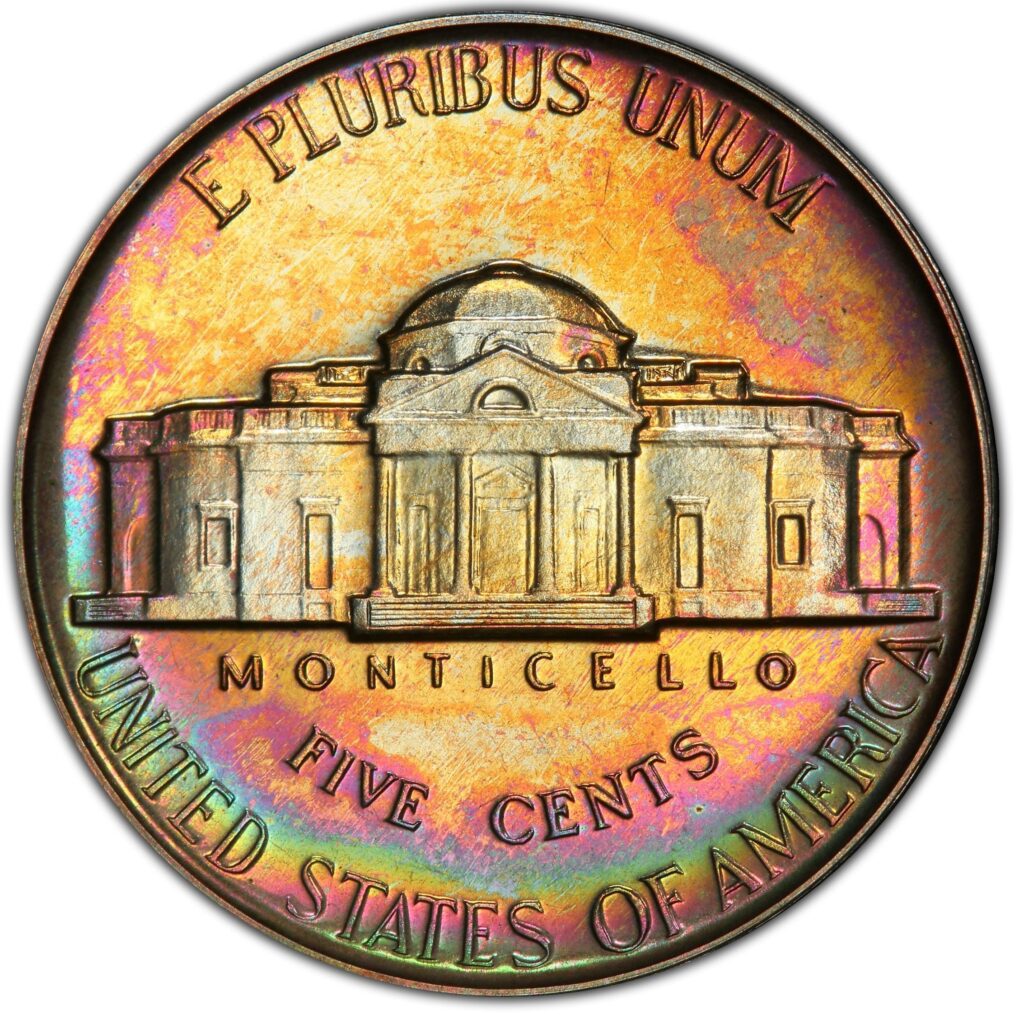 ---
1941 Nickel Errors
From the slightest die gouge to a distorted hub doubling and off-center strike, there are plenty of 1941 nickel error coins to look for.
1941 Nickels with Repunched Mintmarks
A few 1941 nickel error coins were individually punched by hand, leading to mistakes by the workers at the mint. Common errors were upside-down and sideways-punched letters that needed re-punched.
After the manual punches, there were apparent double, triple, or even quadrupling of a few mintmarks.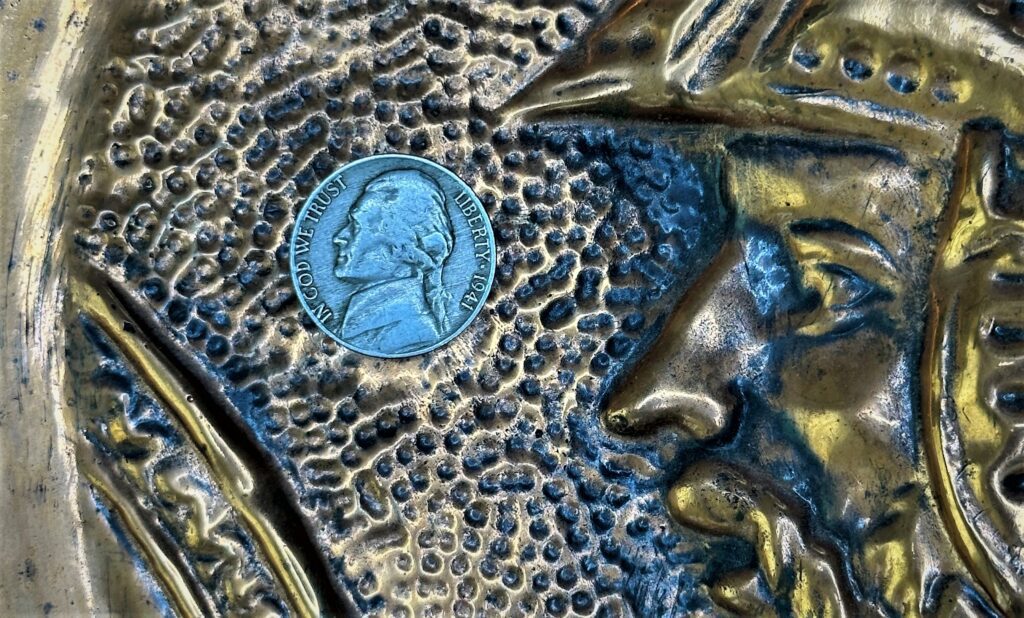 1941 Doubled Die Nickels
Of all the 1941 error nickels, the doubled die is the most common. There's a minor doubling of the letters on the reverse of the coins.
Double die coins are found produced from all mints and in a variety of examples, appearance, and clarities.
1941 Nickels with Die Cuds
Cracked dies that strike planchets will leave raised lines on coins.
Any cracked die that strikes a coin at the rim is called a die cud. These error-strike nickels can be valued at $100 – $200.
---
There's More to the 1941 Jefferson Nickel –
Now we know –
The most valuable action sales from each mint mark.
How to distinguish if your coin has Full Steps or not.
Common errors
History leading up to the design of the new Jefferson Nickel.
But, did you know that –
Among his many achievements, Thomas Jefferson orchestrated the Louisiana Purchase from France in 1803. Acquiring 828,000 square miles of land for just $15 million, the deal doubled the size of the U.S. for just 18 bucks per square mile.
Generally speaking, the San Francisco mint marks will be the rarest of the circulation strike nickels, with a mintage of just over 43 million struck in 1941. Keep your eyes peeled for the "Full Steps" and the "S" mint mark variety.
Most nickels are worth just face value, but the most valuable Jefferson nickel of all time sold for over one million dollars.
Learn More About Rare Collectible Coins –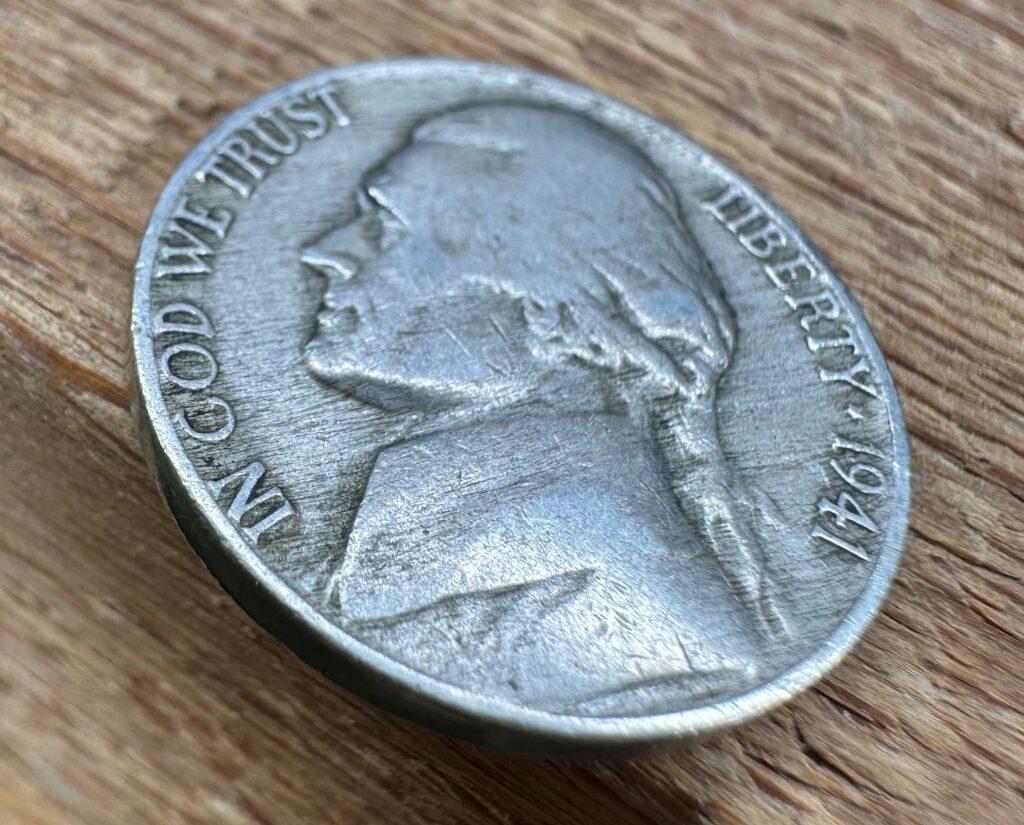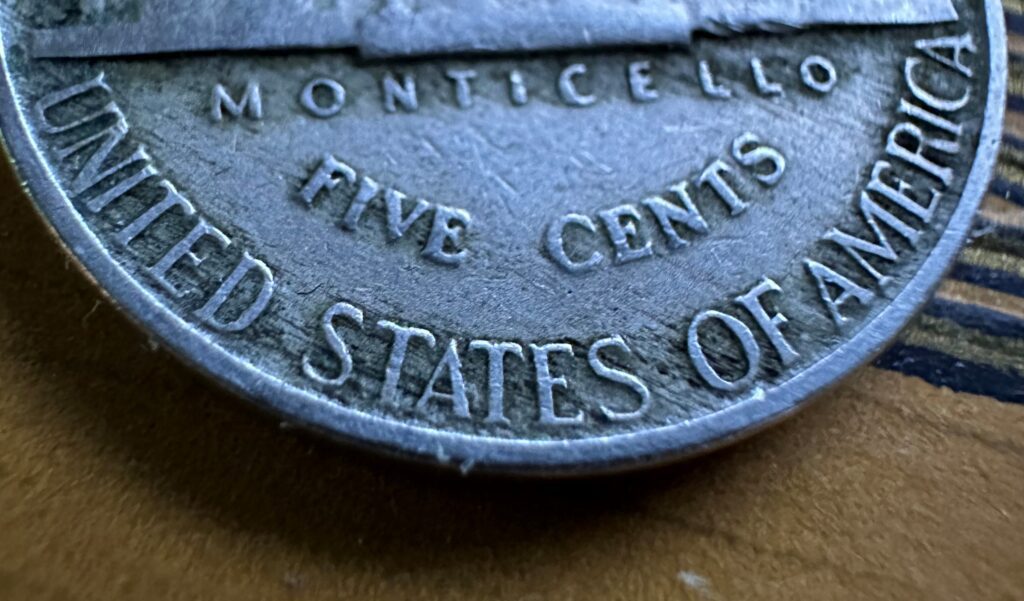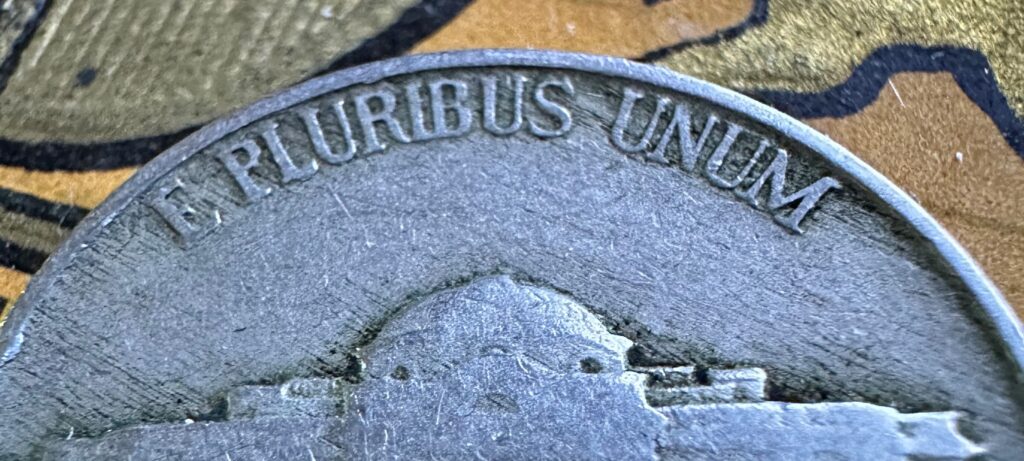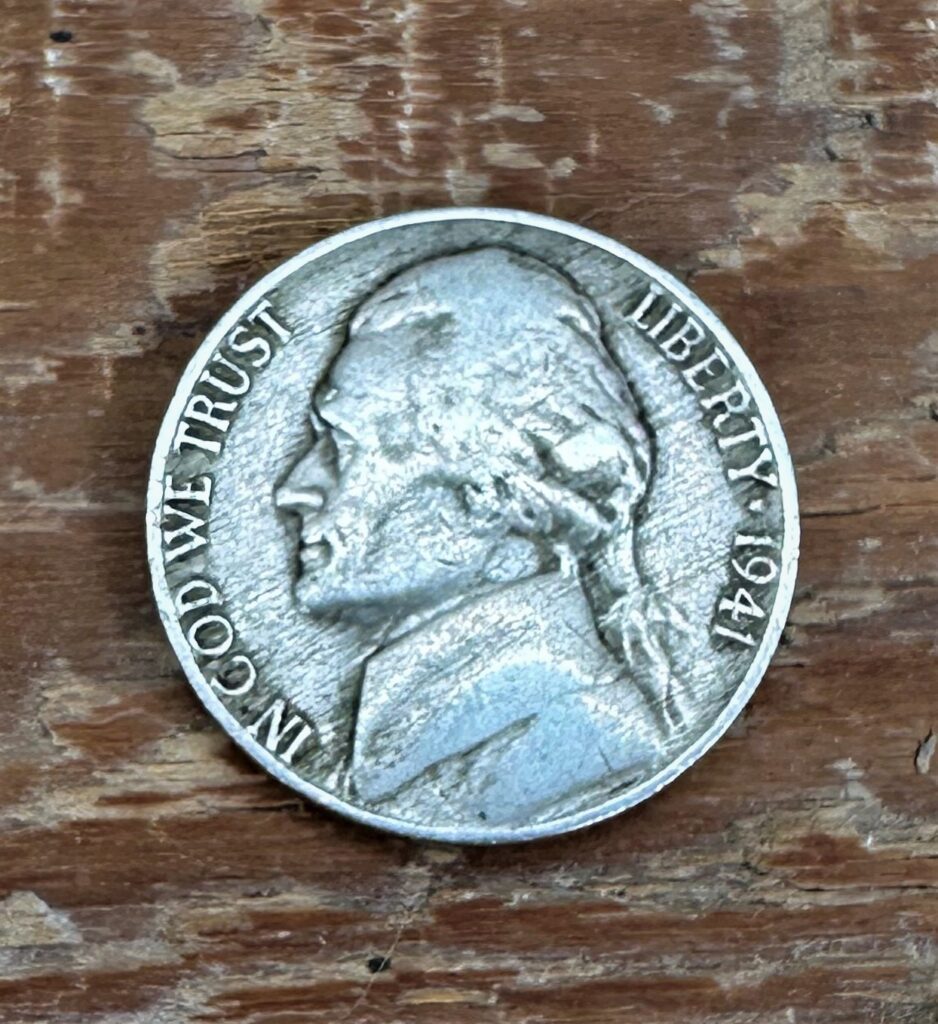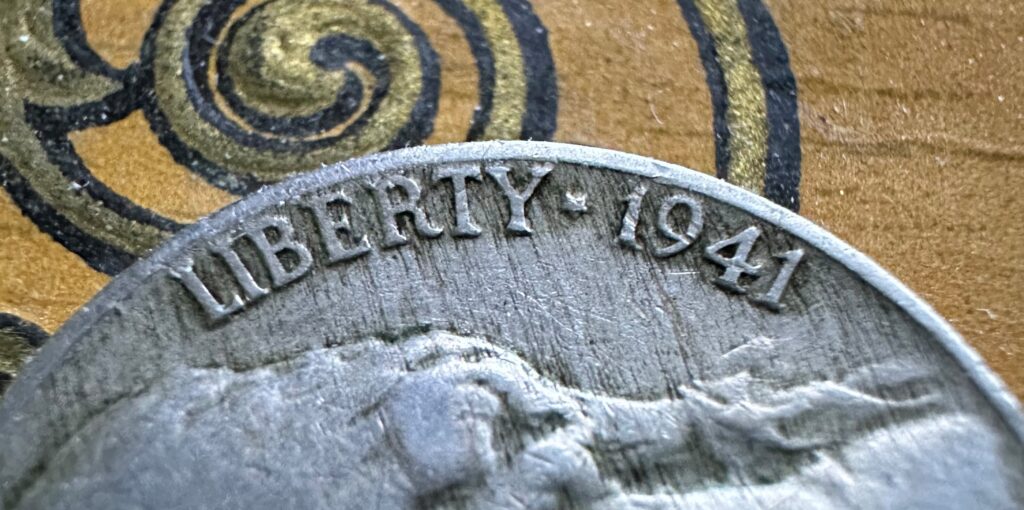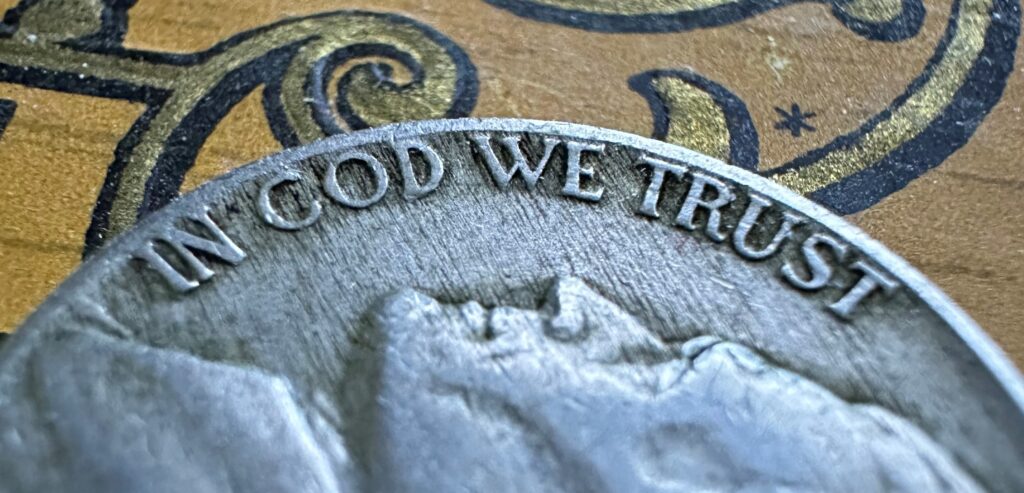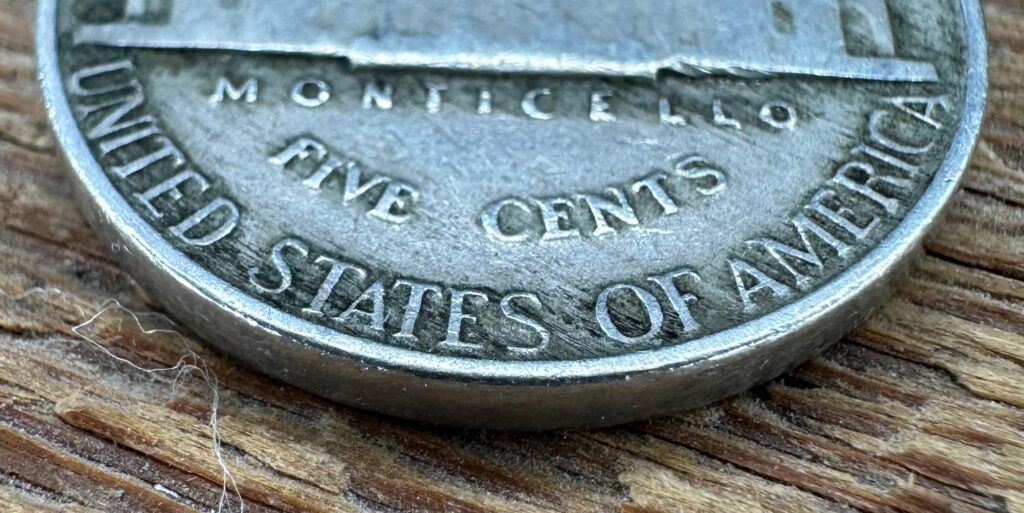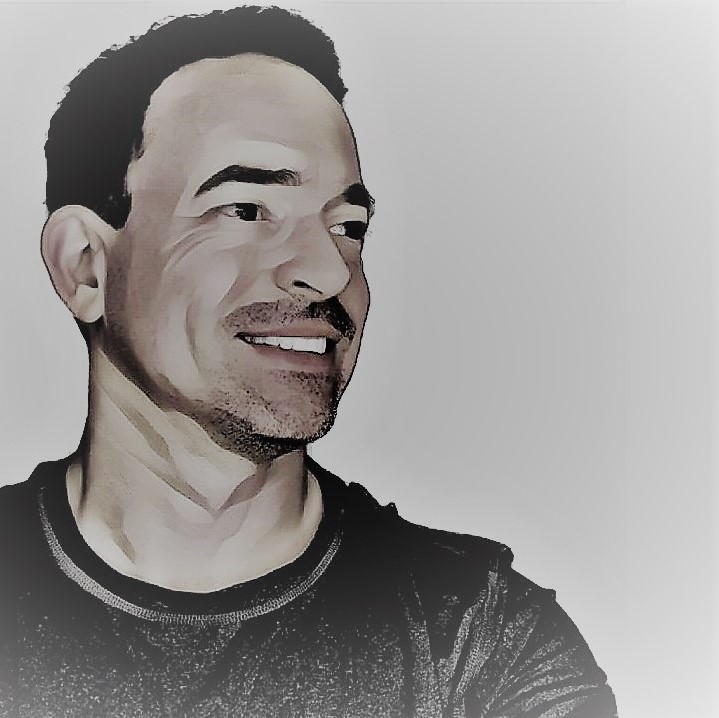 R.J. Bachman
Attic Capital – Writer, Editor, and Lifelong Collector
After many years of collecting rare coins, sports cards, and all types of collectibles, I began writing at Attic Capital to share my experience, knowledge, and passion.
I would love to connect with you, so don't hesitate to reach out and let me know more about your passion for collecting.