---
The 1922 Silver dollar value and history is important to understand for any rare coin hunter. They're also an essential part of any commemorative coin set.
Many coin enthusiasts will collect a silver dollar from every year, and the 1922 may be one of the most important.
The great news is that most of these aesthetically beautiful and significant coins are very much attainable and affordable for the average collector.
The 1922 Silver Dollar
In 1922, around 51,275,000 Peace Silver Dollar coins were produced replacing the Morgan dollar from 1921. Just a few years after the Pittman Act was passed as federal law authorizing the conversion of silver dollars into bullion.
1922 marked the highest peace dollar production year in American history. Almost 45% of Peace Silver Dollars ever minted were made in 1922.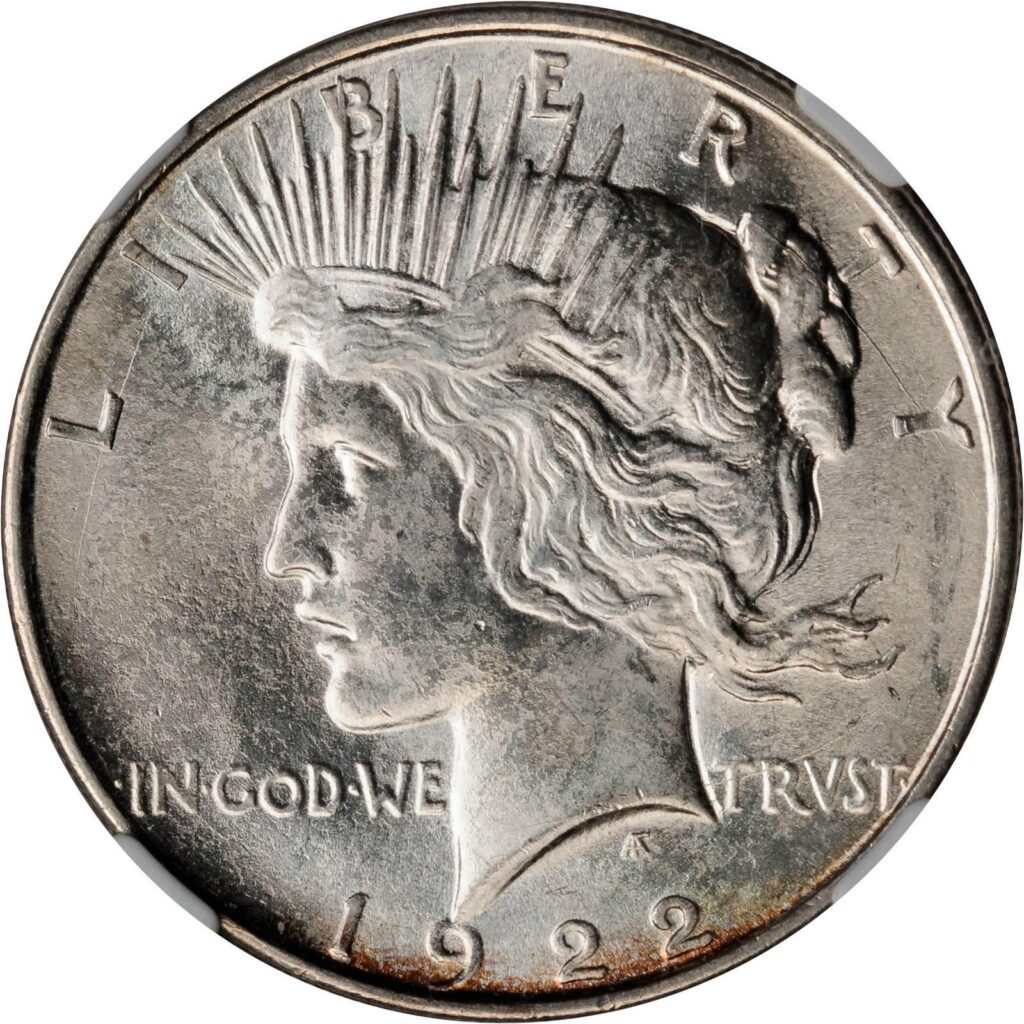 The Coinage Act
In the mid-60s, most 1922 silver dollar coins were destroyed as part of the Coinage Act.
However, even though only 17% of silver coins still exist today, their numbers are still huge. According to estimates, over 15 million coins still exist –
Philadelphia Mint created more than 51 million coins, 10 million still exist. There is no U.S. Mint mark from Philadelphia.
The Denver Mint created 15 million 1922-D coins, 3 million still exist.
The San Francisco Mint created over 17 million 1922-S coins, 2 million still exist.
1922 Liberty Silver Dollar Trust Misspelled Value
On the obverse, the stamped words are "Liberty; In God We Trvst." The word "Trvst" is the Latin spelling of the word "Trust." The reverse text is "United States of America; E Pluribus Unum; One Dollar; Peace."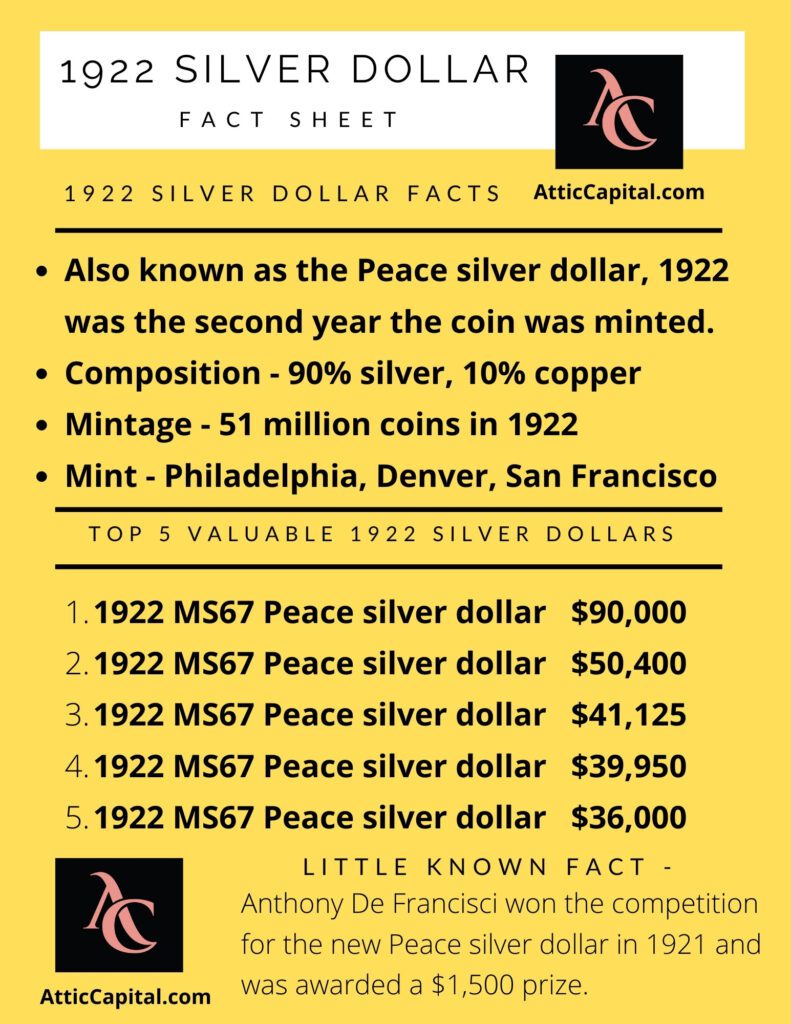 How Many 1922 Silver Dollars Were Made?
Production numbers for the 1922 silver dollar were enormous, in fact, it was the most common date for silver dollar production ever. But since they were struck with 90% silver content, the value of the coin holds up nicely.
The coins weighted a total of 26.73 grams and included .77344 troy ounces of silver.
The US Mint began devising the new Peace design for silver dollars to commemorate peace after WWI. After the popular Morgan silver dollar design of the late 1800s, the mint wanted a great design.
---
A brief history of the beautiful 1922 silver dollar peace coin.
---
Who Designed the 1922 Silver Dollar?
The chosen designer was sculptor Anthony de Francisci. Initially, he used the high relief method, but such design caused many dies to break under increased stress.
As a result, the US Mint made some changes and coins produced from February 1922 to 1935 were made in low relief.
How Much is a 1922 Silver Dollar Worth?
Most of the 1922 silver dollars are valued between $18 to $50, with a few notable coin exceptions.
Production was only 35,400 coins in high relief, and they were eventually melted. That left only 10 to 12 high relief Proof coins, which sell for over $100,000.
And there is one 1922 silver dollar high relief non-proof coin. One single coin. It's value could easily be several hundred thousand dollars.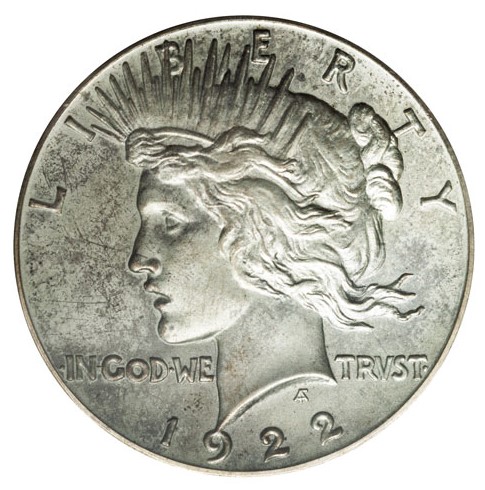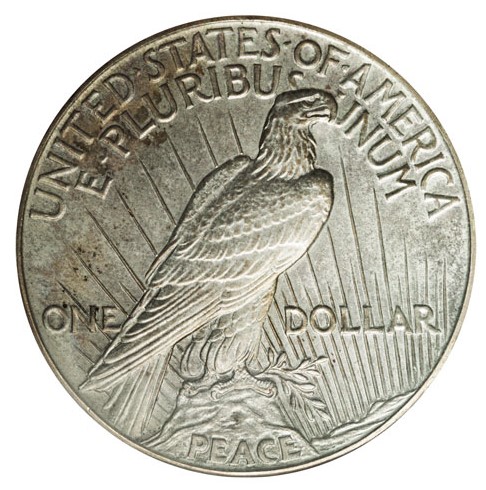 1922 Silver Dollar, Normal Relief, No Mint Mark (Philadelphia) PR-65 – $84,000
1922 Silver Dollar, High Relief, No Mint Mark (Philadelphia) PR-65 – $141,000
1922-D Silver Dollar, MS-65 – $700
1922-S Silver Dollar, MS-65 – $2,600
1922 Silver Dollar Specs and Types
Type: Peace Dollar
Year: 1922
Face Value: $1.00
Composition: 90% silver, 10% copper
Silver Weight: .77344 oz.
Total Weight: 26.73 grams
Current Silver Bullion Value: $18.12
There were three types of 1922 silver dollar minted.
1 – No Mint Mark
This includes two different varieties. The high relief peace dollar and the normal relief variety. Initially, peace dollars were struck with high relief design, meaning that the images stand out more and are more detailed.
However, there were 35,401 high relief silver dollars minted in 1922, and most of them were melted down. Coins that survived are rare and valuable.
2 – With a Mint Mark
This includes the 1922 D silver dollar and the 1922 S silver dollar. The mint mark, when present, can be found on the reverse side of the coin, below the word "ONE."
The 1922 D silver dollar is worth around $28 in excellent condition. In extremely fine condition, silver dollar value is about $30. In uncirculated conditions, the price is approximately $80 for coins with an MS 60 grade. Uncirculated coins with a grade of MS 65 can sell for around $500.
The 1922 S silver dollar is worth around $28 in excellent condition. In extremely fine condition, the value is about $30. In uncirculated condition, the price is approximately $55 for coins with an MS 60 grade. Uncirculated coins with a grade of MS 65 can sell for around $1,250.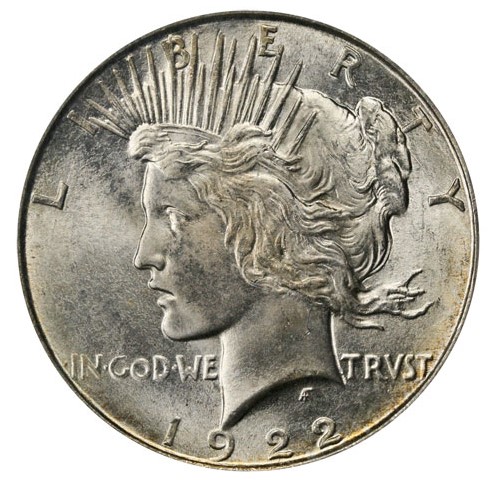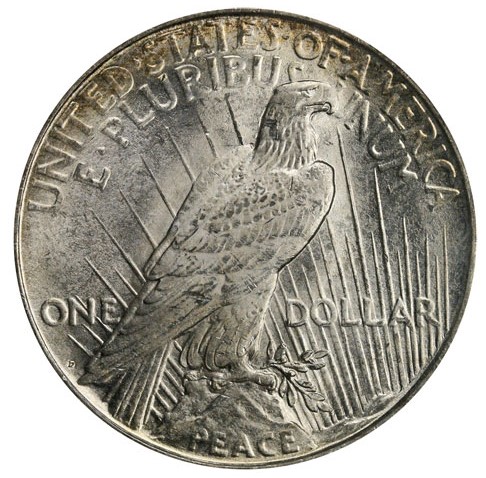 ---
1922 Silver Dollar Error Coins
Die Break – As the die that strikes each coin wears out over time, it cracks. Sometimes, mint workers don't realize the die has cracked until it's too late.
One error coin on the 1922 silver dollar includes a blob of metal just below the right side of the eagle on the reverse side.
Another error coin resulted from a deteriorating die below the ear of Lady Liberty. Collectors refer to this error coin as the "Ear Ring." Die error coins in good condition can be extremely valuable.
Rare Coin Grading Scale
If you want to sell your 1922 Peace Silver Dollar, you should have it graded. Professionals use the PR scale for evaluating rare coins and separating the best coins from the crowd.
Poor (P – 1) – A coin that is nearly unidentifiable. Only super-rare coins will have any value at all.
About Good (AG – 3) – Worn rims and flat with hardly any detail remaining.
Good (G-4) – Extreme ware on the coin but the rims remain intact.
Very good (VG-8) – The primary features of the coin are clear and crisp, while the other areas are worn. Higher grades will have bold and clear design features.
Fine (F-12) – Only moderate wear but the design features are clean and bold.
Very Fine (VF-20) – Just the highest points of the coin show wear, all other areas are clean and crisp.
Extremely Fine (EF-40) – Just light wear on the design of the coin.
MS 60 uncirculated (MS-60) – Mint State and uncirculated, possible marks on design.
MS 65 gem uncirculated (MS-65) – Mint State and uncirclulated, very few marks.
Perfect (MS-70) – No visible marks, and nearly perfect. Almost never used except to grade the absolute finest coins.
---
Read more about amazing rare coins –
The 1966 Roosevelt Dime, Rare and Unique
Sacagawea Coin: Worth One Dollar or Thousands?
Know Your Presidential Dollar Coins Value
1921 Silver Dollar Value and History
---