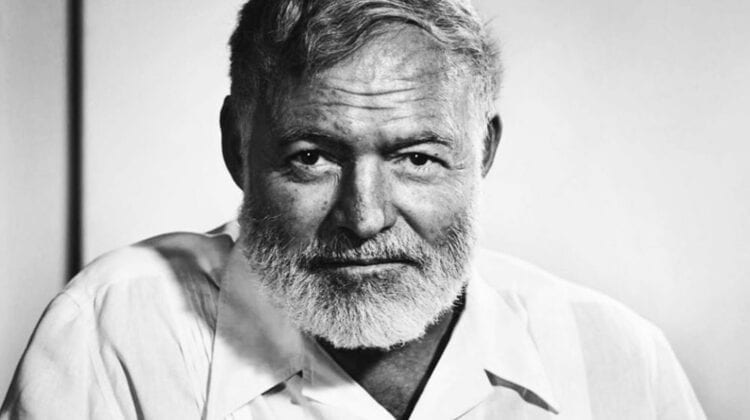 ---
You're probably aware of the enormous price tag on an Ernest Hemingway 'A Farewell to Arms' and 'The Sun Also Rises' first edition book. But there are many other great works by Hemingway with significant value and historical influence that you may have forgotten about. His stories redefined fictional writing, and his first edition books have become timeless treasures sought after by investors and collectors around the world. If you're beginning the search for a Hemingway first edition, don't forget to dig a little bit deeper. There are numerous options to consider when searching for first edition books from world-famous authors.
Blazing His Own Trail
When you read about Ernest Hemingway, it's easy to get confused with the amazing stories he created in his books and the incredible life he actually lived. One of the reasons for this is that Hemingway often mixes his real-life experiences into his novels' stories. It's easy to get confused between the two because the life he lived is so full of adventure you might only imagine it's from a fictional story.
Not only did Hemingway live and dream up the lives of incredible adventure and discovery, but he also defined an entirely new writing technique know as the Iceberg Theory. Otherwise known as the theory of omission, it's a minimalistic writing style that focuses on surface elements without detailing the themes underneath. He talked about how the deeper meaning of a story should not be obvious and implicitly discovered by the reader.
In Our Time
The first collection of short stories Hemingway wrote was 'In Our Time,' published in 1925. The title is from the English Book of Common Prayer, titled, "Give Peace in Our Time, O Lord." Using the Iceberg Theory, Hemingway attracted almost immediate attention with writing scholars such as Edmund Wilson, who said the writing was "of the first distinction."
A signed first edition copy of 'In Our Time' can be found currently selling for $75,000 at AbeBooks. One of the amazingly attractive and unique aspects of the 'In Our Time' publication is each of the 170 copies were numbered. This is an extremely low production volume for Hemingway's second book. Additional copies are offered on AbeBooks priced at $65,000, $55,000 and $41,250.
Check out the free In Our Time audiobook on the Internet Archive, or read the entire In Our Time PDF at the link below.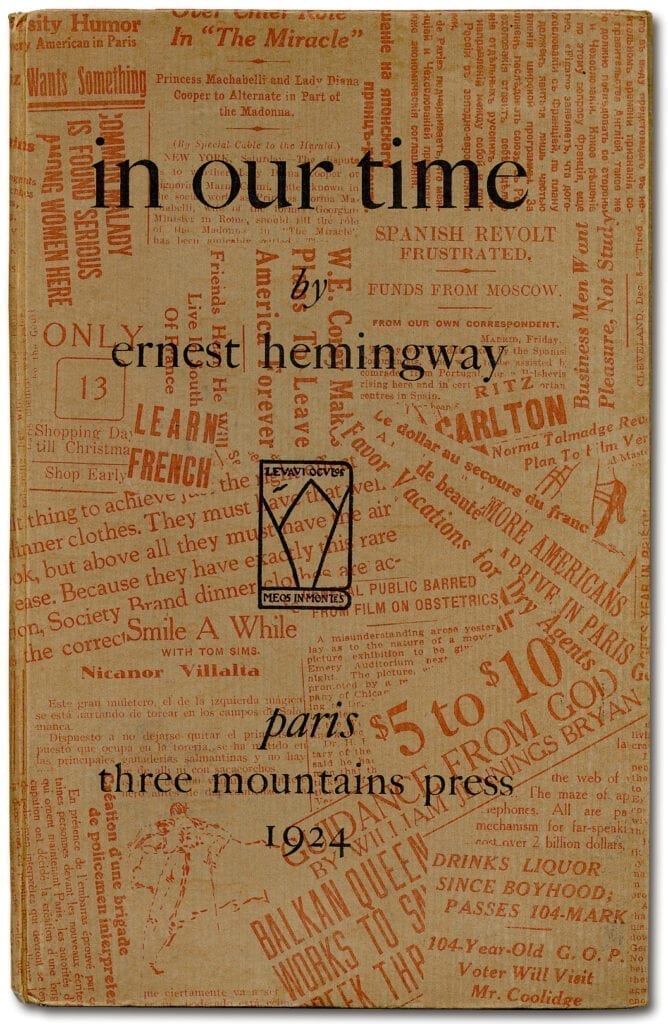 Winner Take Nothing
Hemingway's third collection of short stories was titled, 'Winner Take Nothing' in 1933. Included in the book is an eclectic mix of 14 stories. Some of the short stories have been published in various magazines, but most were never previously published until the release of the book. From the characters in 'A Clean, Well-Lighted Place,' about a Spanish Beggar, to 'Homage to Switzerland,' which details a mix of conversations at a Swiss railway station restaurant, the stories show Hemingway's command of the short story format.
There's a copy of 'Winner Take Nothing' currently listed on AbeBooks for $12,500. The book is in excellent condition and signed by Hemingway. Another copy is listed without the author's signature for $7,500 and appears to be in great shape as well. Moving down the line from great condition to just light wear showing, two more copies are listed for $4,500 and $3,500, and a couple more priced at $3,000. Six to seven more copies are offered in the $1,800 to $2,400 range with small tears in the dust jacket, chipped ends, and light rubbing at the edges.
There were approximately 20,000 first edition copies produced in 1933. You can read the entire Winner Take Nothing PDF here.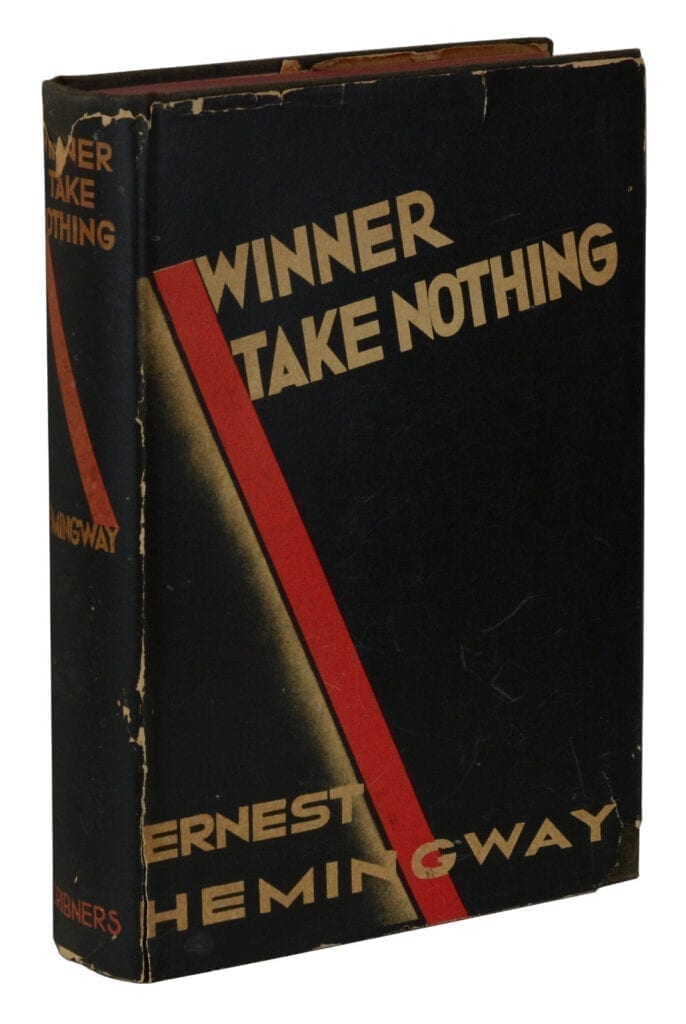 To Have and Have Not
Published in 1937, 'To Have and Have Not' features a fishing boat captain in Key West, Florida, who was forced into some difficult decisions because of the tough economic climate. The books main character, Harry Morgan, is an ordinary working man who begins running contraband from Florida to Cuba to make end's meat. He finds himself dealing with the "Have's" and the "Have Not's," wealthy and privileged, along with the poor and destitute.
To Have and Have Not began as a short story which was published in Cosmopolitan magazine in 1934. When Hemingway added a second story in 1936 for publication in Esquire magazine, he decided the main character, Harry Morgan, would be expanded into a novel.
10,000 copies were printed for the first edition in 1937. Numerous copies of the first edition book are currently offered on Biblio for $2,000 to $4,000 ranging from Near Fine to Fine condition. There's also an excellent condition book offered on AbeBooks featuring the publisher's "A" imprinted on the copyright page, signifying the first printing of the first edition. The copy also features a dust jacket with vibrant color and no tears or chips, selling for $4,500.
Check out Hemingway's writing of To Have and Have Not PDF in the link below.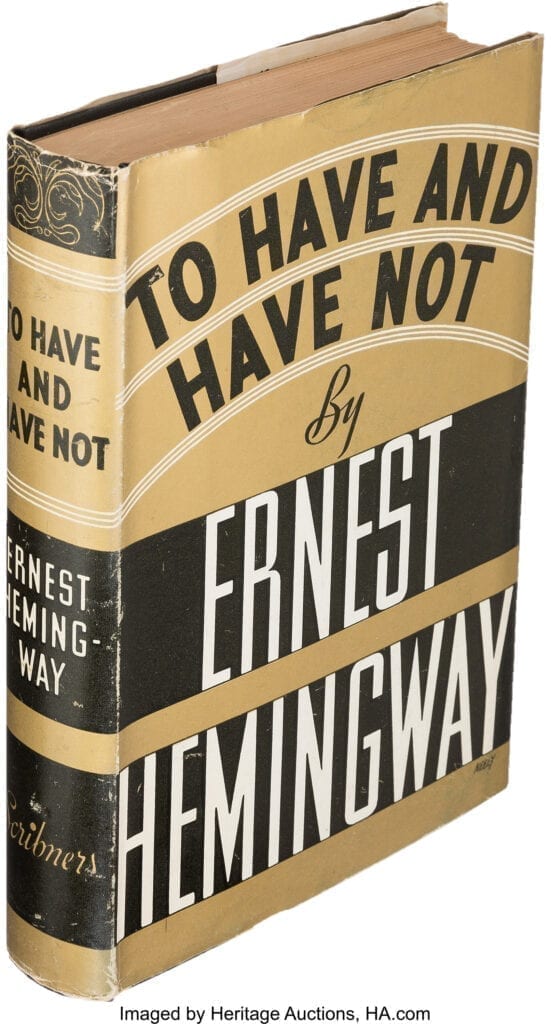 For Whom the Bell Tolls
First published in 1940, For Whom the Bell Tolls is a story of a young volunteer guerrilla fighter during the Spanish Civil War. The main character, Robert Jordan, is assigned to blow up a bridge while an attack on Segovia's city is underway. For Whom the Bell Tolls makes many assumptions about readers knowledge of the complicated alliances involved in the Spanish Civil War. Many of the real-world events discussed in the book were understood as leading up to the break out of World War II.
At the time of the books publication, the U.S. had yet to enter the war, which begun on September 1st, 1939 when Nazi Germany invaded Poland.
The book sold 500,000 copies within months of the release and was a finalist for the Pulitzer Prize. 75,000 copies of the first edition were printed and sold for $2.75 each.
A signed For Whom the Bell Tolls first edition copy in fine condition is selling on AbeBooks for $17,500. A few other signed first edition copies in very good condition are selling in the range of $10,000 to $12,000. Unsigned copies in good condition are currently offered at $3,000 to $4,500.
Read For Whom the Bell Tolls PDF at the link below,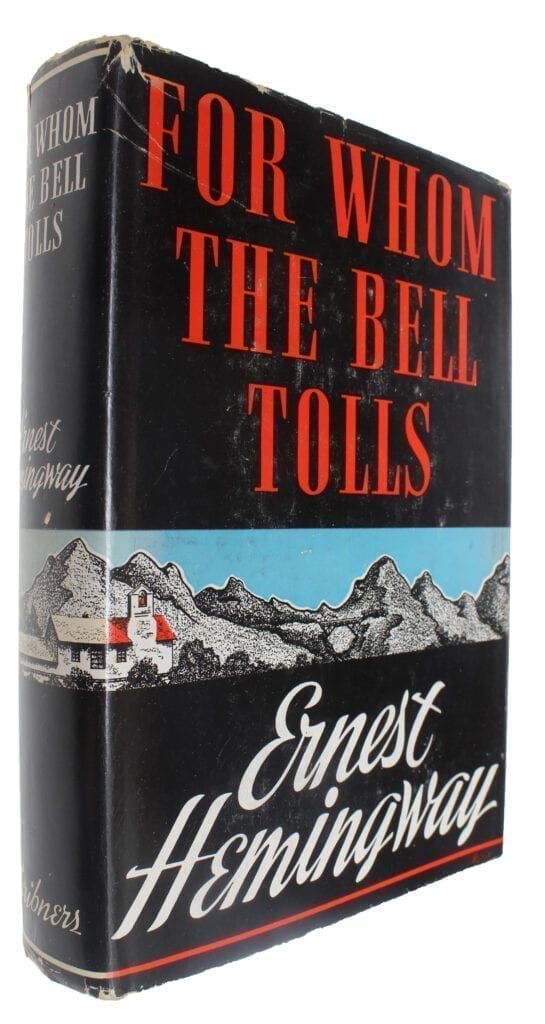 The Old Man and the Sea
The last fictional book written by Ernest Hemingway published during his lifetime was The Old Man and the Sea, published in 1952. The story details the struggle of an aging fisherman who struggles with a giant marlin off Cuba's coast. Hemingway was awarded the Pulitzer Prize for Fiction in 1953 for the book, which opens with Santiago's main character going 84 days without catching a fish.
Many literary critics say The Old Man and the Sea reinvigorated the reputation of Hemingway and restored fans' confidence in his abilities as a story teller.
There were 50,000 first edition copies of The Old Man and the Sea printed. The book was published simultaneously with a Life magazine feature where more than 5 million copies of the magazine sold in two days.
Signed copies of The Old Man and the Sea first edition currently listed for sale at AbeBooks range from $12,500 for good condition to $35,000 for fine condition. Other first edition copies in poorer condition are offered for sale as low as $2,500.
Read The Old Man and the Sea PDF at the link below.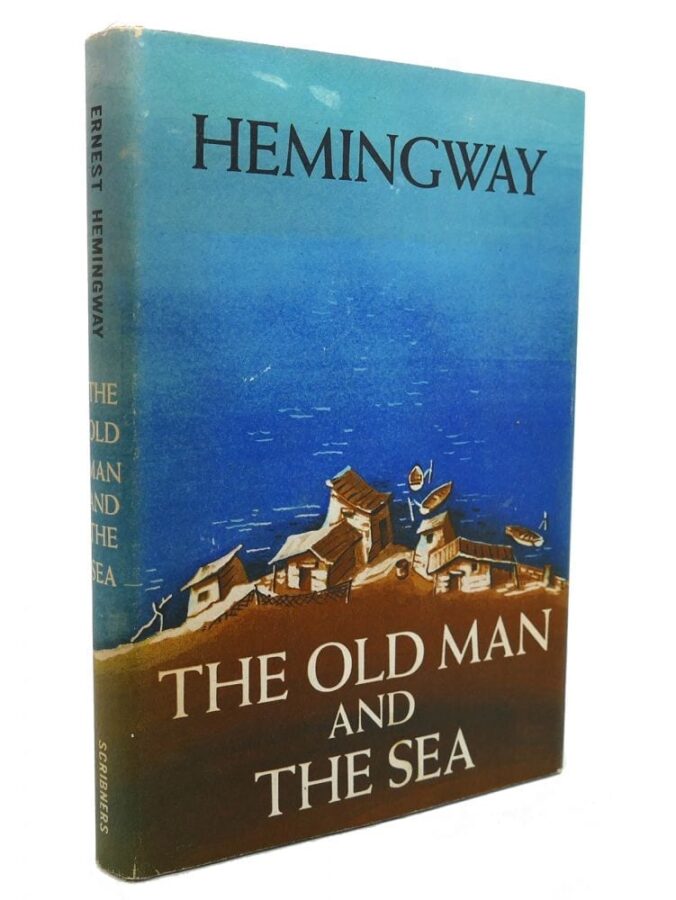 Three Stories and Ten Poems
Contact Publishing ran 300 copies of Three Stories and Ten Poems in 1923. The Paris printing shop would later realize it printed the first collection of stories by an author who would be one of the most famous authors in history. An inscribed copy is currently offered on AbeBooks for $125,000, where unsigned copies are priced at $35,000 to $55,000.
Read Three Stories and Ten Poems PDF at the link below.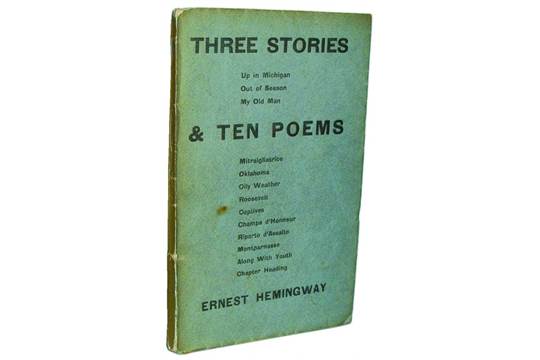 Hemingway A Farewell to Arms
Set in World War I's Italian campaign, Hemingway A Farewell to Arms was first published in 1929 and became the author's first best-seller. The first edition print run was approximately 31,000 copies and was the first big payday for Hemingway as a writer.
A signed first edition copy of Hemingway A Farewell to Arms is currently offered for $65,000 on AbeBooks. Another first edition copy inscribed and in near fine condition is listed at $35,000. Unsigned first edition copy's range from $10,000 to $24,000.
Read the entire 'A Farewell to Arms' PDF at the link below.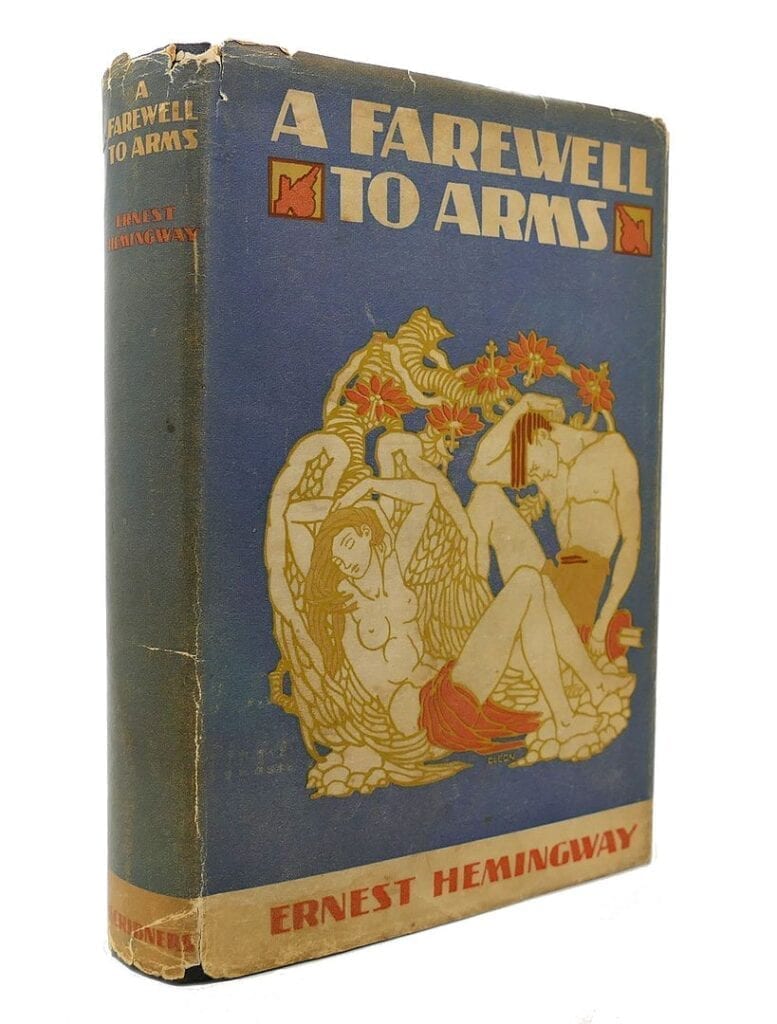 The Sun Also Rises
Now we're getting into the big-time. The book everyone knows and seems to love. The Sun Also Rises is one of the most famous books ever written and surely one of the most sought after first edition books. Published in 1926, the book describes a group of American and British expatriates traveling from Paris to the Festival of San Femin in Pamplona for the running of the bulls. One Hemingway biographer describes The Sun Also Rises as "Hemingway's greatest work."
The book was published by Scribner's, who printed the novel on October 22, 1926. The first edition printing run totaled 5,090 copies with a sale price of $2.00 each. The incredibly low production volume for the world-famous book makes it one of the most expensive first edition books from the early twentieth century. By 1983, The Sun Also Rises had been in continuous print since its first publication and would end up being one of the most translated books in the world.
Inscribed first edition copies of The Sun Also Rises currently listed for sale include a $225,000 book and another for $125,000 at AbeBooks. Unsigned books currently listed for sale include a copy for $100,000 and another for $87,000. Another copy in near fine condition lists for $75,000.
Read The Sun Also Rises PDF in the link below.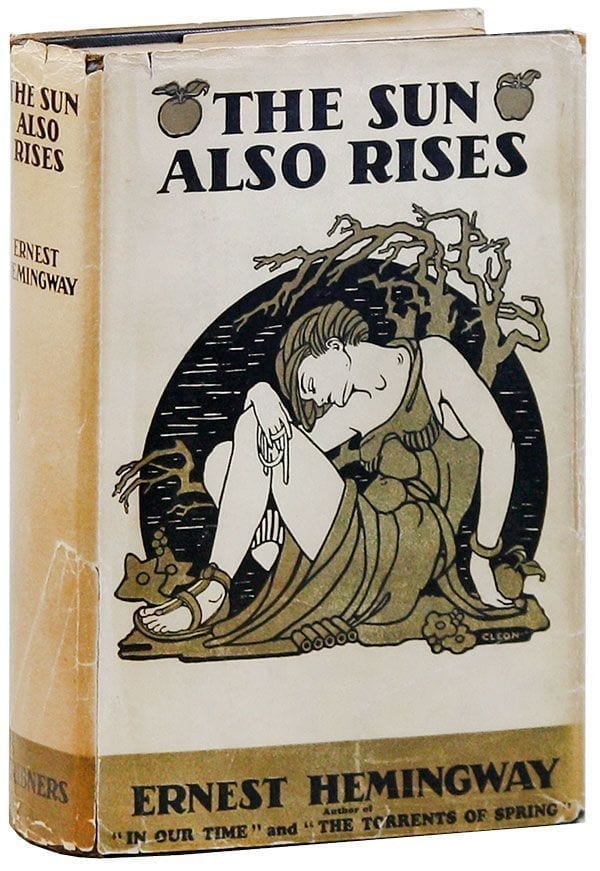 There's Plenty of Options With Hemingway
If your dream is to own an Ernest Hemingway first edition book someday, you have plenty of options. There's no reason to think the dream is out of reach when you see The Sun Also Rises selling $200,000. Another great first edition Hemingway books are selling for just a few thousand dollars and might have just as much or even more meaning than his most famous works. Don't give up on your dream of owning your own piece of Hemingway history, keep hunting.
---